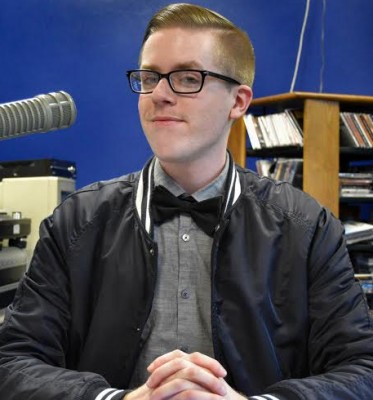 Senior Communications major with a concentration in Broadcasting and Journalism. Minor in Integrative Media. Host of radio show "
Indie Flavour
" on 90.7 WCLH. News addict, music guru, major fan of Horror genre, and attends many concerts. Totally an Anglophile and #1 fan of Doctor Who. Enjoys covering politics, music, and occasional news stories for the Beacon which he joined in fall 2013. Class of 2016.
Eric Casey, Staff writer, political commentator and "music guru"
Jun 23, 2016

Reflections and 'coming clean'

(Story)

Apr 01, 2016

Indie Flavour: spring music updates!

(Story)

Apr 01, 2016

A reaction to: Think before you underage drink at Wilkes

(Story)

Mar 12, 2016

Politically Unapologetic: John Kasich holds MSNBC town hall

(Story)

Mar 08, 2016

John Kasich needs to be GOP nominee

(Story)

Mar 07, 2016

Politically Unapologetic: John Kasich needs to be GOP nominee

(Story)

Feb 23, 2016

A rebuttal to Anthony Fanucci's anti-marijuanna article

(Story)

Feb 14, 2016

Politically Unapologetic: Republicans lose debate, Kasich last hope

(Story)

Feb 12, 2016

Politically Unapologetic: Sanders wins New Hampshire, battles Clinton in post debate

(Story)

Feb 08, 2016

Politically Unapologetic: Rand Paul is out, but now who do I vote for?

(Story)

Feb 05, 2016

Indie Flavour: My favorite songs of 2015 part 2

(Story)

Feb 05, 2016

Indie Flavour: My favorite songs of 2015 part 1

(Story)

Nov 23, 2015

OPINION: Putting the 'B' in LGBT

(Story)

Nov 17, 2015

Indie Flavour: new fall releases

(Story)

Nov 12, 2015

It's beginning to look a lot like Christmas overhaul

(Story)

Nov 11, 2015

Rand Paul continues underdog status

(Story)

Nov 09, 2015

Double review: Slaves riding on Wavves

(Story)

Oct 06, 2015

Lana Del Rey cruises to her own hum

(Story)

Oct 01, 2015

Politically Unapologetic: Low on funding, high on insanity

(Story)

Sep 15, 2015

Jessica Lee Wilkes bringin' the groove back

(Story)

Sep 08, 2015

The Griswolds are quite impressive

(Story)

Sep 01, 2015

Indie Flavour: Best of the summer

(Story)

Aug 04, 2015

Politically Unapologetic: What about Bernie Sanders?

(Story)

May 23, 2015

Indie Flavour: So much music!

(Story)

Apr 21, 2015

Matt and Kim are forever young

(Story/Media)

Apr 14, 2015

Liz de Lise on the road

(Story)

Mar 24, 2015

Hozier makes a bold soulful debut

(Story)

Mar 22, 2015

Anticipated albums, concerts, and more!

(Story)

Feb 25, 2015

Hozier makes a bold, soulful debut

(Story)

Feb 18, 2015

George Ezra looks young but sounds old

(Story)

Feb 18, 2015

George Ezra looks young, but sounds old

(Story)

Feb 11, 2015

Indie Flavour: thoughts on the 57th Grammy Awards

(Story)

Feb 03, 2015

Charli XCX experiences commercial success with sophomore album

(Story)

Jan 26, 2015

Indie Flavour: My favorite songs of 2014

(Story)

Jan 18, 2015

Vance Joy on a riptide to folk stardom

(Story)

Dec 02, 2014

Azealia Banks releases debut album…and it's about time!

(Story)

Nov 11, 2014

Indie Flavour: Obscene lyrics & cool new music

(Story)

Nov 11, 2014

Tove Lo is staying high…on the charts with "Queen of the Clouds"

(Story)

Nov 04, 2014

Indie Flavour: All about that dark pop/rock

(Story)

Oct 27, 2014

Indie Flavour: New albums and singles

(Story)

Oct 21, 2014

The Asteroids Galaxy Tour "Bring Us Together"

(Story)

Oct 20, 2014

Indie Flavour: My horrible concert experience and other stuff.

(Story)

Oct 13, 2014

Indie Flavour: Perfect autumn playlist

(Story)

Sep 30, 2014

Lana Del Rey's "Ultraviolence" Review

(Story)

Sep 23, 2014

Ida Maria "Accidental Happiness" review

(Story)

Sep 16, 2014

Bleacher's "Strange Desire" album review

(Story)

Aug 27, 2014

Indie Flavour: end of summer recap

(Story)

Aug 10, 2014

Indie Flavour: summer of great music

(Story)

Jun 27, 2014

Indie Flavour: New releases, upcoming album reviews

(Story)

May 18, 2014

Indie Flavour: New releases, concert review

(Story)

Apr 30, 2014

Wilkes ASME club hosts classic car show

(Story/Media)

Apr 27, 2014

Indie Flavour: Record Store Day review, music chart news, & more!

(Story)

Apr 18, 2014

Indie Flavour: Coachella review & new music!

(Story)

Apr 08, 2014

Foster the People releases sophomore album, repeats first

(Story)

Apr 06, 2014

Indie Flavour: Concert recap, & my love for EDM

(Story)

Apr 01, 2014

'Grouplove' concert gains recognition of unrecognized songs

(Story)

Mar 27, 2014

Indie Flavour: New picks for the week

(Story)

Mar 26, 2014

'Never heard of' indie rock band breaks records

(Story)

Mar 17, 2014

Indie Flavour: New picks for the week

(Story)

Feb 24, 2014

'Shangri La' creates gold for young folk artist

(Story)

Feb 24, 2014

Theatre Department presents SNL-style sketch comedy

(Story)

Feb 11, 2014

Wilkes University hosts annual winter open house

(Story)

Feb 05, 2014

Despite latest trend, Newman remains on top

(Story)

Jan 28, 2014

New Fitz and The Tantrums album gives good vibes

(Story)

Jan 28, 2014

'Decades' chosen as 2014 Winter Weekend theme

(Story)

Nov 24, 2013

Clairy Brown's 'Baby Caught the Bus' brings back retro, motown with modern twist

(Story)

Nov 19, 2013

M.I.A. 'Matangi' controversial, loud and proud

(Story)

Oct 31, 2013

Mystery '90s band 'Mazzy Star' returns

(Story)

Oct 24, 2013

Lorde a fresh, unique face in alternative genre

(Story)

Oct 14, 2013

Edward Sharpe and The Magnetic Zeros album review

(Story)

Oct 03, 2013

We love it! Icona Pop album has flavor, power

(Story)

Sep 20, 2013

British musician Jake Bugg makes honest music

(Story)

Sep 09, 2013

Top 10 songs you probably missed out on this summer

(Story)