Indie Flavour: Concert recap, & my love for EDM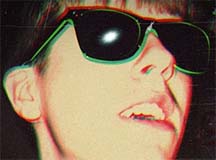 Hey there Beacon readers! Last time I mentioned I was going to see Grouplove. I just saw them in Philly with my friend and fellow Colonel, Juli Salvato. We had an amazing time down there, and the band including opening acts Alex Winston and MS MR were better than I expected.
I only knew a few Grouplove songs going into the show, and I came out with many new ones stuck in my head. The only disappointment was not seeing Alex Winston after the show because she said she was going to be in the back, but never was.
Anyway, check the material out from these artists because it was an unbelievable show. I should also mention the crowd was so nice despite cannabis being blown in our faces multiple times, but I was surprised.
March 28-30 was the 16th annual Ultra Music Festival in Miami, and while I unfortunately wasn't there, there was at least a live stream that I watched on my flat screen. So much homework this week, but I couldn't stop watching each night. It included some of the world's greatest DJs and other edm-related pop acts.
Among them included Afrojack, Empire of the Sun, MGMT, M.I.A., The Glitch Mob, Nicky Romero, Nero, Krewella, Armin Van Buuren, & Hardwell. The latter being called the #1 DJ in the world, and trust me he delivered.
EDM doesn't appeal to everyone. There's many sub genres of electronic music. Some include house, ambient house, trance, techno, industrial, dubstep and electro swing. Many years ago I would argue with friends telling them electronic music wasn't really music because it's mostly done on laptops.
While I still stick to that (sort of), it's hard for me to stop listening to EDM. I've been obsessed with it for about three years now, but always loved that late '90s-early 2000s euro dance sound when I was very young.
EDM music puts me in a whole other world. There have been many nights where I would just lie on my floor in complete darkness listening to various electronic genres. It's beautiful to imagine being at one of those huge festivals covered head to toe in glow-in-the-dark body paint, and dancing with your friends while making new ones with those standing next to you. All the while being lost in a euphoric trance.
On my radio show "Indie Flavour," I always play EDM toward the end. You can listen to Rasha Shaker (Ellybear) and I (Nighthawk) every Thursday 1-3 p.m. on 90.7 WCLH. "Like" us on Facebook.