Indie Flavour: My favorite songs of 2014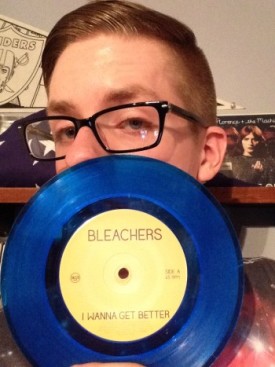 Although 2014 is now almost a month behind us, let me share with you the top 40 best songs of last year.  The list is just my opinion, but I mean how can you argue with it?!
My next update will be about all the new music that has come out this month, and music that will be coming out in the coming months from the likes of Father John Misty, Matt and Kim, George Ezra, and more!  Remember to tune in to my radio show "Indie Flavour" on our campus station 90.7 WCLH every Wednesday from 3-6 pm.
1. "Riptide" ~ Vance Joy
2. "Brooklyn Baby" ~ Lana Del Rey
3. "Fancy" ~ Iggy Azalea ft. Charli XCX
4. "Budapest" ~ George Ezra
5. "I Wanna Get Better" ~ Bleachers
6. "Stay with Me" ~ Sam Smith
7. "Habits (Stay High)" ~ Tove Lo
8. "Cardiac Arrest" ~ Bad Suns
9. "Elevate" ~ St. Lucia
10. "Latch" ~ Disclosure ft. Sam Smith
11. "Take Me To Church" ~ Hozier
12. "Weekend" ~ Priory
13. "Come with Me Now" ~ Kongos
14. "Cadillac Girl" ~ Only Real
15. "Zombies" ~ The Asteroids Galaxy Tour
16. "The Righteous One" ~ The Orwells
17. "Water Fountain" ~ tUnE-yArDs
18. "Shelter Song" ~ Temples
19. "Dangerous" ~ Big Data ft. Joywave
20. "Shades of Cool" ~ Lana Del Rey
21. "Girls Chase Boys" ~ Ingrid Michaelson
22. "Go" ~ Grimes ft. Blood Diamonds
23. "Help Me Lose My Mind" ~ Disclosure ft. London Grammar
24. "Never Been in Love" ~ Cobra Starship ft. Icona Pop
25. "Blame" ~ Calvin Harris ft. John Newman
26. "Wait for Love" ~ St. Lucia
27. "Cool Kids" ~ Echosmith
28. "Rather Be" ~ Clean Bandit ft. Jesse Glynne
29. "Gotta Get Away" ~ The Black Keys
30. "Kiss and Not Tell" ~ La Roux
31. "I Bet My Life" ~ Imagine Dragons
32. "Boom Clap" ~ Charli XCX
33. "Beware the Dog" ~ The Griswolds
34. "West Coast" ~ Lana Del Rey
35. "Burning Gold" ~ Christina Perry
36. "Stay Gold" ~ First Aid Kit
37. "Ghost" ~ Ella Henderson
38. "I'm Ready" ~ AJR
39. "Yellow Flicker Beat" ~ Lorde
40. "Angel of Small Death and the Codeine Scene" ~ Hozier