Indie Flavour: Best of the summer
Welcome back Colonels to another fall semester! I'm trying not to stress out from the beginning, so let's just worry about the music shall we? This summer really didn't have good anthems in my opinion. I'm not just talking about mainstream either. However, there were a ton of great songs released that are noteworthy.
During the summer I spent a lot of time at our campus radio station 90.7 WCLH. I added a ton of new music to the alternative rotation.  I'll be returning with my Indie Flavour show this Wednesday 3-5 pm. Also, tune in September 11th at 8pm for the Electronic Caboodle which is WCLH's newest block of music playing four hours of electronic music.
Here's a list of songs you should add to that "end of summer 2015" Spotify playlist in case you missed out on them…some of which you probably did.
Cheerleader ~ Omi (Felix Jaehn remix)
Can You Blame Me ~ Matt & Kim (saw them twice this year and met Kim!)
My Type ~ Saint Motel (saw them live at FM Kirby Center in July)
Different Colors ~ Walk the Moon (saw them at FUZZ Fest)
Lean On ~ Major Lazer,MO, DJ Snake
Wherever Is Your Heart ~ Brandi Carlile (she's insanely underrated)
Blame It on Me ~ George Ezra
Ex's and Oh's ~ Elle King (actor Rob Schneider's daughter)
I'm Good ~ The Mowglis
If You Wanna Stay ~ The Griswolds
Renegades ~ X Ambassadors
Sedona ~ Houndmouth (wow retro, such catchy)
Desire ~ Years & Years
Ship To Wreck ~ Florence and the Machine
High By The Beach ~ Lana Del Rey (she just gets better)
Groove's Too Shallow ~ Jessica Lee Wilkes
Better Man ~ Leon Bridges (hella good vibes)
Hurricane (Arty remix) ~ Halsey
Emergency ~ Icona Pop (this better be another hit)
2 Heads ~ Coleman Hell (hillbilly edm?)
First ~ Cold War Kids
Peaches ~ In The Valley Below
Messiah ~ Prides
I Can Change ~ Brandon Flowers
Someone New ~ Hozier
Love Myself ~ Hailee Steinfeld
Bright ~ Echosmith
You Were Right ~ Rufus Du Sol
Know What I Want ~ Kali Uchis (a doo-wop voice with attitude)
Borderline ~ Tove Styrke
About the Writer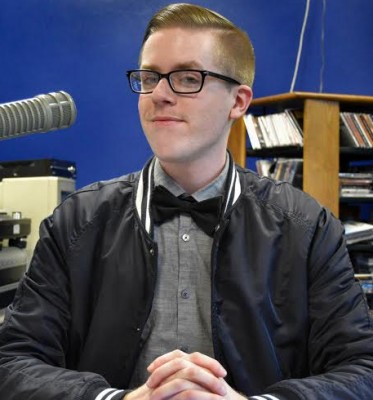 Eric Casey, Staff writer, political commentator and "music guru"
Senior Communications major with a concentration in Broadcasting and Journalism. Minor in Integrative Media. Host of radio show "Indie Flavour" on 90.7...