Foster the People releases sophomore album, repeats first
Indie pop trio Foster the People are back with their sophomore album "Supermodel." If you're looking for part two of "Torches," their debut record, then this album might not be for you. It's quite different, but not necessarily in the best way.
Foster the People burst onto the scene in 2011 with their sleeper hit "Pumped Up Kicks." It went to No. 3 on the Billboard Hot 100 and became a major crossover pop hit. Their debut album went to No. 8 because of that single. Only one other song from that album made it onto the Hot 100.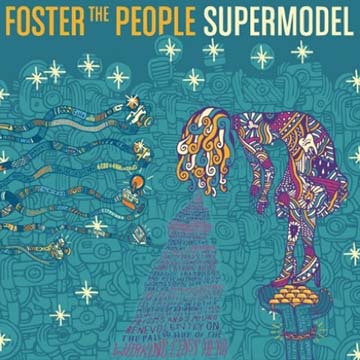 "Don't Stop (Color on the Walls)" peaked at No. 86 and went to No. 5 on the Alternative songs chart. Unfortunately it was their worst song and stood out like a sore thumb. Their debut album was stellar and is still one of the few albums that I liked every track on it.
After a short hiatus they are back with their sophomore album. Every artist dreads the second album because it can sometimes end your career. Major music producer Paul Epworth produced it just like the first one. Too bad he doesn't stretch their creativity.
For someone who has produced albums from Florence and the Machine, Adele, and Paul McCartney, it just turned out to be a lackluster and pretty bland album. However, I love this band so much that it'll probably grow on me and become part of my summer play lists.
The album starts off with "Are You What You Want to Be?" It's kind of tribal and not super catchy, but stands out nicely from the other songs. It's like they wanted to go a different direction from the last album, but they stopped after that song.
The next track "Ask Yourself" is very forgettable. "Coming of Age" was released as the first single. So far it has peaked at No. 4 on the Alternative songs chart. "Nevermind" and "Pseudolgia Fantastica" serve little purpose. However the latter track is somewhat psychedelic but might grow on you after a few listens.
"Best Friend" is the newest single and most superior track on the album. As well as one of their best songs ever. Mark Foster has this super cool disco voice that seems to work great on this type of song. This could potentially take them out of "one-hit-wonder" territory. It also has that summer anthem kind of feel to it.
Much like MGMT's "Electric Feel" was in 2008. It's all about good vibes and helping your friends out. "When your best friend's all strung out / you do everything you can 'cause you're never gonna let it get 'em down."
The album's ending tones down, but it's not a bad thing. "Goats in Trees" is a nice retro-sounding acoustic that displays Mark Foster's early drug addiction before reaching popularity. Honestly it's not a bad album. Just not as creative as it should have been, but it serves the indie pop fans just fine.