Indie Flavour: New picks for the week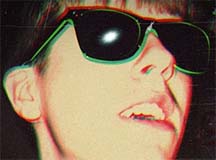 Hey Beacon readers! I recently picked up a few albums at a local record store. Some of the albums are somewhat new, others are old. Either way I'm going to play a few tracks from some of the albums on my show "Indie Flavour" with co-host Rasha Shaker this Thursday 1-3 p.m. on 90.7 WCLH.
For the past two years I've really been into Vampire Weekend. Their new album was incredible to say the least. However, I never had any of their previous albums. So the other day I picked up their 2010 album Contra. After one listen I feel it's their weakest album compared to their debut and latest one.
I also picked up Santigold's Master of My Make-Believe from 2012. It contains a popular track called "Disparate Youth" which was featured in a car commercial all last year. Also on the album is "This Isn't Our Parade" and "GO!" featuring Karen O of the Yeah Yeah Yeahs. She hails from Philadelphia and is often put in the electronic and reggae fusion genres. Whatever she is, I can't stop listening to her. She's somewhat a tamer version of M.I.A.
After all these years I finally picked up my second Beatles CD, which features all their No. 1 hit singles. I only had "Sgt. Pepper's Lonely Hearts Club Band" for some reason, which is probably why it's my favorite album of theirs.
The last album I picked up at the record store was "Foreverly" by Green Day's Billy Joe Armstrong & pop/jazz crooner Norah Jones. It's a cover album based on The Everly Brothers 1958 album Songs Our Daddy Taught Us. Their reinterpretation of the album is very elegant and retro. The production quality is astounding and makes me feel like I'm listening to my vinyl records by an open fire wrapped in a blanket on the couch drinking Pinot Grigio.
Lastly, some new singles out that you should give a listen to include "Fall in Love" by Phantogram, "Glory and Gore" by Lorde and "Fancy" by Iggy Azalea ft. Charli XCX. I think you'll enjoy them. Look out soon for my next blog post.