Indie Flavour: New picks for the week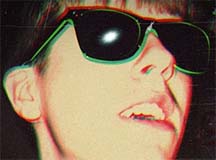 By the time you read this I will have already seen Grouplove featuring MS MR and Alex Winston in Philadelphia on Tuesday, March 25. They are an excellent band with recognizable alternative hits like "Tongue Tied," "Ways to Go" and "Itchin' on a Photograph."
This time of the year there aren't many big album releases in my opinion. However, some songs have cropped up in the past few weeks that I just can't stop listening to. "Me and You" is a new single by 20-year-old British folk singer Jake Bugg.
Recently he has been making the rounds on American talk shows to perform it. It's off his second album, which in my opinion takes many listens to enjoy it almost as much as his debut from late 2012.
"Glory and Gore" is the brand new single by Lorde.
I'm really surprised "Tennis Courts" hasn't been released as her new single, but I guess it's because of all the attention it was getting in the promo for History channel's "Vikings" series. This song is quite unusual compared to the rest of the "Pure Heroine" album.
It feels full with less minimalistic sounds, but maintains the familiar dreary atmosphere of her world which I totally dig.
A band by the name of Kongos has recently popped up on Alternative airwaves with the single "Come with Me Now." They are four brothers from South Africa who lived in London before moving to Phoenix, Ariz.. They play a unique blend of American alternative rock mixed in with their roots which creates a cool tribal rock feel. One of them even plays the accordion.
My favorite new jam has been "Fancy" by Iggy Azalea featuring Charli XCX. Iggy is an Australian rapper that teamed up with dark synthpop darling Charli XCX. The latter is the girl who wrote and provided backing vocals for Icona Pop's "I Love It" smash hit from last year.
Together these two girls have created one of the best new singles of 2014. After one listen I guarantee you'll be humming it for weeks to come.
You can hear some of these songs on my radio show Indie Flavour with Rasha Shaker from 1-3 p.m. on 90.7 WCLH. Tune in this week because we'll have special guest Andrew Blank from his pop-punk local band Send Request. We'll play a song or two off the debut EP, so make sure you tune in and keep it locked.