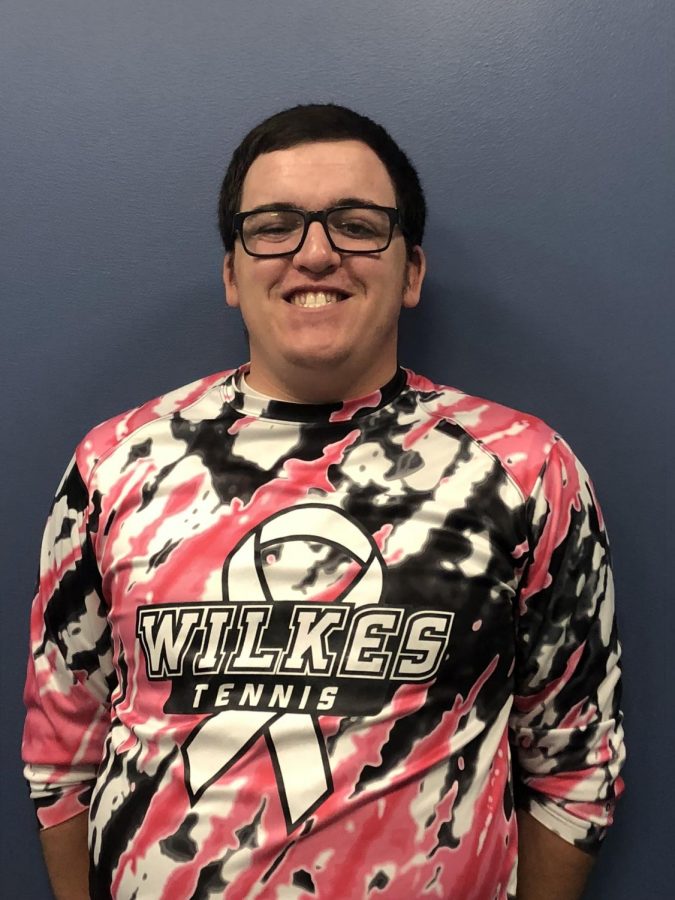 Luke Modrovsky is in his final semester double majoring in sport management and communication studies.
Luke started at The Beacon as staff writer for opinion and quickly moved up, becoming assistant opinion editor in Spring 2016. He then served as assistant sports editor for the Fall 2016 and Spring 2017 semesters. He served as the sports editor for the 2017-18 academic year. Most recently, he served as the editor-in-chief for the 72nd volume of The Beacon during 2018-19. He now holds the title of operations manager in his final semester where he oversees advertising, archiving and other operations duties.
He can also be found at Wilkes athletic events working as a member of the home athletic event staff.
A five-sport official, Modrovsky serves as an official for PIAA baseball, basketball, football, softball and volleyball. He also calls games for USA Softball, American Legion Baseball, and various Little League organizations.
Luke has served as a public address (PA) announcer for Crestwood Football, the Mountain Top Blitz, the Wyoming Valley American Legion playoffs and a PIAA State Playoff baseball game. He continues to be the voice at select Mountain Top Area Little League All-Star games in the summer.
A 2015 graduate of Crestwood High School, Modrovsky collected four varsity letters during his time as a student-athlete.
Luke Modrovsky, Operations Manager
Nov 19, 2019

WREST: Bauer leads Colonels

(Story)

Oct 08, 2019

MSOC: 2-1 win rings in Bruggeworth Field, MAC Freedom play

(Story)

Sep 17, 2019

WREST: Final X hosted at Marts

(Story)

Sep 17, 2019

Wilkes moving forward with sworn police force

(Story)

Apr 16, 2019

Commentary: Racanelli, Giordano claim #BeaconAOTY crowns

(Story)

Apr 12, 2019

ONLINE EXCLUSIVE: #BeaconAOTY Championship Round set, tournament voting torching last year's totals

(Story)

Apr 11, 2019

ONLINE EXCLUSIVE: Both defending champions now ousted in #BeaconAOTY tournament, Semi-Final Round matchups set for 11 a.m. voting

(Story)

Apr 10, 2019

ONLINE EXCLUSIVE: #BeaconAOTY Quarterfinal Round matchups set, voting to begin at 11 a.m.

(Story)

Apr 10, 2019

ONLINE EXCLUSIVE: #BeaconAOTY Round of 16 set, voting to begin at 11 a.m.

(Story)

Apr 08, 2019

ONLINE EXCLUSIVE: #BeaconAOTY tournament bracket set, voting to begin Tuesday

(Story)

Apr 04, 2019

ONLINE EXCLUSIVE: Beacon Athlete of the Year Committee to meet Friday morning

(Story)

Feb 26, 2019

WREST: Roommates Stokes, Racanelli to Nationals

(Story)

Feb 19, 2019

MSWIM/WSWIM: Colonels pick up podium finishes in MAC Champs

(Story)

Feb 13, 2019

Bar-goers react to local hotspot 'Bart & Urby's' closure

(Story)

Feb 05, 2019

WREST: Colonels win big on senior night

(Story)

Jan 29, 2019

Public Safety campus safety initiatives, 'Bovis' graffiti artist identified internally

(Story/Media)

Nov 13, 2018

ONLINE EXCLUSIVE: Reoccuring graffiti draws vandalism notice from Public Safety

(Story/Media)

Nov 13, 2018

Beacon Vault: Colonels own all-time cross-town rivalry

(Story)

Oct 23, 2018

Beacon Vault: Arts Center Curtain Rises

(Story)

Oct 23, 2018

College textbook prices finally fall after two decades of increases

(Story)

Sep 25, 2018

AOTW: Karlye Huffman, freshman volleyball player

(Media)

Apr 20, 2018

Online Exclusive: Dwight "Doc" Gooden speaks at the Pennsylvania Pain and Addiction Summit presented by Wilkes

(Story)

Apr 12, 2018

Report — WBB: Marywood's Tara Macciocco to be hired as next Wilkes women's basketball coach

(Story)

Apr 11, 2018

UPDATED — AOTY: Male and Female Championship Rounds set

(Story)

Apr 10, 2018

AOTY: Action concludes in Quarterfinal Round, Semifinal Round matchups set

(Story)

Apr 10, 2018

3-on-3: Champions need "if" game in charity basketball tournament

(Story)

Apr 09, 2018

3-on-3: Champions need "if" game in charity basketball tournament

(Story)

Apr 09, 2018

AOTY: First Round concludes, Quarterfinal Round match-ups set

(Story)

Apr 07, 2018

AOTY: Preliminary Round concludes, First Round matchups set

(Story)

Apr 02, 2018

MTEN & WTEN: Tennis teams travel to Hilton Head, S.C.

(Story)

Apr 02, 2018

UPDATED: Beacon Sports team announces first "Athlete of the Year" tournament

(Story)

Mar 27, 2018

SB: Gibson's home run powers Lady Colonels in game one

(Story)

Feb 28, 2018

SOFT: Spring Preview

(Story)

Feb 26, 2018

WREST: Grossmann gets back to NCAA tournament

(Story)

Feb 26, 2018

Colonel Athletics in brief 2/26

(Story)

Feb 19, 2018

This past week: Colonel Athletics in Brief 2/20

(Story)

Feb 16, 2018

AOTW: Kelsey Yustat, sophomore basketball player

(Media)

Feb 16, 2018

Colonel Athletics in Brief

(Story)

Feb 11, 2018

FOOT: Hobart assistant introduced as new coach

(Story)

Feb 05, 2018

Colonel Athletics in Brief 2/6

(Story)

Feb 02, 2018

Sources: Wilkes hires Jon Drach as new football coach

(Story)

Jan 31, 2018
Jan 31, 2018
Jan 30, 2018

Colonel Athletics in brief — Jan. 30

(Story)

Jan 30, 2018

Male AOTW: Jake DiMarsico, super senior wrestler

(Story)

Jan 30, 2018

Female AOTW: Chelsea Erkes, sophomore basketball player

(Story)

Nov 13, 2017

AOTW: Nicolette Towlen, junior soccer player

(Media)

Nov 13, 2017

AOTW: Matt Grossmann, senior wrestler

(Media)

Nov 07, 2017

FB: Colonels drop Senior Day affair 44-14 rout to Stevenson

(Story)

Nov 07, 2017

WSOC: 103rd minute heartbreaker sinks Wilkes in final

(Story)

Nov 06, 2017

WSOC: Wilkes collects program's first at-large NCAA tournament bid (UPDATED)

(Story)

Oct 23, 2017

AOTW: Jared Byrne, freshman swimmer

(Media)

Oct 09, 2017

Colonel Athletics in Brief 10/9

(Story)

Oct 02, 2017

New women's ice hockey coach hired, program growing

(Story)

Sep 25, 2017

Colonel football leads, but falls in rout to Misericordia

(Story)

Sep 19, 2017

Top five 'can't miss' Colonel sporting events each year

(Story)

Sep 19, 2017

Rippeon's first collegiate start spoiled by Delaware Valley

(Story)

Sep 12, 2017

Wilkes recruiting efforts bring 84 student athletes to fall teams

(Story)

Apr 11, 2017

Local sports officials encourage Wilkes students to "get in the game"

(Story/Media)

Apr 04, 2017

Winter Storm Stella still wreaking havoc for Wilkes athletics

(Story)

Mar 29, 2017

Held's 100th goal lifts Lady Colonel Lacrosse in home opener

(Story)

Mar 21, 2017

Women's fútbol team spends spring break in Spain

(Story)

Mar 01, 2017

Colonel Lacrosse looking to gain experience with young group

(Story)

Feb 28, 2017

Officiating: Perfection in a imperfect world

(Story)

Feb 21, 2017

O'Hara lands role with MAC committee

(Story)

Feb 07, 2017

Bruised, but still cruising; Wilkes Wrestling continues to grind

(Story)

Jan 31, 2017

Men's volleyball begins action as 21st Wilkes varsity sport

(Story/Media)

Nov 15, 2016

Young returns to Westfield State due to "unforeseen circumstances"

(Story)

Nov 15, 2016

Wilkes men's swimming pulls it together for a winning streak

(Story)

Nov 07, 2016

Springfield College's Dr. Delahanty presents lecture on Irish history at Wilkes

(Story)

Oct 25, 2016

Wilkes hires coaches for new men's and women's ice hockey teams

(Story)

Oct 07, 2016
Oct 04, 2016

Judgement calls scrutinized as video technology use rises

(Story)

Oct 04, 2016

Getting to know… Marissa Surdy

(Media)

Sep 27, 2016

Long-time sports officials find way to "stay in the game"

(Story)

Sep 20, 2016

Wilkes athletic programs find team unity through superstition

(Story)

Sep 12, 2016

Wilkes football falls to Muhlenberg in home-opening thriller

(Story)

Apr 18, 2016

Nine year old reports news faster than competitors

(Story)

Nov 09, 2015

New sports management major making waves

(Story)