New women's ice hockey coach hired, program growing
Program back on track to begin play during 2018-19 academic year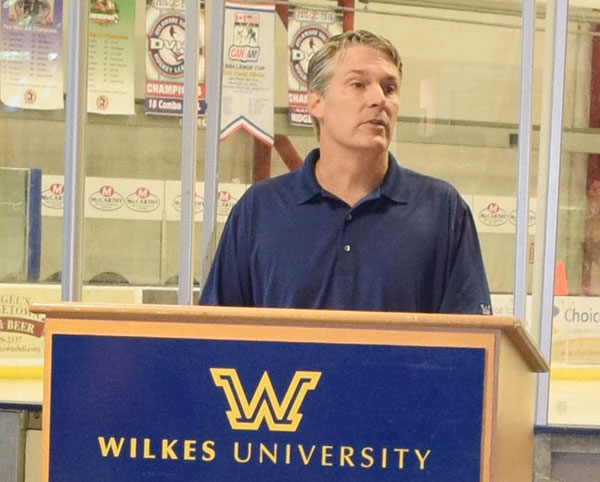 On Aug. 3, Wilkes announced the delay of its NCAA Division III women's ice hockey program. After a stagnant period of a month and a half, Wilkes has now named Earl Utter as the new head coach.
On Sept. 26, the era officially turned from the Stephanie Newmark to the Earl Utter, as Utter's hiring was made official. Newmark was initially hired as the Lady Colonels first head coach, but was not able to meet roster requirements for the program.
On Aug. 29, 2016 Wilkes University President Dr. Patrick Leahy announced the addition of both men's and women's ice hockey programs with each sport to initially open competition in 2017-18. Both programs suffered setbacks leading to their delayed started.
On that August day, Leahy also confirmed his own enthusiasm saying, "I've always said the most fun I've ever had was at a college ice hockey game."
The hiring of Utter will allow him to have a full year of recruiting in order for Wilkes to prepare for its first season of competition. In the hiring, the athletic department has hopes that Utter will be able to recruit and fill a roster.
"I would like to thank everyone involved in the hiring process and look forward to collaborating with the entire Wilkes University team to build an ice hockey program that reflects the values of the University," Utter said. "The challenge of starting a new program was the initial draw for me as I was impressed with the beautiful campus setting and the number of majors Wilkes has to offer," he added.
Utter comes to Wilkes following a nine-year stint as the women's ice hockey head coach at SUNY Cortland. He led his team to two straight ECAC West playoff appearances in 2014-15 and 2015-16 where the Red Dragons combined for 19 wins.
Utter also had a highly successful run as the men's ice hockey coach at Morrisville State from 1997-2007. His overall record totaled an impressive 177-60-13. During his tenure, he also lead the Mustangs in a transition from the NJCAA (junior college) to NCAA Division III status.
"A new hockey tradition begins at Wilkes University in the fall of 2018," said Dr. Paul Adams, Vice President for Student Affairs. "We're delighted to have as experienced a head coach as Earl Utter lead our women's team during our first season."
Utter and Lady Colonels, along with head coach Brett Riley and the men's ice hockey team, will enjoy a loose affiliation with the Wilkes-Barre/Scranton Penguins.
Because of that affiliation, both Wilkes ice hockey teams will call the Toyota SportsPlex at Coal Street Park home for practices and games. The Toyota SportsPlex serves as the practice facility of the Wilkes-Barre/Scranton Penguins.
"When I toured the Toyota SportsPlex I was overwhelmed with the hospitality from the Penguin representatives and their willingness to assist the Wilkes ice hockey programs," said Utter.
Utter also said he looks forward to working with new Lady Colonels in his role as team leader.
"I enjoy being a positive influence in the lives of young people," Utter explained. "Mentoring student-athletes as they bridge the gap from high school into adulthood is an awesome responsibility and a truly rewarding experience that I hope to provide to our Wilkes student-athletes," he added.