Public Safety campus safety initiatives, 'Bovis' graffiti artist identified internally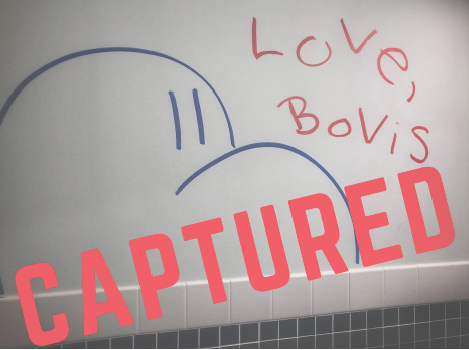 Wilkes Public Safety has been kept quite busy during the past few months. Between hunting down the 'Bovis' artist, making updates to the outdoor campus notification system, from instituting a supplemental shuttle service in the 'Colonel Connector,' Chief Chris Jagoe summed up everything into one statement: "We're always prepared."
'Bovis'
Wilkes students may remember a Public Safety Notice that was delivered to email inboxes on Nov. 26, 2018. In the notice, Jagoe wrote to the campus community asking for their help finding the vandal painting the character figure 'Bovis' across campus.
In the notice, Jagoe wrote the vandalism resulted in "time-consuming and costly repairs" while also writing that "the cost of those repairs has exceeded $10,000, categorizing the vandalism as a felony criminal offense."
Jagoe credited his team in identifying the suspect.
"This was an across the board job that was done from the patrol officers to our dispatchers that went over hours and hours of film, reviewing access control, looking with other departments that vandalism had occured like at King's College and in other areas," Jagoe said. "It was painstaking to put everything together and identified a subject. We were pretty committed to stopping this."
Jagoe did confirm that the suspect is a Wilkes student.
Through the use of our camera systems and just good, old-fashioned detective work, we were able to identify a Wilkes student who was involved in this.
With regard to punishment, Jagoe said Wilkes will be handling it internally for now.
"The student, right now, is working with Student Affairs to make restitution for the damage done," Jagoe said. "We'll look to see how this plays out with student affairs and how cooperative the student continues to be in making the University whole from the damage that was done."
While Jagoe did not rule out charges, he is hopeful the situation will be resolved with Student Affairs.
"Once we have an good indication of what's going on with that, we'll make a further decision about whether we want to pursue this criminally or not," he said.
Colonel Connector
The Colonel Connector provides campus members — faculty and staff included — with pick-up and drop-off safety escorts to a wider area around campus. According to an FAQ published on Today@Wilkes, the Colonel Connector "is NOT intended to replace the current shuttle services offered."
"The main reason that I wanted to expand our services, we have a lot of students taking classes at King's College and folks in our ROTC and it's reciprocal too," Jagoe said.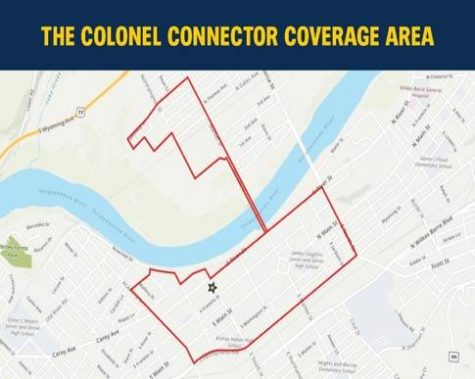 Jagoe clarified that the Colonel Connector differs from the shuttle service.
"The shuttle runs on a circuit route. It's kind of limited in the area that it covers. The Colonel Connector, however, is door-to-door service in a set area. We had the opportunity to expand our coverage on that."
The Colonel Connector is a clearly marked Wilkes University van with flashing yellow lights. To request a ride, use the Wilkes Shield public safety app (free download on Google Play and Apple App Store) to request a safe transport to and from anywhere within the Colonel Connector's boundary.
"The driver will have clearly marked Public Safety clothing and a DPS (Department of Public Safety) radio," according to the FAQ.
Previously, students were able to contact Public Safety for an escort and ride with an officer to their location. Jagoe said there were a few issues with that.
"It didn't make sense that we would take one of our public safety officers off the campus main to do this," Jagoe said of officers traveling to areas like the Ralston Athletic Complex.
The Colonel Connector operates from 5 to 11 p.m., Monday through Friday.
Some of the rules regarding the Colonel Connector are:
Users must present their Wilkes ID when board, with no exceptions.
Each Wilkes campus member is permitted two guests who may ride with them start to finish.
All guests are required to present ID when boarding.
Public Safety reserves the right to refuse service to individuals who are deemed disruptive by the driver.
Alcohol and tobacco are not permitted in the van.
"It wasn't spawned by any particular event or events," Jagoe said. "We just thought it was a good idea given that we have students traveling a good distance. Our shuttle service right now is limited in the area that it covers."
Mass Notification System
Jagoe said that while the outdoor mass notification system is nothing new, he said updates have been made.
"They're very powerful speakers that we have mounted on the roof of the garage," Jagoe said. "That can cover the entire area of the Wilkes campus."
He said it's important to be able to communicate urgent items outdoors.
"If we have a weather event, or something that we wanted to get immediate notification out to the community that something's coming our way to take shelter."
Jagoe emphasized that these moves were proactive, not reactive.
"It's just to enhance all of the tools we have available to us as Public Safety," Jagoe said.