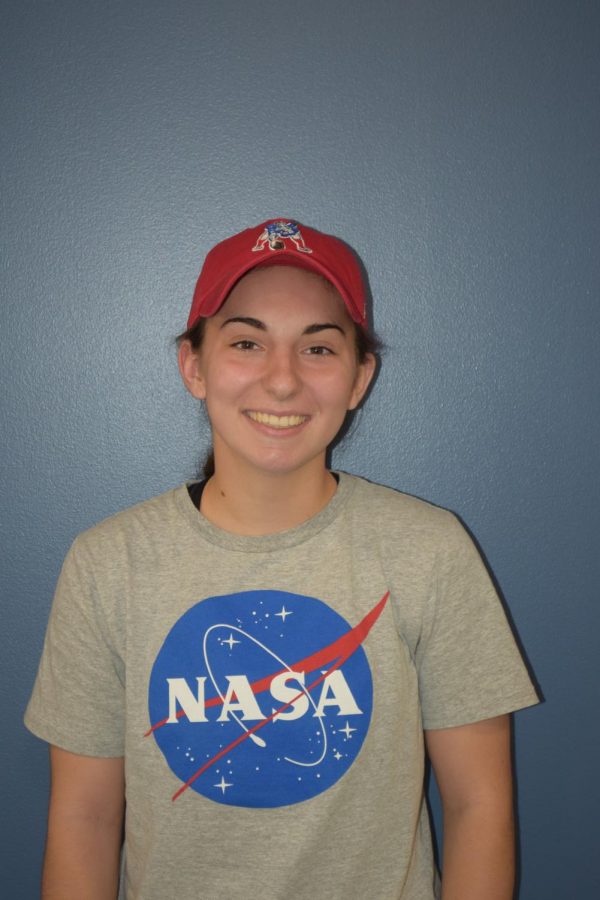 Maddie is a junior criminology and sociology double major. She also has a concentration in anthropology and a minor in women and gender studies.
Davis joined The Beacon as a staff writer in the Fall 2017 semester, before becoming the assistant news editor for the Spring 2018 semester.
She recently enjoyed a promotion, moving up to co-News editor for the Fall 2018 semester.
Aside from writing for news, Maddie is also a student aid for the Office of International Engagement where she works with the Panamanian students on campus.
Maddie is originally from Worcester, Massachusetts causing her admiration for Tom Brady, the New England Patriots, and the rest of the professional Boston sports teams.
Maddie Davis, Managing Editor
Feb 11, 2020

CENTERSPREAD: The XFL

(Story)

Sep 10, 2019

Profile of a professor: Dr. Leesa Levy, visiting music

(Story)

Apr 16, 2019

Local universities participate in Victims Resource Center Rally and Walk

(Story/Media)

Apr 16, 2019

Rosenn Lecture features attorney, activist Bryan Stevenson

(Story)

Apr 09, 2019

Students, faculty showcase research at 3rd Annual Scholarship Symposium

(Media)

Apr 09, 2019

Title IX office holds second annual Red Flag Campaign

(Story)

Apr 02, 2019

Presidential and Mega-Council elections to be held

(Story)

Mar 26, 2019

Students react to new vegan restaurant opening near campus

(Story/Media)

Mar 26, 2019

Office of Diversity Initiatives hosts Amy Kuiken's accent lecture

(Story/Media)

Mar 26, 2019

English Dept. hosts award-winning author Carmen Maria Machado

(Media)

Mar 19, 2019

PA Harm Reduction Coalition hosts policy change forum

(Story/Media)

Mar 19, 2019

Residence Life adds new resident halls for fall

(Media)

Feb 19, 2019

Dining Services expands weekend hours for select locations

(Story/Media)

Feb 19, 2019

Accelerated Nursing Program Receives 100 percent Pass Rate

(Story)

Feb 19, 2019

Emergency Blood Drive Held on Campus

(Story)

Feb 13, 2019

Accounting students offer free tax services

(Story)

Feb 13, 2019

Campus welcomes 32 Panamanian students

(Story)

Feb 08, 2019

MSC educates campus on Native American culture

(Story)

Feb 08, 2019

Sordoni holds artist lecture for 'Sacred Sisters'

(Story)

Jan 29, 2019

Public Safety campus safety initiatives, 'Bovis' graffiti artist identified internally

(Media)

Jan 29, 2019

Leahy resigns effective July 31, 2019; campus reflects on seven-year presidency

(Story)

Jan 29, 2019

Campus reacts to federal government shutdown

(Story)

Oct 30, 2018

Local Young Americans for Liberty hold demonstration on campus

(Story/Media)

Oct 30, 2018

Dr. Yanqui Zheng discusses the Chinese trade war at lecture

(Story)

Oct 30, 2018

Students react to Casino Week budget proposal

(Story)

Oct 30, 2018

Archaeology students visit Pittston dig site for hands on fieldwork

(Story)

Oct 24, 2018

Burglar strikes SUB; City PD, Public Safety working to ID

(Story)

Oct 24, 2018

Former United Nations rep. speaks on women empowerment

(Story/Media)

Oct 24, 2018

Catherine H. Bone lecture features chemist Dr. Geraldine Richmond

(Story)

Oct 01, 2018

World record attempted at the River Common

(Story)

Oct 01, 2018

Theatre Department changes musical following student concerns

(Story)

Oct 01, 2018
Sep 24, 2018

Impact of Supreme Court appointments discussed in Constitution lecture

(Story/Media)

Sep 24, 2018

Sordoni Art Gallery hosts Art in Context lecture

(Media)

Sep 20, 2018

ROTC holds commemorative event on the anniversary of Sept. 11 attacks

(Story/Media)

Sep 20, 2018

Engineering Center dedicated to Randy Mark

(Story/Media)

Sep 10, 2018

Campus reacts to pastor's groping at Aretha Franklin's funeral

(Story)

Aug 29, 2018

Pre-Professional Society raises money for local charity

(Story)

Aug 29, 2018

Students to return to major campus construction updates

(Story)

Apr 16, 2018

Profile of a new professor: Ms. Alisha S. Pitchford, chemistry

(Story)

Apr 16, 2018

Women and Gender Studies Conference features keynoter, Guerrilla Girl Donna Kaz

(Story)

Apr 09, 2018

New Sordoni exhibit opens with the collections of Andrew Sordoni

(Story)

Mar 26, 2018

Profile of a new professor: Dr. Joshua M. Blechle, Chemistry

(Story)

Mar 26, 2018

Students, faculty join 'March for our Lives' in Philadelphia

(Story)

Mar 19, 2018

Wilkes offers new majors and minors for undergraduate students

(Story)

Mar 19, 2018

Profile of a Professor: Dr. Xiaoming Mu, mechanical engineering

(Story)

Mar 19, 2018

Faculty and students discuss possibility of squirrels in Waller Hall

(Story)

Feb 26, 2018

Profile of a Professor: Dr. Carole Baddour, mechanical engineering

(Story)

Feb 19, 2018

Students, faculty react to White House domestic violence allegations

(Story)

Feb 19, 2018

Wilkes welcomes United Nations Rep. Charles Chauvel to campus

(Story)

Feb 12, 2018

Wilkes welcomes four Panamanian diplomats

(Story)

Feb 12, 2018

Black History Month lecture series: Straight Outta History

(Story)

Feb 05, 2018

Maintence technician awarded Quarterly Colonel Award

(Story)

Feb 05, 2018

King's College buys Times Leader building on Public Square

(Story)

Feb 01, 2018

Rare autoimmune disorder to be highlighted at upcoming presentation

(Story)

Feb 01, 2018

Henry's Dining Hall fitted with new renovations

(Story)

Nov 13, 2017

Cultural Film Series continues with 'Wilhemina's War'

(Story)

Nov 13, 2017

Profile of a New Professor: Meet Dr. Caroline Fortunato

(Story)

Nov 13, 2017

Student Government launches app

(Story/Media)

Nov 08, 2017

Lambda Kappa Sigma to hold Turkey Tea Luncheon at S.U.B.

(Story)

Oct 30, 2017

United Nations Rep. speaks on global sustainability

(Story)