Becoming Kareem
On Sunday, Sept. 30 Wilkes University welcomed Kareem Abdul-Jabbar to the campus as apart of their Max Rossen Lecture in Law and Humanities. Abdul-Jabbar's lecture was titled "Becoming Kareem" and chronologically captured his life as not only an athlete but as an activist, author, philanthropist, etc.
Abdul-Jabbar was the thirty-seventh speaker in the lecture series.
The Max Rossen Lecture is in remembrance of the Honorable Max Rosenn who was a Senior Judge in the United States Court of Appeals. Rosenn was born in Plains, Pa and throughout his career played a key role in the restoration of the Wilkes-Barre area as apart of the Flood Recovery Task Force for Wyoming Valley after Hurricane Agnes in the 1970s. He received an undergraduate degree at Cornell University and a law degree from the University of Pennsylvania before serving the United States in World War II. His former law clerks wanted to remember Rosenn in a significant way by raising funds to forever endow him through the Wilkes University Lecture Series.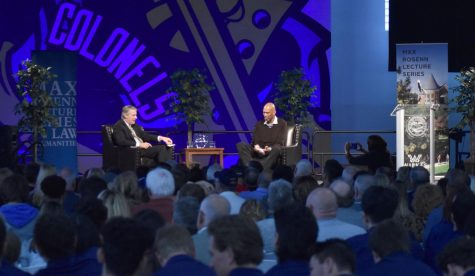 President Leahy acknowledged the seven of the eight former law clerks presence as he applauded and thanked them for coming.
In the past, this lecture series has brought Supreme Court Justice John Stevens, Senator Paul Simon and Novelist Norman Mailer.
This year's lecture series featured a more personal question and answer between Leahy and Abdul-Jabbar with submitted questions. The questions outlined Abdul-Jabbar's life from growing up in Harlem to being the well-rounded person he is today.
Kareem Abdul-Jabbar is known most notably for his outstanding NBA career on the Milwaukee Bucks and the Los Angeles Lakers where he has won six NBA championships, he has recorded the most points in NBA history and before that, he was a three-time National Championship with his college UCLA.
The lecture, however, featured a more behind the scenes look of Abdul-Jabbar's life, that took a look at how he has become to be such a well-rounded former-athlete who has published fifteen books, set up the Skyhook Foundation among other prestigious titles he has received.
Abdul-Jabbar was born in Harlem, NY. in 1947. His mother, who grew up in the Jim Crow era sparked his interest in athletics, specifically in baseball then later in basketball.
It was in elementary school where Abdul-Jabbar said he realized he was black because of a school picture that was taken, that being the most shocking experience he had recalled.
The focus of the questions then moved to his high school career and experiences at Power Memorial Academy where he recalled another disturbing experience.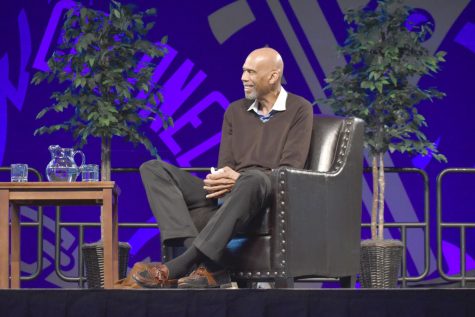 His team was facing a significantly worse team, but at half-time, they were only winning by a few points. His coach was extremely frustrated with the team, specifically Abdul-Jabbar and called him the N-word which shook him to his core.
This experience helped him learn an important life lesson about people: that everyone makes mistakes.
Abdul-Jabbar moved to talk about why he chose to go to UCLA and what he had gained from his experience and career there.
UCLA was most appealing to Abdul-Jabbar because he believed he would fit in the system. He continually praised Coach John Wooden for his wisdom but specifically admired him for his part in the civil rights movement; which he specifically didn't tell Abdul-Jabbar about to avoid him coming to UCLA for that reason alone.
Wooden was invited to the biggest game in college basketball with his Indiana State basketball team but rejected the invitation because they wouldn't allow him to bring his sole black player. The following year, he received the same invitation, but this time the director invited his black player, and from that point on, black players were allowed in the NAIA game.
His reasoning for rejecting the first offer was that it was what he was supposed to do, and this attitude clearly stuck in Abdul-Jabbar's career as he has used his platform to shed light on social and political issues. The decision stemmed from the unequal treatment of black Americans in the United States, leading him to feel unpatriotic.
During his talk, Abdul-Jabbar talked about how Dr. King, Malcolm X, Jackie Robinson and other civil rights activists were his heroes and helped shape his involvement in standing up for black Americans.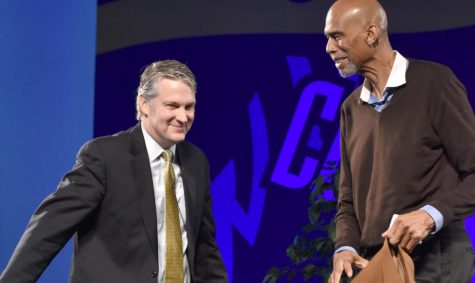 Jabbar also openly supported the current NFL protests led by Colin Kaepernick against the ongoing issue of police brutality against black Americans.
"I have all the respect in the world for Colin and for the fact that his protest is peaceful," said Abdul-Jabbar. "Police brutality is a problem in the black community and we have to keep continuing to have this discussion."
Abdul-Jabbar also talked about his conversion to the Muslim religion and his decision to change his name from Alcindor to Abdul-Jabbar. He also cleared up any misconceptions about the Muslim faith as it is very similar to christianity.
"I think that the greatest misconception about the Muslim faith is that it is strange or off the wall," said Abdul-Jabbar. "Islam is in the Judeo-Christian religion," Americans predominantly are Christian or Jewish added Abdul-Jabbar.
Abdul-Jabbar moved to talk about his more recent work after he retired from basketball in 1989.
He has written many books ranging in topics from history to children books. One book he has written in particular, he hopes helps black children understand they all don't have to be Beyonce or Lebron James to be successful: "Black Profiles in Courage: A Legacy of African-American Achievement."
He wants young children to realize they just need to study science and math to be successful which lead to his "Skyhook Foundation."
His Skyhook Foundation takes children and gives them a place to complete STEM (Science, Technology, Engineering and Mathematics) experiments. They also get hands-on experience with animals and nature through this foundation.
Abdul-Jabbar ended his lecture by thanking the audience and was met with a standing ovation.
"Hopefully you learned something, I am always learning," said Abdul-Jabbar. "Thank you for having me."
Senior criminology and sociology student Giuseppi Durso gained a lot of insight from Abdul-Jabbar's long-standing and well-developed career.
"Me watching him as a twenty-one-year-old gives me hope that I can be like him one day, to become more well-rounded [like Abdul-Jabbar]," said Durso. "It gives me hope, and hopefully it gives the other college students here hope that they can be more like him; be more open-minded, be more well-rounded as an individual and understanding of other people."
Dr. Terry Zipay, who was the chairperson in the Department of Visual and Performing Arts, attended the lecture with Kris Cross, a faculty member at Wilkes University who teaches dance. Both talked very highly of not only Abdul-Jabbar but with the running messages of his lecture.
"I didn't hear anyone whispering, he had the full audience engaged," said Cross.
"He gave us so many things to think about," said Zipay, "I was intrigued at what a gentle man he is.
"He has dealt with racism elegantly, giving you really valuable things to think about and ways to manage yourself in this crazy polarized time we are living in," he added.