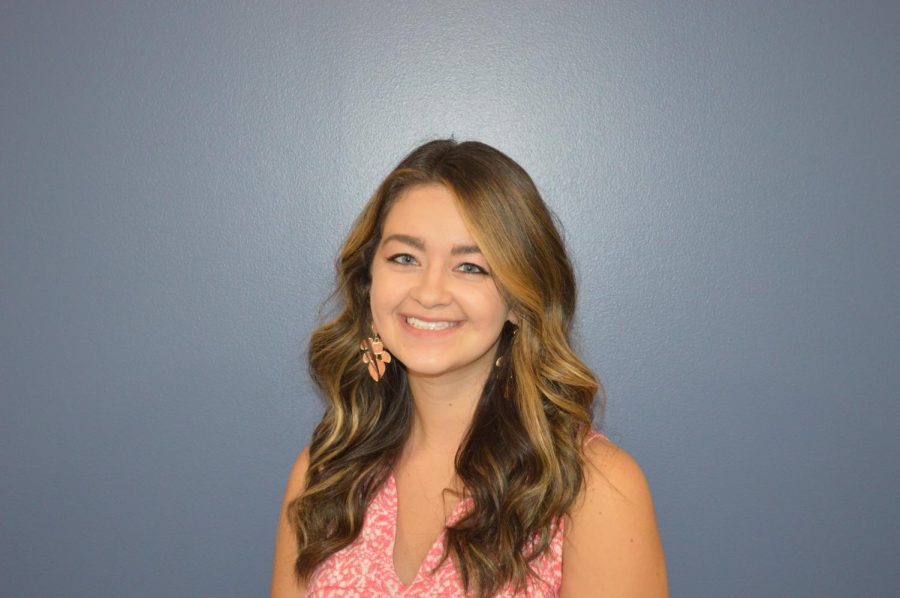 Kirsten Peters is a junior communication studies major with concentrations in multimedia journalism, broadcast production and strategic communication, along with a minor in sports management.
Peters joined
The Beacon
as a sports staff writer in the Fall 2017 semester before earning a Co-Sports Editor position alongside Ben Mandell for the Fall 2018 semester, which she still holds today.
In addition to writing about sports, Peters is the Sports Director/Anchor of the
Wilkes Now
television show on campus.
Peters' love for sports doesn't stop there, as she began as the Wilkes University Baseball intern in 2017 and will be continuing her scorekeeping and photography positions this year. Furthermore, she added baseball social media director to her list of credentials in 2018.
Peters has a passion for photography and runs her own photography account (@_KAPphotography) on social media.
Kirsten Peters, Co-Sports Editor
Sep 16, 2020

Student Government announces Virtual Club Day for Sept. 18: How the changes in format will allow for flexibility in club advertising

(Media)

Sep 16, 2020

Building today's Wilkes Adventure Education with Jill Price

(Media)

Jul 03, 2020

Potential loss of Marching Colonels could leave sporting events devoid of usual fanfare

(Media)

Jun 01, 2020

The Beacon graduates seven seniors, says 'hello' to new staff

(Story)

May 17, 2020

Non-reappointment of university band director prompts community response

(Media)

Apr 21, 2020

AOTY2020: Semifinal Round advances unlikely candidates; Championship Round concludes on Thursday

(Story)

Apr 19, 2020

AOTY2020: Quarterfinal Round suffers seven upsets out of eight polls; Semifinal Round set for Sunday

(Story)

Apr 17, 2020

AOTY2020: Round of 16 recap after Friday's polls close; Quarterfinal Round set for weekend

(Story)

Apr 15, 2020

AOTY2020: Opening Round concluded Wednesday with seven upsets; Round of 16 set for Thursday, Friday

(Story)

Apr 13, 2020

AOTY2020: Athlete of the Year Tournament begins today; fillable brackets online

(Story)

Apr 11, 2020

BREAKING: Beacon Sports releases "Athlete of the Year" tournament bracket

(Story)

Apr 09, 2020

Beacon Sports team announces third annual "Athlete of the Year" tournament, set to begin Monday

(Story)

Apr 02, 2020

Wilkes University postpones May 16 commencement ceremony without definitive replacement date; seniors react optimistically to uncertainty

(Story)

Mar 28, 2020

MIH: Three Colonels receive national recognition from AHCA, USCHO

(Media)

Mar 26, 2020

Wilkes University extends remote learning following uncertainty surrounding COVID-19, offers comfort to Wilkes community during transition period

(Story)

Mar 24, 2020

MIH: Flynn nominated for Sid Watson Player of the Year award after earning Co-UCHC Player of the Year honor

(Media)

Mar 16, 2020

BASE: Multiple Colonels put in the record books during first appearance on Bruggeworth Field in only competition of regular season

(Story/Media)

Mar 16, 2020

MAC responds to COVID-19 pandemic with cancellation of all spring athletic events

(Story)

Mar 13, 2020

Decoding the coronavirus

(Story)

Mar 13, 2020

Wilkes University announces move to remote learning due to COVID-19

(Story)

Feb 29, 2020

ONLINE EXCLUSIVE: Tyler Barrow's sudden death goal leads Wilkes to semi-final series victory over Stevenson

(Media)

Feb 28, 2020

ONLINE EXCLUSIVE: Colonels earn first-ever playoff win with third period comeback against Stevenson

(Media)

Feb 25, 2020

MIH: Tough weekend still gives Colonels positive results

(Media)

Feb 25, 2020

MVB: Exciting third set leads Colonels to extra-point victory

(Media)

Feb 25, 2020

MBB: Colonels Fall On Senior Night

(Media)

Feb 25, 2020

Male Athlete of the Week: Tyson Araujo, junior ice hockey player

(Story/Media)

Feb 25, 2020

Female Athlete of the Week: Ashley Burkhardt, junior lacrosse player

(Story/Media)

Feb 25, 2020

WBB: Colonels graduate four seniors

(Media)

Feb 18, 2020

MBB: Wilkes eliminated from playoffs after 73-71 loss to King's

(Media)

Feb 18, 2020

WREST: Medrow, Almkey win decisions in loss to No. 16 Ithaca

(Story/Media)

Feb 18, 2020

Female Athlete of the Week: Gianna Roberts, senior basketball player

(Story/Media)

Feb 18, 2020

Male Athlete of the Week: Robert Pecorelli, senior basketball player

(Story)

Feb 18, 2020

WBB: Late run isn't enough for the Colonels

(Media)

Feb 11, 2020

MIH: Gurska powers offense to dominant win over King's

(Media)

Feb 11, 2020

Male Athlete of the Week: Michael Paterson-Jones, freshman ice hockey player

(Story)

Feb 11, 2020

Female Athlete of the Week, Alexa Rango, sophomore ice hockey player

(Story)

Feb 04, 2020

Female Athlete of the Week: Ally Joly, sophomore ice hockey player

(Story/Media)

Feb 04, 2020

Male Athlete of the Week: Nick Fea, sophomore ice hockey player

(Story/Media)

Feb 04, 2020

WIH: Colonels take another step forward in second season

(Media)

Feb 04, 2020

MBB: Colonels drop another close contest to Eastern in overtime

(Story/Media)

Feb 04, 2020

Remembering Kobe: How The Beacon reacted to losing an icon

(Story)

Jan 28, 2020

MIH: Wilkes can't overcome crucial call in loss to Elmira

(Media)

Jan 28, 2020

Female Athlete of the Week: Maddie Kelley, junior basketball player

(Story/Media)

Jan 28, 2020

Male Athlete of the Week: Donny Flynn, sophomore hockey player

(Story/Media)

Nov 19, 2019

Male Athlete of the Week: Jose Tabora, senior football player

(Story)

Nov 19, 2019

FB: The Mayor's Cup Returns To Wilkes

(Story)

Nov 19, 2019

Female Athlete of the Week: Macy Berryman, freshman basketball player

(Story/Media)

Nov 19, 2019

Crosstown rivals come together off the field for Beads of Courage

(Media)

Nov 19, 2019

WIH: First conference win eludes Colonels twice on home ice

(Media)

Nov 12, 2019

Female Athlete of the Week: Samantha Cecere, senior soccer player

(Story/Media)

Nov 12, 2019

Cheerleading team attempts to gain recognition as a sport

(Media)

Nov 12, 2019

MIH: Erickson caps third period comeback for Hynes' first win

(Media)

Nov 12, 2019

FB: Colonel comeback fails to overcome first-half turnovers

(Story)

Nov 12, 2019

Male Athlete of the Week: Derek Nelson, senior football player

(Story/Media)

Nov 05, 2019

MIH: Araujo's hat trick not enough to spark Colonels in opener

(Media)

Nov 05, 2019

FB: Colonel quarterbacks come from north, south, east and Weist

(Story/Media)

Nov 05, 2019

MAOTW: Ja'Quan Sheals, freshman football player

(Story/Media)

Nov 05, 2019

FATOW: Jessica Egan, senior soccer player

(Story/Media)

Nov 05, 2019

FB: Arsenal of quarterbacks conquer Devils

(Story/Media)

Oct 29, 2019

FAOTW: Delfina Bracchi, senior soccer player

(Story/Media)

Oct 29, 2019

MAOTW: Noah Molina, junior cross country runner

(Story/Media)

Oct 29, 2019

WVB: Wilkes, DeSales promote Go for the Gold Foundation

(Media)

Oct 22, 2019

FAOTW: Karlye Huffman, sophomore Volleyball Player

(Story/Media)

Oct 22, 2019

MAOTW: Zachary Nesheiwat, junior football player

(Story/Media)

Oct 22, 2019

Colonels athletics in brief: Wilkes' comeback defeats Eagles

(Media)

Oct 22, 2019

FB: Unbeaten no more; Wilkes takes first loss of season to Del Val

(Story)

Oct 08, 2019

FAOTW: Lauren Baldwin, junior field hockey player

(Story)

Oct 08, 2019

MAOTW: Shane Henehan, junior soccer player

(Story)

Oct 08, 2019

FH: Colonels fall to DeSales in Homecoming weekend opener

(Media)

Oct 08, 2019

FB: HOCO win keeps Colonels' record spotless

(Story/Media)

Oct 08, 2019

MSOC: 2-1 win rings in Bruggeworth Field, MAC Freedom play

(Media)

Oct 01, 2019

AOTW: Alexa Cieri, sophomore tennis player

(Media)

Oct 01, 2019

AOTW: Bud Moyer, senior football player

(Story/Media)

Sep 25, 2019

WSOC: Wilkes fails to get past No. 19 Arcadia in 3-0 shutout

(Story)

Sep 25, 2019

FB: Colonels grind out double overtime victory at Lycoming

(Story/Media)

Sep 24, 2019

AOTW: RJ Rauh, sophomore soccer player

(Story/Media)

Sep 24, 2019

AOTW: Jamey Mikovich, senior volleyball player

(Story)

Sep 17, 2019

AOTW: Morghan Murphy, sophomore field hockey player

(Story)

Sep 17, 2019

Team-first attitude leads Wilkes to first 2-0 start in 10 years

(Story)

Sep 17, 2019

AOTW: Nick Yanik, junior football player

(Story/Media)

Sep 10, 2019

AOTW: Kiana Jedlicka, sophomore soccer player

(Story/Media)

Sep 10, 2019

AOTW: Kyle Bentz, senior soccer player

(Story/Media)

Sep 10, 2019

FH: Wilkes drops to 2-2 after controversial loss against Widener

(Media)

Sep 10, 2019

WSOC: Questionable goal stifles Colonels, leads to 2-1 loss

(Story/Media)

Sep 10, 2019

NFL: Star WR Antonio Brown schemes his way out of Oakland

(Media)

Aug 19, 2019

MIH: Riley accepts job offer after tremendous inaugural season

(Media)

Aug 19, 2019

Student-athletes react to $8 million Ralston enhancements

(Story)

Apr 16, 2019

AOTY: Nicholas Racanelli, senior wrestler

(Story/Media)

Apr 16, 2019

BASE: Reno's bat helps salvage game two in rivalry weekend

(Story/Media)

Apr 16, 2019

AOTY: Gabrielle Giordano, senior basketball and softball player

(Story/Media)

Apr 09, 2019

AOTW: Sarah Carlini, junior lacrosse player

(Story/Media)

Apr 09, 2019

AOTW: John Hibschman, freshman baseball player

(Story/Media)

Apr 09, 2019

BASE: Emotions run high in steep loss against Manhattanville

(Story)

Apr 02, 2019

AOTW: Caitlin Brown, senior softball player

(Story/Media)

Apr 02, 2019

AOTW: Nicholas Capozzi, senior baseball player

(Story/Media)

Apr 02, 2019

BASE: All-around effort leads to .500 week for Colonels

(Story/Media)

Mar 26, 2019

AOTW: Jordan Vasarkovy, senior tennis player

(Story)

Mar 26, 2019

BASE: Capozzi, Pronti energize offense against Muhlenberg, Eastern

(Story/Media)

Mar 26, 2019

AOTW: Gage Coudriet, freshman baseball player

(Story)

Mar 19, 2019

AOTW: John Wink, senior lacrosse player

(Story)

Mar 19, 2019

AOTW: Kyra Boccio, senior lacrosse player

(Story)

Mar 19, 2019

BASE: Colonels salvage series against Misericordia

(Story/Media)

Feb 26, 2019

MBB: Wilkes can't finish cinematic comeback in Championship

(Media)

Feb 26, 2019

AOTW: Robert Pecorelli, junior basketball player

(Story/Media)

Feb 26, 2019

AOTW: Allyson Joly, freshman ice hockey player

(Story/Media)

Feb 26, 2019

MBB Playoff MVP: Tommy Bowen

(Story/Media)

Feb 26, 2019

MIH: Colonels upset by five-seed in UCHC playoff game

(Media)

Feb 26, 2019

MIH Playoff MVP: Tyson Araujo

(Story/Media)

Feb 19, 2019

AOTW: Marcus Robinson, senior basketball player

(Story/Media)

Feb 19, 2019

MIH: Playoff Bound

(Media)

Feb 19, 2019

MBB: Playoff Bound

(Media)

Feb 19, 2019

AOTW: Ashley Caster, senior basketball player

(Story/Media)

Feb 12, 2019

AOTW: Mark Mullins, junior basketball player

(Story/Media)

Feb 12, 2019

WBB & MBB: Colonels Conquer Monarchs

(Story/Media)

Feb 12, 2019

MBB & WBB: Colonels travel to Misericordia

(Story)

Feb 12, 2019

AOTW: Abby Keating, sophomore swimmer

(Story/Media)

Feb 05, 2019

Olympic curler Tyler George visits Toyota Sportsplex

(Media)

Feb 05, 2019

WBB: Valiants defeat Colonels 81-72 in second matchup

(Story/Media)

Feb 05, 2019

MBB: Colonels secure back-to-back conference wins

(Media)

Feb 05, 2019

AOTW: Brandon Gordon, freshman ice hockey player

(Story/Media)

Feb 05, 2019

AOTW: Gabrielle Giordano, senior basketball player

(Story/Media)

Jan 29, 2019

AOTW: Maddie Kelley, sophomore basketball player

(Story/Media)

Jan 29, 2019

AOTW: Tyler Barrow, freshman ice hockey player

(Story/Media)

Jan 29, 2019

WBB: Colonels secure win, display grit under new coach

(Story)

Jan 29, 2019

MBB: Colonels look to bounce back after rough patch

(Media)

Jan 29, 2019

MIH: First-year Colonels claim first place in conference

(Media)

Nov 13, 2018

MIH: Colonels keep rolling

(Media)

Nov 13, 2018

MIH: Wilkes home opener

(Media)

Nov 13, 2018

Mayor's Cup: Colonels take on rival Monarchs

(Story/Media)

Nov 13, 2018

Alumnae Gigliello & Saracino inducted into Hall of Fame

(Story)

Nov 13, 2018

AOTW: Nicholas Racanelli, senior wrestler

(Story)

Nov 06, 2018

AOTW: Donald Flynn, freshman ice hockey player

(Story)

Nov 06, 2018

AOTW: Kendall Castro, freshman ice hockey player

(Story)

Nov 06, 2018

AOTW: Nicolette Towlen, senior soccer player

(Story)

Oct 30, 2018

FB: Colonels earn fifth win, beat Lycoming 14-7

(Story)

Oct 30, 2018

AOTW: Courtney Murphy, senior tennis player

(Story)

Oct 30, 2018

AOTW: Haley Gayoski, senior field hockey player

(Story)

Oct 23, 2018

AOTW: Jessica Egan, junior soccer player

(Story/Media)

Oct 23, 2018

AOTW: Devon Fink, senior football player

(Story/Media)

Oct 09, 2018

WVB: Team has record year, Mikovich at forefront

(Story)

Oct 09, 2018

AOTW: Allison Peet, junior soccer player

(Story/Media)

Oct 09, 2018

FB: Colonels break 17-year homecoming drought

(Story/Media)

Oct 09, 2018

AOTW: David Kutteroff, freshman football player

(Story/Media)

Oct 02, 2018

AOTW: Luke Betancourt, freshman soccer player

(Story/Media)

Oct 02, 2018

AOTW: Mackenzie Sweeney, freshman field hockey player

(Story/Media)

Oct 01, 2018
Sep 25, 2018

AOTW: Karlye Huffman, freshman volleyball player

(Story)

Sep 25, 2018

FB: An interception, multiple fumbles cost Wilkes the win

(Media)

Sep 25, 2018

FB: First year head coach Jon Drach rings in new era

(Media)

Sep 25, 2018

AOTW: Camry Huff, senior soccer player

(Story/Media)

Sep 18, 2018

AOTW: Jamey Mikovich, junior volleyball player

(Story)

Sep 18, 2018

AOTW: Jose Tabora, senior football player

(Story)

Sep 11, 2018

AOTW: Jeff Steeber, senior football player

(Story)

Sep 11, 2018

AOTW: Dallas Kendra, senior field hockey player

(Story)

Sep 11, 2018

Football clinches first win 30-27 in overtime against LVC

(Story)

Aug 15, 2018

Football program shifts focus for upcoming season

(Story)

Aug 15, 2018

McNichol, Macciocco, Drach, Limouze hired as new head coaches

(Story)

May 05, 2018

BASE: Miscues cost Colonels in game one of the MAC Freedom playoffs

(Media)

Apr 17, 2018

BASE: Wilkes wins series finale against Manhattanville 13-6

(Story/Media)

Apr 10, 2018

BASE: Wilkes breaks out the brooms in series with King's

(Story)

Apr 02, 2018

UPDATED: Beacon Sports team announces first "Athlete of the Year" tournament

(Story)

Mar 27, 2018

BASE: Colonels take game from defending conference champions

(Story)

Mar 19, 2018

BASE: Colonels play eight games in Myrtle Beach

(Story)

Feb 28, 2018

BASE: Spring Preview

(Story)

Feb 21, 2018

WBB: Lady Colonels fall in Senior Day affair

(Story)

Feb 16, 2018

AOTW: Kelsey Yustat, sophomore basketball player

(Media)

Feb 16, 2018

MVB: Colonels drop first-ever MAC home opener to Messiah

(Story)

Feb 05, 2018

WBB: Yustat's career-high not enough to lift Lady Colonels

(Story)

Jan 30, 2018

MBB: Colonels top Cougars in OT thriller for pivotal road win

(Media)

Nov 13, 2017
Nov 07, 2017

FH: Late rally falls short, 3-2

(Story)

Oct 31, 2017

Anthem protests continue

(Story)

Oct 23, 2017

WSOC: Towlen's goal lifts Lady Colonels in victory over #18 Misericordia

(Story)

Oct 09, 2017

WVB: Pediatric Cancer Night

(Story)

Oct 03, 2017

New intramurals director leads program

(Story)

Sep 25, 2017

Fall sports emphasize pre-game preparation & traditions

(Story)