ROTC holds commemorative event on the anniversary of Sept. 11 attacks
On Sept. 11, Wilkes University's ROTC Detachment 752 and campus members came together to commemorate the lives of those lost in the terrorist attacks on Sept. 11, 2001.
On this infamous day in 2001, an estimated 2,996 people died from the terror attacks and more than 6,000 were injured. These attacks targeted both the North and South towers of the World Trade Center, the Pentagon, and a field in Somerset County, Pa.
The ROTC led event started with the Honor Guard's presentation of colors and the playing of the national anthem.
Cadet Wyatt Sebring led the crowd with a prayer in remembrance of those lives that were lost 17 years ago to the date. He thanked God for His presence throughout these times of need for guidance.
Cadet Brian McKenna served as master of ceremonies for the commemoration who first introduced Major David Suszko, Operations Flight Commander of the detachment, who talked about what the events of 9/11 meant to him.
At the time of 9/11, Major Suszko was a junior at Indiana State University and had just returned from a 28-day training camp at an Air Force Base in Texas.
He was getting ready for the day after a morning run with his fellow cadets. As he was getting his dress blues on his mother had called him to inform him that a plane had crashed into the North Tower.
He instantly learned from one of his professors that this meant the United States were going to war.
Suszko reflected on the result of this attack on the future of America.
"This event led my generation to the global war on terror," said Suszko, who served a year and a half in Honduras after 9/11.
Retired Lt. Col. Mark Kaster spoke next about what the United States learned and what we should reflect upon from 9/11.
Kaster was serving in Washington D.C. at the time of the attacks on Sept. 11. Kaster was less than a mile from the Pentagon and was preparing to got to a meeting there later on that day.
"I was there, I saw it, I felt it, I smelt the smoke," recalled Kaster.
Kaster went into depth about the expenses the military goes to for United States citizens to be free back home. He acknowledged the ROTC students for their willingness to sacrifice their lives for our freedom.
He further encouraged the audience to thank veterans and their families for their sacrifices for the United States of America.
"They deserve your respect, they earn that respect," said Kaster.
Kaster continued to urge the audience to honor the over seventy Wilkes veterans and dependents of veterans by quoting and relating part of the movie "Saving Private Ryan" to what we should do as a Wilkes community for our veterans.
"Earn what has been done for us. Not to let the lives of so many people go to waste," Kaster told the audience. "I ask you to live your lives better today knowing the sacrifices that have been made to you."
Kaster finished by telling the audience to learn from 9/11 and to become better citizens by being humble, respecting one another, and making wrongs rights.
"9/11 was a terrible day, don't let that day become a page in the history book."
He finished with a quote from Saving Private Ryan, one that he believed everyone should follow to become a better citizen.
"Earn this, earn it," finished Kaster, referencing the sacrifices of our veterans.
President Dr. Patrick Leahy was the last speaker who came to the podium who spoke personally about the Sept. 11 attacks.
"When I see the flag of honor I always go up to that flag and I trace the names until I find one," said Leahy.
That name is Thomas Galvin, Leahy's classmate at Georgetown University who worked on the top floor of the North Tower as a bonds trader with Cantor Fitzgerald.
Leahy also talked about his other former classmate and Hollywood producer James Whitaker who decided to launch "Project Rebirth" after visiting Ground Zero during a mutual friend's wedding.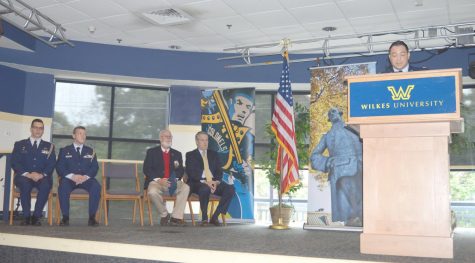 Whitaker's "Project Rebirth" became a 10-year project where 14 cameras took pictures every five minutes until the Freedom Tower was built.
He also interviewed a select few every year asking them how they felt about the events that took place back in 2011, simply because he wanted to showcase the emotional rebuilding of individuals, according to Leahy.
"He found that time heals, that grief can, in fact, soften over time," said Leahy. "Out of the very worst of situations, people can be reborn."
Leahy finished with a suggestion for the audience before the commemoration ended.
"Hold the embrace of those we love a little bit longer, hold the embrace of those we love a little bit tighter. Today, yes, but hopefully every day," ended Leahy.
While Leahy talked about his personal connection to the attacks on 9/11, the Air Force ROTC Honor Guard presented Wilkes University and Leahy with a Flag of Honor. This flag consists of every name of those whose lives were lost from the infamous day. Leahy said this flag will be framed and hung in the ROTC offices in UCOM.
"[This flag] will be a constant reminder to all of us of that fateful day in 2001," said Leahy.
A similar flag flies at the Maxwell Air Force Base in Alabama where Wilkes ROTC cadets go for their field training.
One of the flags at the base was also flown in Wilkes-Barre, Pa., apart of the "Healing Fields" ceremony the city held years after 9/11.
McKenna ended the event by holding a moment of silence for those who lost their lives on this infamous day in history.
He then played "Taps" on the trumpet, a song famously used to conclude military memorials.
"May we never forget the loss that deeply affected us that day, and continues to do so," added McKenna. "May we always remember those who give their lives so we may live ours. And may God bless the United States of America."