Emergency Blood Drive Held on Campus
On Feb. 14, the Red Cross held yet another blood drive on campus. This one, however, held a more serious meaning and need.
The Red Cross and its volunteers were asking the greater Wilkes community to be especially generous because of the nation's emergency need for blood within the past month.
The Red Cross was also seeking for platelet donations, as well as 'power red' donations. 'Power red' allows a donor to donate two units of blood while it returns the donor's platelets and plasma back to the donor.
The emergency for blood stemmed from the recent winter weather which was stopping volunteers and their operations to collect blood. With upcoming snow in the forecast, and the unpredictability of winter weather, the Red Cross is trying to encourage people to donate so it can prepare for an even further decline in blood supply.
Jacqueline Dercole, blood service manager with the Red Cross, further explained how the weather affected the Red Cross' blood supply, specifically from the snowstorm on, Feb. 12.
"The other day we lost all of our operations because of the ban on travel so the emergency really has been (ongoing). All blood types are needed," said Dercole.
The 2018-2019 government shutdown, which lasted 35 days, also has played a part in the lack of recent blood donations.
"A core percent of our donations were coming from government employed facilities which were closed during the shutdown," explained Dercole.
She also added that the impending flu season is also affecting the already low supply.
At the time of the blood drive, the Red Cross has less than a three-days supply for most of the different blood types. This is extremely low for their standards and usual supply which overall caused the emergency need for blood donors.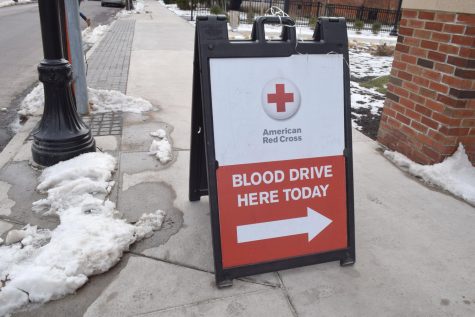 Dercole said that the Red Cross usually holds about four to five blood drives at Wilkes University a year. She further explained why Red Cross chooses Wilkes University to hold a large series of blood drives every year.
"(Wilkes University) is one of our largest collectors in Luzerne County as far as colleges and universities," she said.
According the the Red Cross, Wilkes University helped collect 136 units of blood in 2017 alone. A unit is roughly one pint of blood.
Volunteers from the Northeastern chapter of the Red Cross, located in Wilkes-Barre checked people in, helped people settle in and recover after the event. Shirts and snacks welcomed the donors after they got done having blood drawn.
There was a steady stream of Wilkes University students, faculty, staff and community members who lined up to donate blood. Donors could have either made an appointment on line or could have done a walk-in donation.
Sociology professor, Dr. Robert Tuttle, also donated at the most recent blood drive and talked about why he chooses to donate when he can.
"I do try to donate every time there is a drive at Wilkes," said Tuttle. "There is often an urgent need for blood, and donating is an easy way to contribute something to the community."
Morgan Burton, junior neuroscience and psychology major, decided to donate blood this past blood drive on Valentine's Day.
"It's important for people to donate because there are people in the world who either have a condition that need blood or something happened in their life, that was no fault of their own and they need our help," said Burton. "I would want someone to do the same for me."
The drive collected 38 units of blood, which in turn will help up to 114 patients in Northeastern PA and beyond, Alana Mauger, Red Cross external communications manager said.
"The Wilkes University drive was especially important because snow, ice and freezing temperatures have led to 20 blood drives being canceled over the past month, and close to 600 blood donations went uncollected as a result," Mauger said.
The Red Cross and their local volunteers will hold their next blood drive on Tuesday, Apr. 23 from 10 a.m. to 3 p.m. in the lounge on the first floor of the Henry Student Center.