Former United Nations rep. speaks on women empowerment
On Oct. 16 Wilkes University welcomed UN Speaker Dr. Patience Stephens as apart of the annual UN lecture series. Stephens is the first speaker of the fall 2018 semester.
Stephens was the 29th speaker brought to the campus to speak to students, faculty and staff who are interested in the various issues regarding the United Nations.
Her lecture titled "women's empowerment from the UN perspective" focused on the history of UN women empowerment initiatives both recent and past. It also incorporated Stephens' own views about the matter.
Stephens was a former Director/ Special Advisor on education of the organization UN Women.
This organization, Stephens explained, was dedicated to gender equality and women empowerment not only within the UN but among the countries they are involved in.
She informed the audience that gender equality as been at the forefront of the UN for decades, however the idea of women empowerment is fairly new.
UN Women was created in 2010 and became operational in 2011 and combined four different UN entities to reach gender equality and empowerment among different specific structural goals.
The four entities were the Division for the Advancement for Women (DAW), the International Research and Training Institute for the Advancement of Women (INSTRAW), the Office of the Special Advisor on Gender Issues (OSAGI), United Nations Development Fund for Women (UNIFEM).
Member States wanted the four entities to come together so there would be a common leader on gender equality and women empowerment within the UN and that they should be both humanitarian and secretariat
OSAGI stands out within these four entities not only because this is where Stephens started before UN Women but because this had the highest level of staff and gender architecture and it was the office that was tasked to put together proposals for the member states to decide what UN Women would be. 
Since 1946, the UN has been involved in the idea of gender equality, which was formerly called "The Advancement of Women."
Stephens then moved to the topic of gender mainstreaming, assessing the impacts of any action on both women and men among all areas of the UN, which is a primary strategy to promote gender equality of the UN Women.
UN Women hoped to strengthen positive global norms about the status of women, encouraging women leadership and participation, providing women economic empowerment and autonomy and finally ending violence against women.
Education was a term and strategy that resonated throughout Stephens talk as she said it is the most important component to help women empowerment, however the work of UN Women doesn't portray it to be as important.
"I think it is unfortunate because it is an important leverage for making change in women's lives," said Stephens.
UNESCO, which is very active in the humanitarian area as they incorporate education in their response to humanitarian emergency, however has attempted to push the educational agenda on UN Women.
Issues revolving conflict around the world were affecting women and the UN looked to solve this issue which later came in 2000 when the security council adopted resolution 1325.
"Violations of the human rights of women in situations of armed conflicts are violations of fundamental principles of international human rights and humanitarian law," said Stephens.
Resolution 1325's main focus was to involve women in peace processes. Many other resolutions have been made afterward and all revolve around the need to bring women into the picture to solve these social conflicts.
Stephens ended her lecture by touching on the importance of education again and how UN women and others should understand this importance to succeed women empowerment goals.
She ended with a quote from Nelson Mandela that has driven her work.
"Education is the most powerful weapon which you can use to change the world," read Stephens.
Junior political science major, Lety Patino Flores, asked Stephens for some personal advice about joining the UN.
"What piece of advice would you give a young female either heading into education or heading into a field like the UN," asked Flores.
Stephens said education is a good field of work but to expect a lot of change because of technology. For the UN, Stephens advised Flores and the audience of a whole that you do not need to take international business to get in, you just need to be in a field that is needed.
Political science professor Dr. Thomas Baldino attended the lecture and asked Stephens a question regarding a previous slide about Beijing and a meeting there about women empowerment.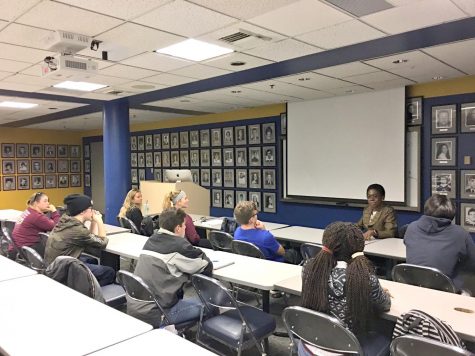 "In one of your earlier slides there was a list of human agencies related to women, in the very last [bullet] there was something about a 'girl child'… could you explain that, I am curious," asked Baldino.
Stephens answered that member states identified the areas on the slide, including the one Baldino asked about, as key areas which required specific attention for the advancement of women. The member states identified the girl child as one of these areas because girls were facing challenges in their communities, one of which including child labor.
The 30th UN Lecture Series speaker will be Mr. Niall McCann. McCann will speak on Thursday, Nov. 8 in Marts Athletic Center Room 214 at 4 p.m.
His talk is titled "The United Nations and Electoral Integrity" and will discuss his experience of electoral integrity while apart of the UN's Bureau for Policy and Programme Support  in New York, NY.
This lecture will be free and open to the public.