Students react to new vegan restaurant opening near campus
It was announced this past week that a new vegan restaurant will be opening below the new student apartments on 134 South Main Street on the south side of campus.
Eden Vegan Cafe, will open its second location in Wilkes-Barre, right outside of the campus. The first restaurant has been open in Scranton for more than a decade.
The restaurant offers vegan soups, paninis, sandwiches and pizza, among many other different options.
When asked, most students were unaware about the new restaurant.
"I think this is something Wilkes should give an official statement on, it seems exciting but I had no idea," said Josh Shepard, senior musical theatre major.
This location plans to open its doors on South Main Street in August. Many students around campus are excited about the opening of a new restaurant.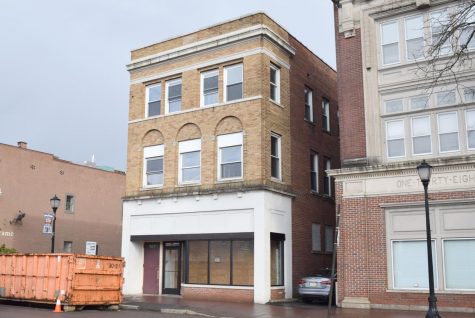 Rawan Elshamsy, a freshman nursing student, talked about how the restaurant would help her be able to eat with her friends because of their vegetarian options.
"As someone who really doesn't eat me, it is hard to go out with friends and eat something other than a salad or plain pasta," said Elshamsy. "A place that has vegan options will be nice because I won't have to worry about what I am eating all of the time."
Rawan was not the only student to echo the idea of being satisfied with the options the restaurant has for students
Chris Smith, a sophomore history and international studies double major was also excited about the new restaurant. Smith says that he is also a vegetarian.
"It is so exciting to see vegan/ vegetarian options coming to campus. There is such a lack of this in the campus area. It is pretty great," he said.
The restaurant has not spoken on if Wilkes flex dollars are going to be a payment option, but some students hope that they will be able to use their flex dollars on another off-campus restaurant.
"If flex dollars were accepted, this would be pretty cool for students," said Tyler Deters, sophomore criminology and sociology double major. "There are no real vegan options in Wilkes-Barre, or on Wilkes University's campus. So this is definitely needed for the campus and for the community."
There were some students who were indifferent to the announced opening of the restaurant, but they still agreed it could be a good opportunity for those who are vegan/ vegetarian.
"I'm not a vegan. This does not impact me at all," said Nicholas Whitney, senior history major. "I think it is nice to see that there are options for those who choose this lifestyle."
Eden Vegan Cafe is expected to open in August, if not earlier.