Campus welcomes 32 Panamanian students
On Jan. 31 the newest group of students in the IFARHU program arrived on campus. The group consists of 19 students from all eight of the provinces in Panama. This IFARHU group marks the third to arrive on campus.
The Office of International Engagement, who sponsor these students, welcomed 19 new IFARHU 3 students and 13 of the returning IFARHU 2 students. The office has also welcomed MEDUCA 10, the newest MIRE group, IFARHU 1 and four UTP students in the past few years.
MEDUCA students are apart of Panama Bilingue, a five-month program that brings in older students to learn different curriculum and skills to become english teachers in Panama. MIRE students are diplomats from Panama who come to the university for a semester to take different classes to broaden their education. UTP students are college students enrolled at the Universidad Tecnológica de Panamá who come to the university for a semester to take engineering classes.
The IFARHU program started three years ago when the government of Panama reached out to  Wilkes University to start to identify student populations in Panama who could take on the task of learning a brand new language in a new and foreign culture. These students would be given the opportunity to study English at Wilkes University depending on their test score in their province's student center.
Each of the eight provinces in Panama has an IFARHU student center to help spread education to those in Panama who cannot afford or do not have the ability to travel and attend other high schools. Each province's center usually sends two of the top scoring students with the IFARHU program to Wilkes University to study. However with the newest group, IFARHU 3, they have sent more than the usual two.
Greivin Yoshvan Gonzalez, one of the 17 IFARHU 2 students, commented on the development of his english language while apart of the IFARHU and IEP program at Wilkes.
"I have learned how to interact with people from different cultures and how to be a leader of a team," said Gonzalez. "When I came here for the first time I could not speak any English, now I feel confident about my English, cause I can have conversations with American people."
Rosa Ponce Sanabria, Director of International Engagement commented on the relationship between the Office of International Engagement at Wilkes and the IFARHU program in Panama.
"We started working with them to identify the study population who could be able to take on the challenge. We started to work with students living in student centers, boarding school-like rest halls, that the government funds for students coming from communities with no nearby high schools," said Sanabria. "From those student centers, we chose students with the highest academic standards that had already proven financial need."
The IFARHU program has two phases, the first is a college readiness program that provides students with language instruction and other academic foundation and skills needed to be prepared for college work.
The second phase is a full tuition scholarship to the undergraduate program being paid by the government of Panama which rests on their scores on the IELTS test, an english comprehension test, that assesses different components of the english language.
Students in the program arrive in the United States in January or February and complete their first phase in early December. After their first year, the students come back to the university after a short holiday break and begin either taking undergraduate classes or continue in the IEP or UPP program.
"It was really challenging, it was difficult. I used to be with my family every weekend, it was difficult because I could not spend time or talk with my family. As time passed I felt better because with my friends it felt like another family here in America," said Gonzalez.
Students have said the program is challenging as they have to adjust to American food, culture and other aspects different from their culture back in Panama, all while having to learn English and pass their exams at the end of the year.
"I was always fully confident that the support systems within the university would provide the students with the support they needed to be academically successful," said Sanabria. "The first group for us was like a pilot project, we were working to understand the needs of the students so that we could provide them with the support they needed.
"As we and the students have grown we have become better and stronger as an institution to help them the way they need. We have not had any attrition from the group, so the program has proven quite successful," said Sanabria.
Sanabria and Student Aides within the Office of International Engagement described the three years as being filled not with challenges and issues, but with growing pains as the program has had to adjust to the growing size of students coming into the program.
David Heinz, a Student Aide within the Office of International Engagement commented on the issues of the lack of personnel in the office.
"One thing we have been struggling with is manpower, we stagger trips for each group because we need enough student aides to manage these groups well and be able to get to these events on-time and enjoy these different trips while maintaining the safety and unity of the group," said Heinz. "We look for team players and people who are flexible and willing to jump at opportunities to help in the office place."
IFARHU hopes to see the students in the program give back to their communities in Panama after they graduate with their sought for Bachelor's degrees from Wilkes University.
"We work a lot in pride and heritage to help them feel the beauty and feel that connection with their home country. I think they realize how much they can give back. I am very hopeful that their goal (after graduating) will be to go back and help their home country," said Sanabria.
"We have students who whenever they go back to visit their family they are talking to other students. They are becoming, already, role models for other students in those centers and schools they have graduated from," she added.
"Seeing them get good scores on their test and seeing them become independent students, is one of the best parts of working in the program. The fact that you watch them struggle with English on their own and build a relationship with them to help them to then see them finally gain enough experience to become students at a United States university is pretty much the most rewarding aspect of my job," said Heinz.
Antonio Pineda Morales Santiago and Faustino Rodriguez Machado, both IFARHU 3 students, commented on the challenges they have faced so far and their hopes for their future within the program.
"Some of the challenges I have faced while here are the weather, the language, the food and being far away from my family," said Morales Santiago. "The hardest challenge is being away from my family because I am used to being with them and sharing things with them. I didn't expect to be this far away from them."
"I hope to learn the english language very well and to know more about the American culture," said Rodriguez Machado.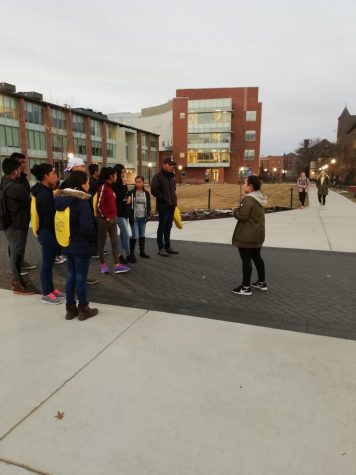 Juana Pimentel, an IFARHU 1 student who is pursuing her bachelor's in hospitality commented on challenges she has faced apart of the program both back in Panama and in the United States.
"The challenge was to tolerate one of the supervisors in the center," said Pimentel. "I was always fighting with her and discussing with her everything that I did. Everything that I did for her was wrong.
"When I was in my junior year, she started to say to me, 'I am doing this for you. I am trying to help you.
"My hardest challenge at the beginning was living with her, then it was to let her leave me."
"Being here the hardest challenge was assimilation and living far away from my brother. He is my best friend," she added about the challenges she faces being away from home.
"The first year when I came here it was just a challenge for me to learn the language," she said. "I wasn't expecting to do anything, and I didn't think it was going to be hard."
She also commented on what helps her stay strong being away from home.
"What motivates me to stay here and fight for everything is to support them."
For more information regarding the Panamanian students and the programs the Office of International Engagement in involved in, please contact Ms. Rosa Ponce Sanabria at [email protected].