PA Harm Reduction Coalition hosts policy change forum
The opioid epidemic has become a more recent issue in light of the media not only around the United States but in many local areas in Pennsylvania including Luzerne County.
To educate and promote advocacy among the Wilkes University and greater Wilkes-Barre community, the campus invited Devin Reaves the co-founder and executive director of the Pennsylvania Harm Reduction Coalition (PAHRC) based in Philadelphia, Pa.
PAHRC fights for the health of individuals who use drugs and helping communities affected by drug use.
The community engagement and advocacy forum was held on Wednesday in the Ballroom of the Henry Student Center and was open to all. The forum focused on the greater idea of harm reduction.
Reaves created an interactive environment where he shared the necessity for advocating for harm reduction policies in local government to aid people in recovery.
He began by sharing about himself and how he got to be where he is today, a person living in recovery.
"As soon as I wanted help, it was there," said Reaves about the availability of recovery measures for him.
Here, Reaves stated different measures he and his organization had taken to make recovery resources abundant to people who want to access them, like naloxone. Naloxone is a medication used to reverse the effects, mainly instances of overdoses.
As apart of his work, Reaves has most notably worked with the expansion of access to Naloxone, a once illegal in Pennsylvania because it was believed that it would enable people to use drugs. Reaves said that this is incorrect.
He then split the group of students, faculty, and community to talk about and share to the audience why they choose to be at this event and overall what they hope to learn.
Cody Morcom, a P3 pharmacy student, shared his thoughts with the audience and Reaves.
"Sometimes, I think that when we are so rooted in Wilkes-Barre and all of the services we do in the surrounding areas we can sometimes get so entangled in the issues here when there are also issues outside that we need to understand before we start advocating effectively," said Morcom.
Fox also added his thoughts and why he, his peers and the faculty sitting at his table decided to come to the talk.
"I am super excited to be here to learn more about the expansive problem and really what we can do early on and not waiting till we are adults or acting professionals," said Fox.
Reaves then broke his talk into five parts leading to his explanation of the "Hero Initiative:" the problem, a solution, how to use this information, into action part one and two.
Reaves used graphs and maps to explain that the idea of the 'opioid epidemic' being just about opioid-related deaths is not true.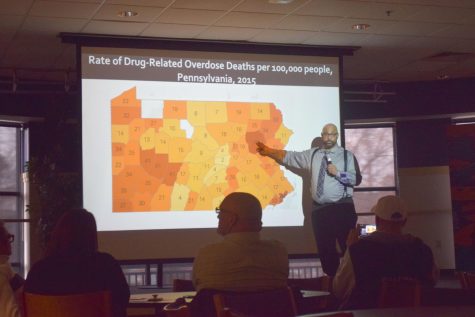 "It is not that prescription drugs aren't important, but they are not killing people," said Reaves. "The number one killer is fentanyl."
He then moved to the communicable diseases, or what he calls the unspoken epidemic, that can be contracted through unsafe drug use because of the lack of harm reduction. HIV, Hepatitis C and soft tissue infections are all ways people who use drugs are being affected by unsafe practices. 
"Our drug policies should reflect and take into consideration that most people who use drugs don't have a problem. But that is not what it does. It treats everybody and paints everybody with a really broad brush and that's part of the reason it doesn't work very well."
In the solution part, Reaves mentions there are lots of paths to recovery and AA does not work for everybody. He also talked about the specific medication that helps people in recovery: vivitrol, methadone and naloxone. He mentioned different safe practices that he says are proven to help people stay safe while using drugs including safe needle exchanges, legalizing fentanyl strips, and lowering prices and having abundances of safe needles.
Reaves finished the talk by giving the audience the information and tips to effectively talk to legislators in the area to gain support for harm reduction practices in Pennsylvania. He then introduced the "Hero Initiative" where he plans to go around all over Pennsylvania to educate people about harm reduction and how they can get involved in the fight for this by advocating legislators and to be apart of his team.
"I am asking you to join the solution," said Reaves.
For more information about Devin Reaves and the Pennsylvania Harm Reduction Coalition, please visit paharmreduction.org.