Burglar strikes SUB; City PD, Public Safety working to ID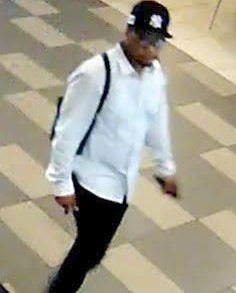 On Oct. 10, at approximately 2:30 p.m. a burglary was reported on campus in the Henry Student Center.
The suspect entered the Student Center in the late afternoon before fall break and is suspected to have removed property from the building, according to a notice sent by the university.
"The suspect calmly entered several rooms in the building and interacted with those around him before taking property," the notcie continued. "We do not believe the suspect is associated with Wilkes University, and that he may be responsible for additional thefts and burglaries within the downtown Wilkes-Barre area."
The incident is currently a pending investigation between Wilkes University Public Safety and the Wilkes-Barre Police Department.
Public Safety informed students of the burglary through the Wilkes Alert system after fall break on Tuesday, Oct. 16 at approximately 9 a.m.
Public Safety urges students to report suspicious activity that occur all around campus. They can be reached either in office at 148 South Main St. or through phone at 570-408-4999.
Brooke Mazzotta, a sophomore biology major who works the front desk in the SUB recalled the event. She shared that she doesn't necessarily feel less safe because of the burglary.
"It makes me wonder how many other people can come in the building," said Mazzotta.
"Overall Public Safety is always on campus monitoring and it looks like they are monitoring extra nowadays."
Mazzotta also recalled that police came very quick in response to the reports.
This suspect could strike again and uses his younger appearance to fit into the busy SUB building. Public Safety Sgt. Ed Weidow suspects his calm demeanor may mean he is a former student.
Those who have any additional information about the burglary on Oct. 10 should contact Public Safety to aid the ongoing investigation.
Weidow wants students, faculty and staff to know Public Safety is open 24 hours and are eager to investigate suspicious activities to keep the campus and those within it safe.
"If you see something out of the ordinary or if it seems suspicious call us," said Weidow. "If it seems messed up, it probably is.
"We love going out and being out on campus, don't feel like it is an inconvenience or anything like that."
Weidow urges those who report suspicious activity to stay safe and not to approach the suspect.
"If you do see someone and they seem suspicious call us and try not to approach them," added Weidow. "You don't know, they can be onto something, could have an altered mental status, they could be anything."
Sandy Anthony, a Rifkin Cafe staff member, did not see the suspect first-hand but reflected on how she felt about the burglary.
"I still feel safe because it was just a random act," said Anthony.
According to the annual Security and Fire Safety Report of 2018, the university experienced seven offenses of burglary in 2017, zero in 2016, and four in 2015. All attempts were unlawful entry with no force.