Residence Life adds new resident halls for fall
As housing selection for the fall semester begins it is important for students to understand how housing selection works as well as the new options available for upperclassmen on campus.
The schedule for the housing selection process is laid out on the webpage, wilkes.edu/housingselection. Some of the important dates include that housing applications opened on March 1 and the applications along with group selections are due April 5.
"There will be two new buildings, and while we have not finalized it yet we are looking at utilizing two of our River Street mansions to focus our living learning communities in those areas," Debbie Scheibler, director of residence life said.  "They are currently in Evans Hall right now, but we want to be able to focus on the community feel of the living learning community."
The living learning communities are created alongside of two FYF courses, one centered on global diversity and the other on leadership. By changing two of the current mansions on campus to freshman housing, the living learning communities are more compact and near each other and create a better community feel.
The two mansions that are most likely to be switched to freshman housing are Weiss and Sterling halls, which house up to 22 and 23 students respectfully. While upperclassmen will not be able to dorm in these two halls, there are two new properties that have been acquired by Wilkes University.
First, there is 134 S. Main St., which can hold up to nine students. This housing option is an apartment style housing that offers mostly doubles in single bedrooms. The other new option is West Northampton Street, which is also apartment style housing and can hold up to 21 students. This apartment-style housing offers three triples and three quads for students to live in.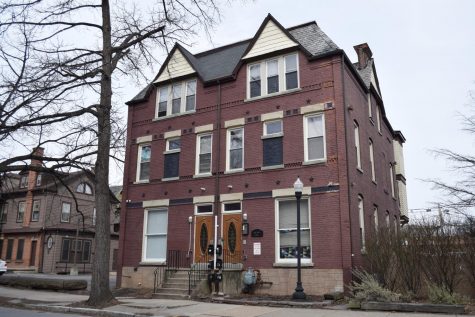 Along with the new housing there are also options available for students in terms of keeping their housing from the previous semester.
Students can choose to homestead. Homesteading allows residents to remain in the hall or room in which they are currently assigned. Residents, currently assigned to upper class residence halls, who wish to remain in the same hall, same room or same hall, different room will have homesteading options available. In either case, all roommates currently assigned to a space need to stay.
However, one complication is that with Weiss and Sterling Hall becoming freshman dorms, upperclassmen will not have the ability to homestead.
"It is very disappointing that a lot of upperclassman have to relocate without a lot of notice," said Gianna Brown, junior criminology and sociology major.
Until March 20, Residence Life will be tabling in the SUB to answers questions from students and to host a contest.
"When they complete the application they should receive a bounceback confirmation email, all they have to do is show us that email and they will be entered into the drawing. On March 30 and 31, we will also be doing housing tours to showcase the rooms and housing layouts; the two new spaces will not be available for the tours because one is under construction and the other we do not own until the summer," said Raymond FeDora, assistant director of residence life.
Students with any questions comments and concerns should look out for the student survey being sent out by Residence Life, the survey is what Residence Life looks at as they plan for the upcoming years. Students with any direct questions about housing selection contact Residence Life directly.