Dining Services expands weekend hours for select locations
It was announced that beginning on Saturday, Feb. 16, Wilkes Dining Services will be expanding the weekend hours of some of the dining locations on campus.
Both Rifkin Cafe, with Grilleworks and Which Wich, and the Stark POD will be open longer and more frequently on the weekend.
Rifkin will be open on Saturdays from 11:30 a.m to 4 p.m and on Sunday from 11 a.m to 8 p.m. Stark POD will be open on Saturdays and Sundays from 11 a.m to 4 p.m. However Greens to Go in Stark Learning Center will remain closed during the weekend.
The notice to students read that Dining Services heard the feedback of students using the 'Your Dining Voice' survey platform..
'Your Dining Voice' is a platform where students are given various questions and asked their overall opinion of dining on campus. Beginning in early December of the past year, Dining Services did open up the POD Market, Greens To Go and Rifkin on the weekends, however, Rifkin's hours were much shorter compared to the recent change.
Richard Coburn, the General Manager of Dining Services, commented on the sudden change to the weekend hours.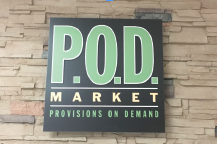 "We received some feedback that students like the option of Greens to Go and the POD open, but they also wanted to have the variety that comes at Which Wich and Grille Works," said Coburn.
"Since last spring, we have been evaluating what's being offered across campus at different times and how that fits the student experience and lifestyle. We gather feedback through our Your Voice Counts, guest satisfaction survey as well as our Food Advisory Board," added Coburn. "We are always evaluating the program and seeking guest feedback to offer increased availability and options as we move forward. The feedback we receive gives us the ability to do so in an effective manner."
Although Greens to Go, a popular salad and sandwich/ wrap option on campus will be closed, the POD will have different premade Greens to Go sandwiches and salads for sale.
Coburn also commented on the ability for a medium to record student feedback and how it helps them.
"The ability for students to give us details on their experience has allowed us to recognize employees for providing outstanding customer service as well as the opportunity to add to the program in the areas that matter the most to the Wilkes Campus Community," he added. "From changing hours as well as adding more items made without gluten, the surveys really help us connect with the university.  We just launched a new platform through 'Your Dining Voice,' which makes the survey more streamlined to really focus on the things that will make an immediate impact."
Students and staff members commented on the new changes.
Nicole Nyce, a senior psychology student, commented on how the hours will be beneficial to students on campus.
"I think it'll help a lot of students, especially those who live on campus, by having access to more dining options to fit their busy schedules," said Nyce.
Imani Claudine, a student worker for Dining Services, shared her feelings about the specifically the POD being open on the weekends.
"I think it is a good idea because so far since I have started working on the weekends a lot of people really come in," said Claudine.
If interested, feedback about Wilkes Dining Services can be recorded on YourDiningVoice.com.