Bruised, but still cruising; Wilkes Wrestling continues to grind
Bruised but still cruising, Wilkes Wrestling battles injuries.
With a huge Senior Night 27-16 win over The College of New Jersey, Wilkes Wrestling Head Coach Jonathan Laudenslager said this year's team is peaking at just the right time.
"For us to be 14-4, I've been pretty impressed for how well the guys have been wrestling," Laudenslager said.
Starting at 141 pounds, Matt Grossmann, Kyle Medrow and Nick Racanelli each captured victories in the first three matches of the evening.
Ricky Fornaciari dominated TCNJ's Sean Tonry with a technical fall in the sixth bout of the evening, giving Wilkes a 17-7 lead.
It would be Guesseppe Rea who came away with a pin in 3:43 to clinch the dual. Pankil Chander's 11-3 major decision victory would take on another four points for the 27-16 win.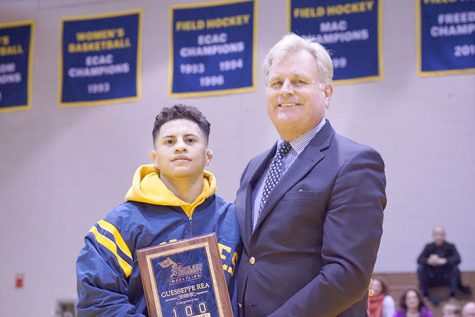 "We have an abundance of talent with guys who can put together solid wins and guys who can go out there and let it fly and have it be fun to watch," Chander said.
Getting to this point of the season can be extremely difficult when not everyone is healthy. As a matter of fact, seven wrestlers have been sidelined to the remainder of the year with injuries.
"I think we are starting to wrestle our best right now," Laudenslager said. "It's been a challenge. We've had so many injuries."
At one point, Wilkes was forced to forfeit at heavyweight in a dual against Oneonta College in an effort to preserve their chances of winning the remaining two in a recent quad match.
"Especially with the upper weights, we've been piecing them together, specifically heavyweight," Laudenslager said.
This year's roster features two nationally ranked wrestlers, Guesseppe Rea and Matt Grossman, according to the latest InterMat Wrestle rankings.
Rea placed 2nd at the Messiah Petrofes Invitational, Wilkes Open, and the Middle Atlantic Conference Championships as well as a 1st place finish at the Will Abele Tournament.
Senior Pankil Chander also has three 2nd places finishes at the Messiah Petrofes Invitational, Will Abele Tournament, and the Middle Atlantic Conference Championships.
"G-Rea and Pankil have been spot on since they got here, even as freshman," said Laudenslager.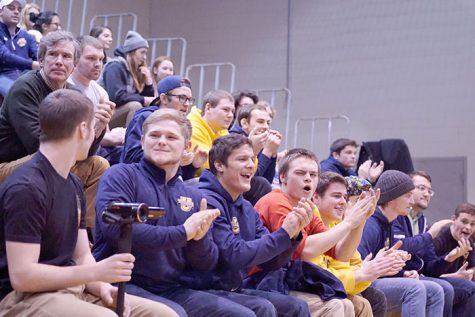 Looking forward, Rea and Chander said they are hopeful they and their fellow teammates will see some postseason success.
"Some guys are still recovering and some guys are battling through it. Those guys are strong," Rea said, "We will have our best on the mat by the end of this month. We have had our ups and downs but I think we are heading to the right direction as of now."
"We are diverse bunch of guys and when we wrestle to our strengths even if it may be unconventional, we are a resilient team," Chander said.
On Feb. 25 and 26, Wilkes Wrestling will head to the Mideast Regionals hosted by York College. But not to be forgotten, there are still three dual meets left in the 2016-17 campaign.