SOFT: Spring Preview
Affiliation: MAC Freedom
Head Coach: Sarah Leavenworth (Maulorico) (37-37), third season
Venue: Ralston Athletic Complex
Last year's record: 24-16, fell in MAC Freedom tournament
Key returners: Juniors: Haley Welker (.357 avg.); Sophomores: Celine Podlesney (.387), Gracen Stauton (.364).
What coach says about this season:
"This team is going to be a joy to watch. They have gelled since day one in the fall. Our new Colonels jumped right in and followed the lead of our returners without hesitation. If you didn't have the roster in front of you it would be very hard to tell the difference between newcomers and veteran Colonels.
"All of our returners will contribute in some fashion this season. I am extremely excited about how much they have improved and matured since last spring. The pitchers have sharpened their various pitches and even added new ones for a different look. All of our returning hitters have worked tirelessly to add power and consistency to their swings and many have added new weapons to their arsenal like improved 'small ball.'"
#     NAME   YR.   POS.  Bat/Throw
1 Sydney Cogswell Fr. UTL S/R
4 Gracen Staunton So. P/UTL R/R
6 Haley Boyd        Fr. UTL L/R
8 Erika Gerace       So. P/UTL R/R
9 Jordyn Kondras  Fr. UTL L/R
10 Nicolette Kessler Fr. UTL L/R
11 Haley Welker      Jr. UTL R/R
12 Alexis Kessler    Fr. UTL R/R
13 Mia Lussier       Sr. OF L/R
14 Megan Magoon Fr. UTL R/R
17 Britny Jumalon  Fr. UTL R/R
19 Caitlin Brown    Jr. INF R/R
22 Sarah Gibson    So. UTL R/R
23 Sarah Birchmeier Sr. UTL R/R
32 Kaliyah Moore  So. UTL R/R
34 Celine Podlesney So. P/UTL R/R
44 Christina Gambino Sr. P/INF R/R
About the Writer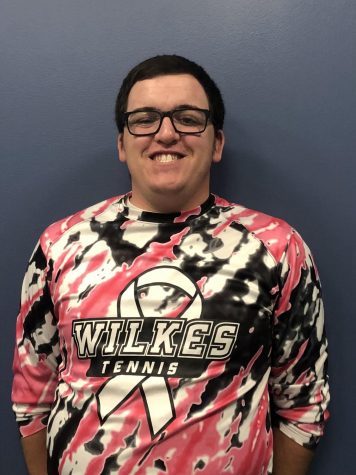 Luke Modrovsky, Operations Manager
Luke Modrovsky is in his final semester double majoring in sport management and communication studies.

Luke started at The Beacon as staff writer for...