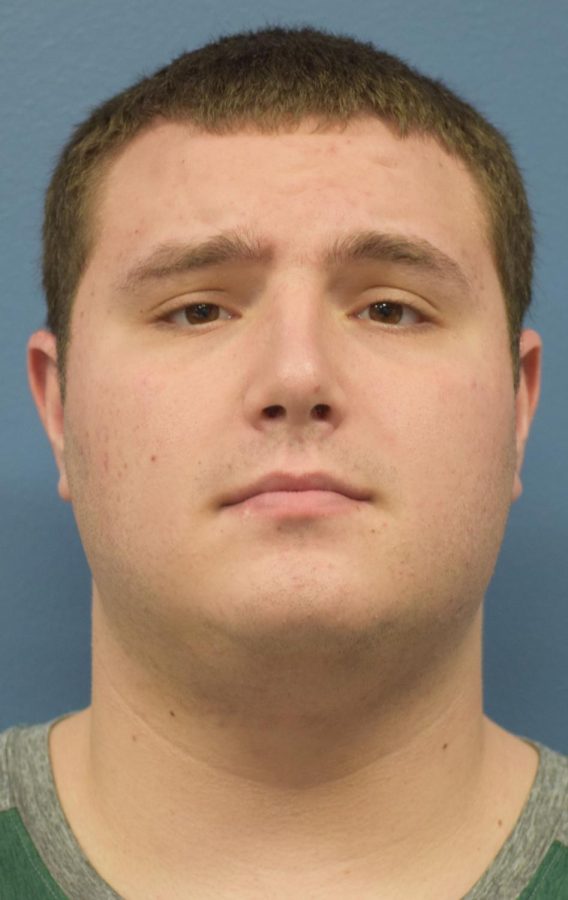 Ben Mandell is currently the co-sports editor. Mandell began as a staff writer in Fall 2017, promoted to assistant editor in Spring 2018 and was promoted to his current role in Fall 2018.
He is a junior double majoring in communication studies and history
Mandell is responsible for working with the other co-sports editor in all aspects of production of the sports section.
He is a member of the Wilkes Football team and also plays an important role as a member of the 90.7 WCLH Sports Team, Wilkes University Radio, and was recently promoted to Assistant Sports Director.
Ben Mandell, Co-Sports Editor
Apr 22, 2020

AOTY2020: Kelley versus Huffman set to face-off in the Championship Round

(Story)

Apr 21, 2020

AOTY2020: Nelson versus Almeky set to face-off in the Championship Round

(Story)

Apr 19, 2020

AOTY2020: No. 19 seed Moustafa Almeky takes poll re-vote after tampering incident, advances to Semifinal Round

(Story)

Apr 13, 2020

AOTY2020: Athlete of the Year Tournament begins today; fillable brackets online

(Story)

Apr 11, 2020

BREAKING: Beacon Sports releases "Athlete of the Year" tournament bracket

(Story)

Apr 09, 2020

Beacon Sports team announces third annual "Athlete of the Year" tournament, set to begin Monday

(Story)

Apr 09, 2020

How soon, through what means can professional sports resume? New isolation plans from MLB, NHL and NBA excite fans but leave ethical concerns

(Story)

Apr 03, 2020

NHL: When will the season resume, how does this depend on the NBA?

(Story)

Mar 28, 2020

MIH: Three Colonels receive national recognition from AHCA, USCHO

(Story)

Mar 24, 2020

MIH: Flynn nominated for Sid Watson Player of the Year award after earning Co-UCHC Player of the Year honor

(Story)

Feb 29, 2020

ONLINE EXCLUSIVE: Tyler Barrow's sudden death goal leads Wilkes to semi-final series victory over Stevenson

(Story)

Feb 28, 2020

ONLINE EXCLUSIVE: Colonels earn first-ever playoff win with third period comeback against Stevenson

(Story)

Feb 25, 2020

MIH: Tough weekend still gives Colonels positive results

(Story)

Feb 25, 2020

Can the Amazin's overcome ownership flaws, have success?

(Story)

Feb 18, 2020

MBB: Wilkes eliminated from playoffs after 73-71 loss to King's

(Story)

Feb 18, 2020

WBB: Late run isn't enough for the Colonels

(Story)

Feb 11, 2020

MLB: More details come out on Astros

(Story)

Feb 11, 2020

MIH: Gurska powers offense to dominant win over King's

(Story)

Feb 04, 2020

MIH: Wilkes wins MAC with win over No. 14 Stevenson

(Story/Media)

Feb 04, 2020

Remembering Kobe: How The Beacon reacted to losing an icon

(Story)

Jan 28, 2020

MIH: Wilkes can't overcome crucial call in loss to Elmira

(Story)

Nov 19, 2019

BB: Teams travel for tournies

(Story)

Nov 12, 2019

MBB: Wilkes explodes for 122 points against PSU-Scranton

(Story)

Nov 05, 2019

WBB & MBB: Basketball programs prepare for 2019-2020 season

(Story)

Nov 05, 2019

MIH: Araujo's hat trick not enough to spark Colonels in opener

(Story)

Nov 05, 2019

FB: Colonel quarterbacks come from north, south, east and Weist

(Story)

Oct 29, 2019

CFB: Will there be new teams at the top of CFB?

(Story)

Oct 22, 2019

NHL: Top picks Hughes, Kakko ignite "Hudson River Rivalry"

(Story)

Oct 08, 2019

FH: Colonels fall to DeSales in Homecoming weekend opener

(Story)

Oct 01, 2019

NHL: What chances does the league have to surprise its fans?

(Story)

Sep 24, 2019

MLB: Astros and Braves; from worst to first

(Story)

Sep 17, 2019

MSOC: Wilkes has 1-0-1 week

(Story)

Sep 10, 2019

NFL: Star WR Antonio Brown schemes his way out of Oakland

(Story)

Aug 19, 2019

MIH: Riley accepts job offer after tremendous inaugural season

(Story)

Apr 16, 2019

SB: Colonels rebound to split series with rival Monarchs

(Story)

Apr 09, 2019

MLAX: Daly's hat trick powers Wilkes past King's

(Story)

Apr 02, 2019

MLB: How does revamped NL East stack up in MLB?

(Story)

Mar 19, 2019

NFL offseason kicks off

(Story)

Mar 19, 2019

Which NHL contender will win the Stanley Cup?

(Story)

Feb 26, 2019

MBB: Wilkes can't finish cinematic comeback in Championship

(Story)

Feb 21, 2019

ONLINE EXCLUSIVE- MBB: One. More. Game. Colonels to MAC Freedom Final after 79-72 win over Eastern

(Story)

Feb 19, 2019

MBB: Playoff Bound

(Story)

Feb 12, 2019

WBB & MBB: Colonels Conquer Monarchs

(Story)

Feb 12, 2019

MBB & WBB: Colonels travel to Misericordia

(Story)

Feb 05, 2019

Olympic curler Tyler George visits Toyota Sportsplex

(Story)

Feb 05, 2019

MBB: Colonels secure back-to-back conference wins

(Story)

Jan 29, 2019

NFL: Past vs. Future?

(Story)

Jan 29, 2019

MBB: Colonels look to bounce back after rough patch

(Story)

Jan 22, 2019

MBB/WBB: Colonels fall to in latest installment of King's-Wilkes rivalry

(Story)

Nov 13, 2018
Nov 06, 2018

MLB: Mets make controversial general manager hire

(Story)

Nov 06, 2018

WSOC: Colonels fall short

(Story)

Oct 30, 2018

Wilkes SAAC hosts "Trick or Treat" event for the kids in the community

(Story)

Oct 30, 2018
Oct 23, 2018

MSOC: Colonels struggle early in loss to Misericordia

(Story)

Oct 23, 2018

Puig and Dodgers look to make good on their promise

(Story)

Oct 09, 2018

Yankees and Red Sox renew "The Rivalry" in ALDS

(Story)

Oct 02, 2018

MSOC: Colonels bounce back and beat Scranton 3-1

(Story)

Oct 02, 2018

Wright calls it a career

(Story)

Sep 25, 2018

WSOC: Colonels fall 1-0 in physical contest to River Hawks

(Story)

Sep 18, 2018

MSOC: Colonels shut out Defenders with 4-0 victory

(Story)

Sep 11, 2018

New times for Wilkes Athletics

(Story)

Aug 15, 2018

Evolution of MLB analytics

(Story)

Aug 15, 2018

McNichol, Macciocco, Drach, Limouze hired as new head coaches

(Story)

Apr 17, 2018

Wilkes tops King's in blowout fashion 12-5

(Story)

Apr 10, 2018

SB: Lady Colonels split doubleheader with King's

(Story)

Apr 02, 2018

UPDATED: Beacon Sports team announces first "Athlete of the Year" tournament

(Story)

Mar 05, 2018

MBB: Wilkes' Season ends with ECAC semifinals loss

(Story)

Mar 03, 2018

MBB: Wilkes advances to ECAC semifinals with 77-62 win over Penn State-Behrend

(Story)

Feb 26, 2018

BREAKING: Wilkes earns spot in ECAC Tournament

(Story)

Feb 26, 2018

MBB: Metz named MAC Freedom Coach of the Year

(Story)

Feb 26, 2018

MBB: Colonels fall in MAC Freedom playoffs

(Story)

Feb 21, 2018

MBB: Colonels fall to Eastern in heartbreaking fashion on Senior Day

(Story)

Feb 19, 2018

MBB: Colonels fall to Eastern in heartbreaking fashion on Senior Day

(Story)

Feb 14, 2018

MBB: Offense explodes as Colonels rout Monarchs 101-72

(Story)

Feb 11, 2018

MBB: Colonels clinch postseason berth with win over Misericordia

(Story)

Feb 09, 2018

MBB: Colonels inch closer to playoffs with win over DeSales

(Story)

Feb 05, 2018

AOTW: Tommy Bowen, junior basketball player

(Story)

Feb 01, 2018

Colonels take care of business with 86-59 win

(Story)

Jan 30, 2018

Colonel Athletics in brief — Jan. 30

(Story)

Jan 30, 2018

MBB: Colonels escape trap game with 58-57 win over Delaware Valley

(Story)

Jan 30, 2018

MBB: Colonels top Cougars in OT thriller for pivotal road win

(Story)

Jan 25, 2018

MBB: Colonels top Cougars 87-82 in OT thriller

(Story)

Jan 18, 2018

MBB: Colonels make a statement with big win over DeSales

(Story)

Dec 06, 2017

MBB: Wilkes rolls past visiting Summit in rout

(Story)

Dec 02, 2017

MBB: Late surge fallen short as visiting Messiah drops Wilkes

(Story)

Nov 21, 2017

MBB: Colonels stay perfect with 74-65 win over PSU Wilkes-Barre

(Story)

Nov 15, 2017

MBB: Wilkes drops Penn State Hazleton in 83-58 rout

(Story)