Colonels take care of business with 86-59 win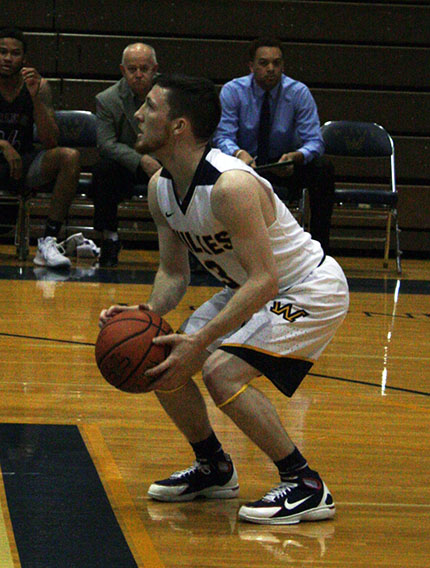 WILKES-BARRE- The Wilkes University Colonels blew out the Fairleigh Dickinson University-Florham Devils 86-59. The Colonels grab their ninth game out of their last ten and remain the hottest team MAC Freedom, improving their conference record to 8-1. They also improved their record at Marts Center to 8-1 in the, and 5-0 at home in MAC conference games.
The Devils continued to struggle, falling to 1-19 on the season and 1-8 in the conference. The Devils came into this game winning their first game of the season in Purchase, NY over Manhattanvile, but they failed to win back-to back games as they fell to Misericordia in tight game 66-62.
Despite the Devils lowly record, the Colonels still did not want to take them lightly. The message the team has gotten throughout conference play this season is that every team needs to be taken seriously.
"We need to play as a team, anyone can beat anyone in this conference," Colonels guard and this week's Beacon athlete of the week Tommy Bowen (16 points) said. "As you can see throughout the schedule we don't take anyone lightly."
The Colonels fell behind 6-0 to start this game but Rob Pecorelli (17 points) got them going with a three-point shot. The Colonels quickly took control of the game and did not look back. Their dominant lay lead to a nineteen point lead at halftime, 46-27.
The second half was more of the same as the Devils failed to cut the Colonels' lead down below fifteen points. The Colonels had another night where multiple players had double-digit points. Pecorelli, Bowen, Marcus Robinson (13 points), Connor Evans (13 points), and Zach Brunner (13 points). The Colonels ability to get points from all over the line-up helped them continue their winning ways as they cruised through the second half.
Tommy Bowen has been red hot for the Colonels, as he finished with double-digit points once again.
"I'm just trying to get better every day," Bowen said. "My teammates around me have helped so much and help me play my best on the court. Whenever I get out there I try to do what's best for the team."
Bowen and the rest of the Colonels are big on the team first mentality. Pecorelli also credits his success to his teammates around him.
"[Its] definitely my teammates around me," Pecorelli said. "They get me open, they get me in a rhythm, and they get me open shots I can knock down."
The best words to describe the 2017-2018 Colonels would definitely be resilient and humble. The Colonels success could easily be credited to their mindset which has gotten across to all the players. Colonels Head Coach Izzi Metz's message to this team has been effective. Nobody is bigger than the team, and take one game at a time.
"I know this is going to sound like cliché coach talk, but right now I'm worried about the Manhattanville game," Metz said. "There's a lot of basketball to be played and we know in our conference, which I have seen since I have been here for four years, is that every team is good enough to beat any team on their best days. If you do not have a good day, you can get beat."
The Colonels (8-1) remain in first place in the MAC Freedom with DeSales (7-2) just one game behind them. Eastern (6-3) and Misericordia (6-3) are tied for third, and Kings (5-4) site on the outside of the top four. The MAC Freedom tournament only take the top four seeds.
The Colonels next game will be in Purchase, Ny., where they take on Manhattanville.
"We have not won at Manhattanville the last two times we have played them," Metz said. "The mindset getting off the bus is going to be let's go play a good basketball game on the road."
The Colonels have successfully avoided a loss in their first potential trap game in the game last Saturday against Delaware Valley, and they will look to do the same against Manhattanville.
The Colonels have done a good job not over-looking opponents this season, but this game has the looks of an upset if they are not careful. It is one of their farthest conference games of the year, and historically the Colonels have struggled at Manhattanville losing their last two in Purchase, New York. For the Colonels to continue their winning way, they need to bring their A-game.
Wilkes 86, FDU-Florham 59
FDU-Florham (59) — Shawn Smith 5 1-2 12, Darren Davy 4 1-4 9, Ahmand St. Fleur 3 0-0 6, Oliver Ortman 3 0-0 6, Eric Ray 0 0-0 0, Jimmy Olaniyi 8 1-5 19, Veon Lassiter 2 0-0 4, Ryan Rigby 1 0-0 3, Derek Leohner 0 0-0 0, Rajaan Dixon 0 0-0 0, Steve Herdman 0 0-0 0, Joe Duffy 0 0-0 0, Alex Hanssen 0 0-0 0, Dermot Egan 0 0-0 0. Totals 26 3-11 59.
Wilkes (86) — Rob Pecorelli 4 5-6 17, Robinson 5 0-0 13, Evans 4 3-3 13, Zach Brunner 5 3-3 13, Mark Mullins 1 2-2 4, Tommy Bowen 8 0-0 16, Mason Gross 1 2-3 4, Jack Bova 1 0-0 3, Zach Walser 1 0-0 2, John Goffredo 0 1-2 1, Landon Henry 0 0-0 0, Cooper Chaffee 0 0-0 0, Andre Spruell 0 0-0 0, Noah Jackson 0 0-0 0. Totals 30 16-19 86.
Halftime score — Wilkes 46-27. Three point goals — FDU 4 (Olaniyi 2, Smith, Rigby); WIL 10 (Pecorelli 4, Robinson 3, Evans 2, Bova).
Records:
Wilkes 15-5 (8-1 MAC Freedom)
FDU-Florham 1-19 (1-8 MAC Freedom)
Marts Center, Wilkes-Barre, Pa.