Wilkes SAAC hosts "Trick or Treat" event for the kids in the community
WILKES-BARRE, Pa– The Wilkes Student-Athlete Advisory Committee (SAAC) hosted a "Trick or Treat" event for all of Wilkes' teams to give back to the community.
The event was put together by SAAC, which according to its mission statement online at gowilkesu.com is "to enhance the total student-athlete experience by promoting opportunity for all student-athletes; protecting student welfare; and fostering a positive student-athlete image, while maintaining the tenants of the Division III philosophy."
This first year event run by SAAC was orchestrated by SAAC President Dallas Kendra. She plays on the field hockey team.
"This is really the first time we have done something like this and we all wanted to do something for Halloween that showed the community all of the good things Wilkes student-athletes have to offer," Kendra said.
Before the event started, Wilkes' student-athletes flooded the Mchale Athletic Center in the UCOM building where the event was held. The each team was given a table and a costume theme, so everyone was dressed up.
There was a lot of excitement for the event, but not just from the kids. The student-athletes were all excited to do something for the kids in the Wilkes-Barre community.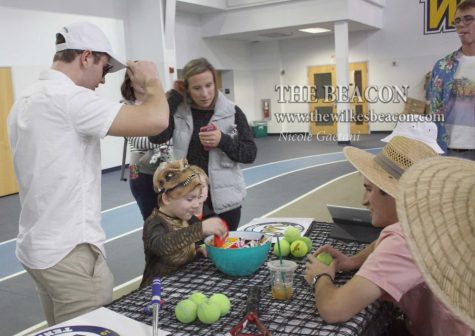 "Personally it means a lot to me, I was taught it takes a village to raise a child," Wilkes football's Richard Ermeus said. "So imagine the impact we can have on these kids when we all come together."
The entire student-athlete community has been excited for this event as it let them show their true colors to the community.
"It's big for us to show the community our culture especially with how new our program is," Phil Erickson of the brand new Men's Ice Hockey team. "For us, what we off the ice is more important than what we do on it, so it's important to us to get involved with the community."
All of the teams that attended the event were very excited as the event turned into more than trick or treating. All of the student-athletes went to the center of the gym, and hosted games for all the kids, which the hosting athletes jumped in on as well.
"It's good that our school is coming together and giving back to the community," Anthony Marcincavage said. "Everyone was dedicated to making sure the kids had fun and it was a good time."
The mindset brought in by each of the student-athletes that took three hours out of their busy schedule to come out a put on an event for these kids with the attitudes they had can not be overlooked. All of the student-athletes who participated wanted to make the event a good time for everone.
Wilkes head strength and conditioning coach who is heavily involved with all athletic events came out and said "I have been here for 16 years, and I have never seen this many athletes turn out to an event. This group should be very proud of themselves."