Held's 100th goal lifts Lady Colonel Lacrosse in home opener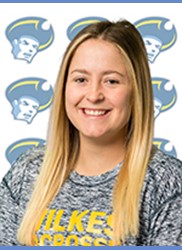 The Wilkes University women's lacrosse team defeated the Mount Saint Vincent Lady Dolphins in a non-conference matchup at Schmidt Stadium on Wednesday evening. Junior Jessyca Held scored five goals, including the 100th of her career, in a 15-4 victory.
Scoring their third victory of the season, the Lady Colonels saw three players combining for 13 goals. Held (five), junior Maura Brownsey (four) and sophomore Kyra Boccio (four) tallied up most of the scoring in the frigid contest. Held and Boccio also made their way onto the scoresheet with one assist each. Boccio did the same with two assists.
For Held's 100th goal, no one had a better seat in the house than Brownsey.
"I am really excited for her," Brownsey said. "We've been best friends since freshman year and are roommates still today. I was excited to see it all unfold."
Originally, Held came in as a defender to the Wilkes University campus, up until her time at Schmidt Stadium.
Towey credits Held's willingness and drive to make the transition to the midfielder position.
"She was willing to put in the extra work," Towey said. "She has such a unique cradle and can whiz by anybody even with sticks and bodies flying around."
Towey also mentioned Held is coachable.
"She's a very coachable player that sets a good example for the underclassmen," Towey said. "She has a great shot that we've adjusted over the year. She's taken in my critiques with making her shot more consistent. She's a leader on the field for sure."
The game was delayed by 22 minutes since Mount Saint Vincent's bus was stuck in traffic. The Lady Dolphins did not arrive to the Ralston Athletic Complex until one minute prior to the scheduled starting time at 6:59 p.m. However, that issue would not affect the early portion of the game for Mount Saint Vincent.
With the snow piled around the perimeter fencing of Schmidt Stadium, it served as a brief reminder that Winter Storm Stella had left quite a mark. At halftime, both teams quickly rushed to the locker rooms to take in the heat inside the Munson Fieldhouse. Fans from both sides were also interested in doing the same, most heading back to their cars prior to the start of the second half.
Held kicked off the scoring an unassisted goal just four minutes into the game. From there, Mount Saint Vincent would answer with a goal of their own from Georgiana Trizano. Held would answer with another goal with 19:47 remaining in the first half assisted by Brownsey. The second answer for the Lady Dolphins was Paulina Mandujano.
From there, Held's third goal would give the Lady Colonels a lead they would never relinquish. Wilkes would score 11 unanswered goals before Mount Saint Vincent's Shannon Dalton stopped the run back-to-back goals at 4:21 and 2:49 remaining in the second half, respectively.
Wilkes outshot Mount Saint Vincent 38-17. Freshman Sarah Carlini held her own between the pipes, saving six saves in the win.
The Lady Colonels left the Lady Dolphins still searching for their first victory of the season after the defeat.
Freshman Kayla Cadden and freshman Reilly Meanor rounded out the scoring with one goal each.
For Brownsey, the game seemed a little more intense than others.
"I thought it was a very physical game, but we were able to handle everything well, changing our style just a bit," Brownsey said of Wednesday's matchup.
The physicality of the game would not end up in the Lady Colonels favor, however. Both  Held and Meanor were suspended for the remainder of the second half after receiving their second yellow cards each just seconds apart early in the second half.
The penalties would not play a factor as Dalton's back to back goal would be the only scoring of the second half for the Lady Dolphins. Dalton's second goal would briefly turn the game out of a mercy rule situation, but just 36 seconds later, Lady Colonel Kyra Boccio turned the clock back on by scoring with 2:13 to play.
The Lady Colonel LAXers dropped two decisions in early March before rattling off three victories in a row, including Wednesday's defeat of the Lady Dolphins.
"It's always a readjustment period for the freshman," Towey said. "Looking back on our spring break trip, it was a good learning experience as we lost eight seniors, five of which were key players."
For Held, this year was an opportunity to increase her presence on the playing field. Through five games of play, she has scored 27 times, averaging just over five goals per game.
"I took it as an opportunity to step up and show what I know," Held said of her new role. "Looking forward to this year, I knew I had to step it up. We're in sort of a rebuilding year, but I think the team is coming together well."
Not only is Held seeking her own individual success, but focusing on team goals as well.
"I'm hoping the freshmen can reach goals of their own throughout the season."
Brownsey agrees the team is beginning to take them shape.
"The team chemistry is quickly coming together," Brownsey said. "We are working hard at each game and are focused on winning the MAC if not this year, next year. I try to help encourage girls when having an off game, maybe not making shots or things like that. It's important to have support for the girls and be there for them."
Wilkes has one non-conference game remaining before opening their Middle Atlantic Conference Freedom schedule on Apr. 5 at 4:00 PM with the "North Wilkes-Barre School" at Schmidt Stadium.
While not trying to overlook the remaining non-conference schedule, Held said she is motivated for the game against the school on the North side of Wilkes-Barre. The Lady Colonels were victorious in the 2016 edition against the cross-town rivals, but were not as fortunate in 2015, dropping a 17-16 decision in overtime. That overtime game was the last time the two teams met in Edwardsville.
"It's always a tough game with them being blocks away from us," Held said. "I'm hoping we come out with a 'W' and I'm hoping it shows the underclassmen and upperclassmen the intensity of where we want to be."
"I look at it as more mental because it is a rivalry," Towey said.
Looking ahead to the MAC Freedom schedule, Towey said she is focused on playing a full game.
"Our conference is very tough," said Towey of the MAC Freedom matchups scheduled for this year.
"I think we are just looking for consistency to start off," Towey said. "We need to understand that [winning] draws win the game. We haven't played a complete game from start to finish so far, but we are at able three quarters of the way there up to now. If we can put in a full game again and again, with consistency and all, we will have a good shot in the conference this year."
The Lady Colonels schedule will also feature Delaware Valley, Misericordia, Desales, Manhattanville, Eastern and Fairleigh Dickinson University – Florham.
Non-conference games remaining are The College at Old Westbury and Centenary College (NJ).
Looking forward, the Lady Colonels will try and capture one of four postseason berths to get into the MAC Freedom playoffs. Wilkes will hope to improve on their third place seed last year during the remainder of the 2017 campaign.
All home games are scheduled to be contested on the turf at Schmidt Stadium at the Ralston Athletic Complex, just across the Susquehanna River.