AOTW: Matt Grossmann, senior wrestler
Why Matt Grossmann was selected: Senior Matt Grossmann made quick work of his Division II Millersville opponent in the season opener on Nov. 3. He secured the pin in the first period in 1:35. His fall put the Colonels in position to secure the victory, but they would fall just short, losing 25-24.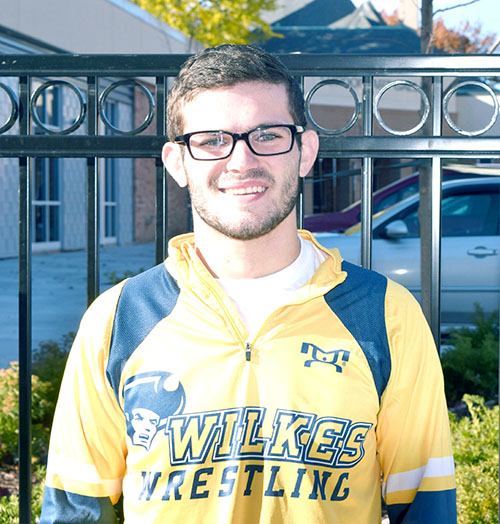 What head coach Jonathan Laudenslager said:  "Matt, has worked very hard in the pre-season and is ready for his senior campaign.  The second great thing besides taking care of his own wrestling, is the leadership he has provided for the team.  I think when you match Matt's skill level with the hard work he is putting in, it's a great recipe for success."
Name: Matt Grossmann
Year: Senior
Major: Business Management
Hometown: Lancaster, Pa.
High School: Manheim Township HS
Weight Class: 141 lbs.
Driving force for your decision to come to Wilkes?
From an academic standpoint, I really liked the small size and the fact that I could get a great education from a strong business program. Athletically I liked that Wilkes has such a great tradition in wrestling and that Wilkes is a national power house every year.
Favorite building on campus?
Marts Center.
If we put jolly ranchers into a container, how many do you think you could lift?
More than one but less than one billion.
What came first? The chicken or the egg?
The Egg.
Hopes for this season as a Colonel?
I have very high hopes for this season. I think that our team can have a lot of success and have a bunch of All-Americans. Personally, my goal is to win a second NCAA championship and be an academic All-American.
When/Why did you first begin playing?
I began wrestling when I was in first grade but wrestling has been a part of my life since I was born since my father was a high school wrestling coach for 20 years.
If you had to choose one thing about your program that you could improve, what would it be?
Getting more fans to the matches.
Other interests or hobbies off of the field?
I enjoy playing Xbox. My games of choice are Madden and NBA2K.
Most influential person in your life?
My parents, they have always pushed me to accomplish my goals and have always been extremely supportive.
A quote you live your life by?
"Step up or step out" – Mitch Marcks
What does "Be Colonel" mean to you?
Working hard, being there for your teammates, and having pride in your work.
If you could have dinner with a famous person from the past, who would it be?
Steve Jobs.
Coke or Pepsi?
Coke.
Favorite professor?
Dr. Lee
-Complied by Luke Modrovsky, Sports Editor