WREST: Roommates Stokes, Racanelli to Nationals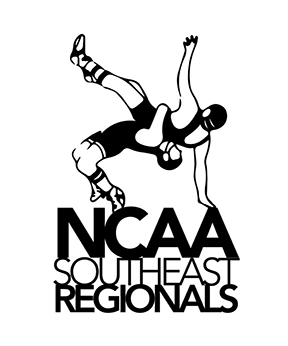 WILLIAMSPORT, Pa. — With championship titles on the line, both P3 pharmacy student Tommy Stokes (141 pounds) and P2 pharmacy student Nick Racanelli (165 pounds) came through when it mattered most — in overtime of their respective championship bouts. Their wins crowned them as champions in the NCAA Southeast Regional.
Roommates Stokes and Racanelli have qualified to compete in the NCAA Division III Championships on March 8 and 9 in Roanoke, Va. Stokes became a first-time National Qualifier while Racanelli will return for the third time. The top three qualifiers from each region around the nation will compete in the tournament.
Both Stokes and Racanelli mentioned how it's hard not to get caught up in the craziness of the regional qualifier.
"You're waiting for the next match, each match deciding if you're going to nationals," Stokes said. "It's crazy."
"(The craziness) is what makes this tournament a little difficult," Racanelli said as the number one seed heading in. "The regional tournament is always full of upsets. I went in with the mindset that I wasn't seeded at all. Everyone wants to beat the number one seed."
Stokes, who returned to wrestling after a two-year absence from the sport due to personal reasons, found himself coming from behind in three of four of his matches.
"Heading in, I knew I could go to nationals," Stokes said. "Working hard all season, I was proud to show everyone how hard I've been working all season.
He attributed his drill partner in sophomore Kyle Trout in the series of victories.
"He helped me a lot," Stokes said. "He was my drill partner 99% of the time. He tell each other what we have to work on, give each other feedback and things like that."
In his first match of the tournament, Stokes used a series of five takedowns en route to a 13-5 major decision victory in the first round of the championship bracket.
Later in the day, he found himself down 2-0 in the first period after being taken down. In a flurry of action early in the second period, Stokes used an escape, takedown and two back points to take a 5-2 lead heading into the third period.
Day two would prove to be much tighter as Stokes trailed early in the second period of his semi-final bout after giving up an escape. In the third period, he elected to go on bottom and in matter of seconds, Stokes completed a reversal, but Hai Siu of Greensboro College would escape moments later, evening the match again at two.
With 22 seconds remaining before potentially facing sudden victory overtime, Stokes scored a takedown as the seconds ticked down. Siu would escape just 10 seconds later, but the takedown was enough for Stokes to advance to the finals with a 4-3 victory.
Even more importantly, Stokes punched his ticket to Nationals with the semi-final win.
Better yet, the championship match for Stokes proved to be the most exciting of the day, Stokes found himself in a 4-0 hole in the opening minutes of the first period before coming out with an escape prior to time expiring. After a second period escape, Stokes still found himself trailing 4-2 heading into the final two minutes.
The third period was worth the price of admission as both Stokes and Mario Vasquez of Ferrum College traded points in the frame. Vasquez elected to go on bottom and escaped. 20 seconds later is when he received his first stall warning. After a takedown by Stokes, followed by another Vasquez escape, Vasquez was again called for stalling, which led to an all-important point being giving to Stokes.
With just seconds remaining in the third period, Stokes scored a takedown to send the match to sudden victory overtime.
12 seconds into the overtime, Stokes hit a takedown to capture the number one seed out of the Southeast Region heading into nationals.
"It's not a position I haven't been in before," Stokes said of coming from behind. "I wrestle harder like that. It wasn't crazy for me. I knew it was a winnable match for me. I saw he was getting tired."
Racanelli cruised through day one of the regional by winning both his opening round and quarterfinal bouts. He advanced to the quarterfinal round by defeating Dan Verhovsek of Waynesburg in the second period by pin after he never trailed during the match.
In the quarterfinal round, Racanelli again never trailed in a 12-2 major decision victory to land an all-important spot in the semi-finals.
"I was confident I was wrestling well," Racanelli said. "The semi-finals means more than the finals sometimes. You gain a sense of security winning the semi-final. You've done what you came to do (by qualifying for regionals). Going to nationals, you can let loose. You don't have to wrestle cautiously."
Heading back to the team hotel on Friday night, Racanelli knew he had to win one of two ways to qualify for the NCAA Championships: Win the semi-final match on Saturday morning or win back-to-back consolation matches to finish in third place if he were to fall in the semi.
On Saturday, Racanelli wrestled two of his toughest matches on the season. To start the day, he took on Shane Conners of Washington & Lee University in the semi-final match. Racanelli had Conners on his heels early in the first period as Conners was warned for stalling.
To begin the second period, Racanelli elected to start on bottom and was able to escape, but not before Conners collected 1:17 in riding time. After two periods, the match was tied at one (due to Conners' riding time point). For the third, Conners elected to start neutral.
"He knew I was good on top," Racanelli said. "He wanted to go to overtime. He figured wrestling on his feet would be the way to go."
Racanelli was able to negate the riding time point in the third period with a takedown midway through. After it was all said and done, Racanelli shut out Conners by posting a 3-0 decision win.
He said he viewed the takedown as a major confidence boost, saying he said "I got this" after securing the takedown.
In the championship bout, momentum appeared to be on Racanelli's side as he cruise into the third period with a 3-0 lead. Midway through the second period, after Jared Walker of Washington and Jefferson University elected to go on bottom, Racanelli gave up an escape point.
Then, with under 20 seconds to go in the final period, Racanelli got taken down. Fortunately for him, riding time would not be a factor in the match and the championship bout was tied at three heading into sudden victory overtime.
"A lot of kids get discouraged after getting taking down," Racanelli said. "I made a mistake, but I was ready to capitalize on it. I had to beat him on my feet."
Racanelli would do just that with less than ten seconds remaining in the sudden victory overtime. He secured the takedown to win 5-3.
On the weekend, Wilkes wrestling across claimed more place finishers in Trout (sixth place, 125 pounds), sophomore Dylan O'Connor (fifth, 133 pounds), junior Kyle Medrow (seventh, 149 pounds), senior Ashton Gyenizs (fifth, 174 pounds) and sophomore Moustafa Almeky (fifth, 197 pounds).
As a team, the Colonels placed fourth in the team scoring with 106 points, trailing just champion Messiah College (121 pts.), Ferrum College and Lycoming College. Ferrum and Lycoming tied for second place at 114.5 points.
The third member of the apartment, another P2 pharmacy student Cole Walters, was one of Racanelli drill partners during the course of the season. Gyenizs, senior John Ritter, as well as freshman Cody Dix were other partners as well.
"They all really pushed me during the course of the season," Racanelli said. "Cody Dix was the kind of guy who would show up at 2 a.m. if I need extra work or needed to lose weight. It's awesome having these guys to work with."
Looking ahead, both wrestlers said they have the same goal: Getting on the podium as an All-American.
"I still have the same goal in mind," Racanelli said of his third nationals appearance."I want to be in that number one spot.
"It's a lot different this time though because I'll be going with one of my best friends, Tommy (Stokes).
Racanelli looks forward to preparations for the tournaments, including time to heal from the weekend.
"I think everyone from that region tournament is a little banged up," he said. "I'm here to accomplish some goals that I've set."