FOOT: Hobart assistant introduced as new coach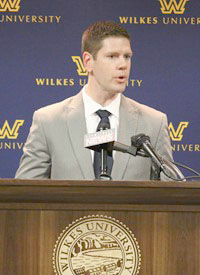 From a total of 247 applicants, Jonathan Drach saw his application rise to the top, and is now the new leader for Colonel Football.
His experience includes spending the last 11 years at Hobart College. He began as the quarterbacks coach before adding the offensive coordinator title in 2014.
The Statesmen saw six Liberty League Conference championships, seven NCAA playoff appearances (two Sweet Sixteens and one Elite Eight), and three consecutive undefeated regular seasons during Drach's time there.
The ninth head coach of Wilkes Football contributed to a 92-24 record over the past eleven seasons. Drach also coached the Liberty League Offensive Player of the Year in 2007, 2014, 2016 and 2017, as well as the ECAC Offensive Player of the Year in 2007 and 2016.
Not only did Drach mention the on-the-field aspect, but also said he plans to focus on academic success as well.
"I am so thankful to have the opportunity to lead the Wilkes University football program," Drach said. "I look forward to being a part of such a dynamic academic community that offers students the opportunity to be successful on and off the field."
Looking back on his previous successes, Drach said he has many people to thank for where he stands today, as he mentioned he has not gotten there alone.
"I've learned a lot and had a lot of really great mentors," Drach said. "At the same time, to be able to have my own program, to kind of take this in a new direction. I'm looking forward to really getting my hands on these guys and provide a lot of value for them."
Drach hopes to carry over his winning culture at Hobart to Wilkes.
"Success breeds success.," Drach said. "I really want to surround our guys with a lot of successful people from our alumni base, to people on campus and really give them a lot of exposure."
His focus for Wilkes Football will be for the team to compete each and every day.
"As a team, we will look to continually improve and be process driven as we compete on and off the field," Drach said. "I am eager to start working with the team and complete the incoming recruiting class for 2018."
"When most of the eastern half of the Commonwealth is celebrating the Eagles and their Super Bowl, we're having our very own football celebration at Wilkes," Vice President of Student Affairs Dr. Paul Adams said.
President Dr. Patrick Leahy said he was impressed of both Drach's personal and professional backgrounds.
"It's the combination of the two that makes him such a great fit for what I believe is a University on the move."
Leahy also reflected on the hill next to the east endzone of Schmidt Stadium, stating that he believes Drach's young children will spend plenty of time there.
"Equal to the accomplishments on the field, Coach Drach is committed to student-athlete success off the field, and that was so noted by the players that sit before us," Athletic Director Addy Malatesta said of the search.
According to the Wilkes Athletics website, Colonel Football remains without two key coaching positions, offensive coordinator and defensive coordinator."
Wilkes Football kicks off their season on Sept. 1 at Schmidt Stadium against Hartwick College.