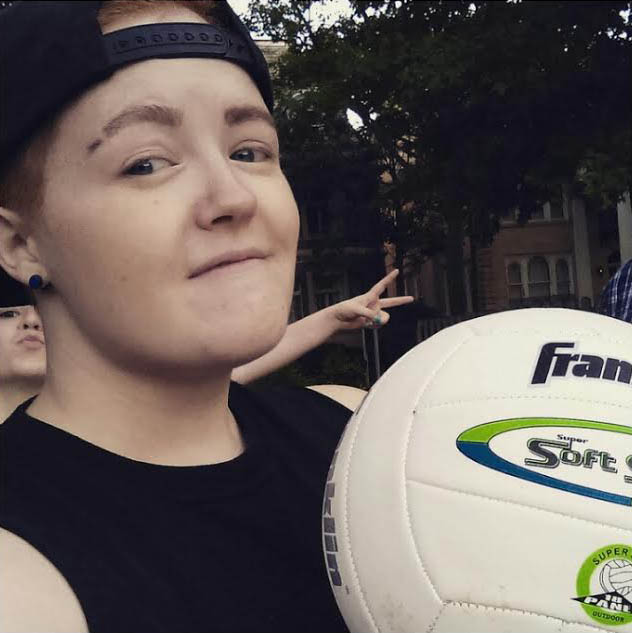 Gabby Glinski is a senior Communications Studies major, with concentrations in journalism and public relations. She joined the Beacon in 2014 as a photographer and writer for the news section, and served as Assistant News Editor in 2015-2016 school year. She is currently the Co-Managing Editor.
Besides her involvement with the Beacon, Gabby enjoys several hobbies including writing, skiing, watching hockey and collecting books.
Gabby loves all aspects of photography; from developing 35mm film to using Adobe Photoshop. Her interest in photography started when she was 8-years-old. Since then, she has owned six cameras.
Gabby's hometown is Laporte PA, but she has lived all over Pennsylvania. She moved from Williamsport to Laporte, then attended a preparatory boarding high school in Quakertown and is now living in Wilkes-Barre during the school year. Gabby claims that if someone lives in Pennsylvania, she has probably been to their town before.
After graduation in 2017, Gabby plans on working at her high school alma mater as public relations director in admissions or writing for a local paper.
Gabby Glinski, Co-Managing Editor
Apr 10, 2017

Dance Program "breaks a leg" in preparation for Annual Spring Concert

(Media)

Mar 28, 2017

Beauty and the Beast: Romance not as beastly as before

(Story)

Feb 13, 2017

$1 million grant announced for South Campus Gateway

(Media)

Feb 13, 2017

Six more weeks, or six more inches of winter?

(Media)

Jan 30, 2017

Chinese students celebrate New Year; campus celebration canceled

(Story)

Oct 21, 2016

Wilkes-Barre audience cheers for "Uncle Joe": Joe Biden visits Wilkes University on Clinton campaign stop

(Media)

Oct 07, 2016

New board game cafe hits Wilkes-Barre; Wilkes students can play for free

(Story/Media)

Oct 04, 2016

The Odyssey: A journey that ends at The Beacon doorstep

(Story)

Sep 26, 2016

Wilkes Public Safety bans Samsung Galaxy Note 7 due to fire hazard

(Story)

Sep 16, 2016

Students share summer 2016 study abroad experiences

(Story)

Aug 30, 2016

The Wilkes class of 2020 meets its alma mater

(Media)

Aug 30, 2016

President welcome

(Media)

Aug 30, 2016

Third annual Founders Gala raises $360,000 for first generation scholars

(Media)

Aug 30, 2016

Karambelas Media Center announced

(Media)

Jun 23, 2016

Wilkes honors major donor; unveils plans for new media center

(Media)

Apr 26, 2016

Student Government election results

(Story)

Apr 11, 2016

The Big Event; largest service event: Students give back to the community

(Story)

Mar 22, 2016

Catching up with Beth Gilbert

(Story)

Mar 22, 2016

Hoverboard regulations in effect, University sets safety standards: Possession, use and storage, and safety in operation issues addressed

(Story)

Mar 14, 2016

Catching up with Cadet Libby; more training, spreading love

(Story)

Mar 14, 2016

Apple v. FBI; First Amendment

(Story)

Feb 19, 2016

Panamanian, American unity through education; historic event; Educational partnerships, STEM, education fields

(Story)

Feb 19, 2016

Zika virus spread brings questions of health concern

(Story)

Feb 05, 2016

Open house welcomes potential Colonels to campus

(Story)

Feb 05, 2016

Wilkes Public Safety hosts ALERRT training: Local and university officers prepared for dangers of active shooters near campus

(Story)

Nov 24, 2015

One Day Stand celebrates lung health; nonsmoking

(Story)

Nov 17, 2015

Wilkes named military friendly campus for 6th year

(Story)

Nov 10, 2015
Nov 10, 2015

Gilbert victory: Wilkes senior lands WB city council District C seat

(Story)

Nov 09, 2015
Nov 02, 2015

Wilkes University's Beth Gilbert eyes an Election Day win for District C

(Story)

Oct 27, 2015
Oct 27, 2015

"The Hunting Ground" screening: Safety vs. university reputation

(Story)

Oct 13, 2015
Oct 13, 2015

Michael Reagan delivers Kirby Oct. 7 lecture

(Story)

Sep 29, 2015

'Noble' act saves family of four

(Story)

Sep 29, 2015

Canine Cadet: Wilkes AFROTC launches new initiative

(Media)

Sep 16, 2015

SG Notes: Homecoming changes; Leahy visit

(Story)

Sep 16, 2015

Students reflect on honors program, Barre Hall housing

(Media)

Apr 21, 2015

After 35 years, Dean King will exit Wilkes with the Class of 2015

(Media)

Apr 17, 2015

Indiana Governor signs controversial religious freedom bill

(Story)

Apr 17, 2015

Pride Fest to be held by the Wilkes University GSA

(Story)

Mar 24, 2015

March marks Women's history month; professors reflect on women's roles

(Story)

Mar 24, 2015

Profile of a Professor: Dr. Mischelle B. Anthony; English

(Media)

Mar 17, 2015

Beacon Staff Members Bring Home Statewide Awards

(Media)

Mar 17, 2015

Wilkes PSPE hosts career, ethics panel; Milton L. Lunch Ethics Contest

(Media)

Mar 17, 2015

Students travel to Costa Rica on ASB; reflects on experience

(Story)

Mar 17, 2015

Profile of a Professor: Dr. Louise Berard; mathematics

(Media)

Feb 24, 2015

Kane is Able, Inc., Dick Kane to present at Wilkes

(Story)

Feb 24, 2015

ASB participants collecting school supplies

(Story)

Feb 03, 2015

Supreme court to review case on bans on same-sex marriage

(Story/Media)

Oct 28, 2014

Wilkes students cleanup Centralia, restore history

(Story/Media)