Panamanian, American unity through education; historic event; Educational partnerships, STEM, education fields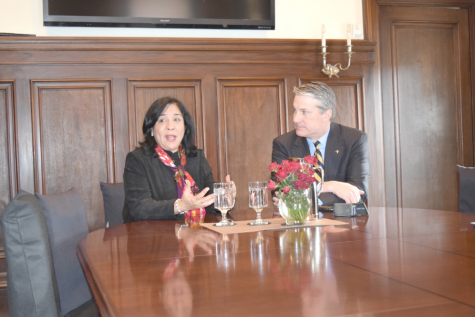 From Feb. 11 to 12, Wilkes University celebrated a historic event with the campus community.
Marcela Paredes de Vasquez, Panama's minister of education, visited the university as part of a comprehensive new partnership being developed between the Latin American country and Wilkes.
On Feb. 11 Paredes de Vasquez met with President Patrick Leahy to sign the agreement which is to pave the way for educational partnerships in fields that include education and STEM fields.
"Let me just reiterate how significant this agreement is potentially for Wilkes University," Leahy said. "One of our goals as a university is to become more influential, not only on a national stage but on an international stage, and we set out to find ways that we might extend what we have here at Wilkes University to a broader audience."
Leahy explained that this is the first agreement of its kind in Wilkes' history.
"This is an extraordinary opportunity for Panamanian teachers and professors," Paredes de Vasquez said. "We as a country have a very ambitious plan of having all of the education bilingual, Spanish and English, even in the official sector. For that purpose we are sending 10,000 teachers and professors to English speaking countries, and that project that we call 'Panama Bilingual' or 'Bilingual Panama.' We have selected the best partners in the United States and also England, Scotia and Canada. Wilkes University is a valued partner."
Later that evening, members of the campus community as well as administrators, Panamanian dignitaries and visiting students, attended a dinner at the Westmoreland Club. Lt. Gov. Mike Stack and Panamanian Ambassador to the United Nations, Laura Flores were also in attendance to commemorate the event.
On Feb. 12, Leahy awarded an honorary doctor of humane letters to Paredes de Vasquez.
"This is a very special moment that I will remember with joy for the rest of my life." said Paredes de Vasquez after receiving the award.
Mayor Tony George, Christopher Hackett, Vice Chair of Board of Trustees, Anee Skleder, Senior Vice President and Provost, John Yudichak, 14th District of the Pennsylvania State Senate and Wil Del Pilar, Deputy Secretary of the Pennsylvania Department of Education, all spoke on behalf of Wilkes Univeristy and Paredes De Vasquez's accomplishments.
The event concluded with a Panamanian Culture event in the Henry Student Center with information on the event, dancers and food.