Canine Cadet: Wilkes AFROTC launches new initiative
Wilkes University Air Force ROTC Detachment 752 recently launched a new initiative where the members will help train a psychological service dog.
Affectionately called the detachment's canine cadet, the three-month-old wirehaired pointing griffon named Libby will provide emotional support for the campus community at large. Eventually she also will be used off campus. Psychological service dogs assist those they come in contact with by improving social, emotional and cognitive function.
Lt. Col. John "Slick" Baum, the detachment commander who launched the initiative, explained that spending five to 15 minutes with a service dog has been proven to change one's brain chemistry by boosting endorphins, reducing stress hormones and even aids building neural pathways. This can help people better cope with stress, depression and trauma. Baum believes Libby exemplifies the Air Force Core Value of "Service Before Self."
Baum notes that, to the best of his knowledge, this is the first time any AFROTC unit has implemented a psychological service dog.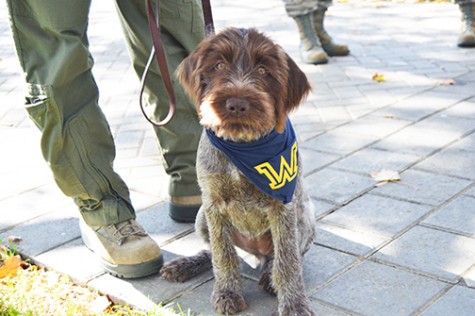 Baum said the canine cadet will operate under different "spheres of influence;" in other words, she will be utilized in different ways to help different parts of the university appropriately. The first "sphere" or layer is the U.S. Air Force Cadre, the active-duty members currently stationed in at Wilkes University. Baum said Libby acts as a "bonding agent" for them, a necessity as the cadre adjusts to not being around other airmen, support functions or service facilities found on a normal Air Force base.
"From a social standpoint, we're kind of just alone doing our jobs," Baum said. "Libby helps bring some stabilization."
From there, Baum hopes to implement Libby to help AFROTC cadets, as well as the faculty and student body. Ultimately, Baum said he hopes to use her as "a tool on campus," to provide support to those who need her. For example, Baum states that if someone were to have to deliver bad news to a student or faculty member, Libby would be present to help break the news.
"As we work to continue to socialize her, we're trying to figure out the right times and places to plug her in," Baum said, citing homecoming and various alumni events as examples. "She's a great icebreaker."
Eventually, Baum said he would like to "make a face for (Libby) on campus," which he's already started with her own instagram feed: @cadetlibby.
Obtaining a psychological service dog has been a three-year process for Baum. He had been working with a breeder to find a dog that would be virtually shed-free and "very active" as to suit the needs of the community.
In the three weeks she has been on campus, Libby has already won the affection of everyone she has met, Baum said. Additionally, her behavior on the flight from Colorado to Wilkes-Barre suggests that she will be a great fit for the campus and the Air Force ROTC.
"She flew like a champion," Baum said.