Wilkes named military friendly campus for 6th year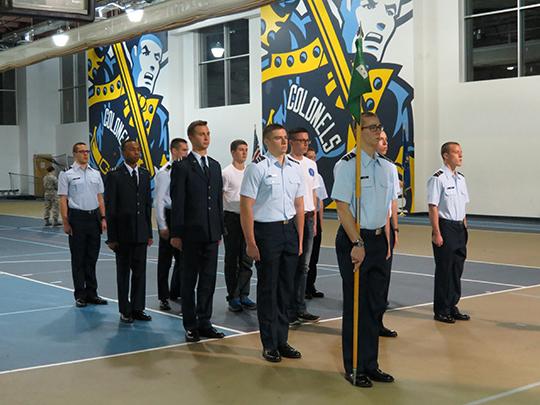 For a sixth consecutive year, Wilkes University has been designated a Military Friendly School by Victory Media. The list honors the top 15 percent of colleges with leading programs for veterans, members of the Armed Forces leaving the service and military spouses.
Wilkes earned this honor for its programs which help veterans transition from the military to an academic setting and professional field. Wilkes competed with other institutions for the title by covering 10 indicators of success, including: support for student veterans on campus, graduation and employment outcomes and military spouse policies.
Currently, Wilkes is working with 65 veteran students; on-campus and online classes.
Retired U.S. Air Force Lt. Col Mark Kaster, veterans' affairs counselor, established the Wilkes University Student Veterans Council to provide additional support for veterans and their families.
"Wilkes provides the environment for veterans to succeed." Kaster said.  "Veterans are looking for a landing zone to continue their education."
The veterans council is mostly made up of students, Kaster continued. He believes this allows the veterans to associate easily with students that share similar interests.
The members of the veterans council provide academic and emotional support to the veterans along with helping them transition into the professional field. The council also supports service projects related to the military, including sending care packages to oversea soldiers and participating in the Marine Corps "Toys for Tots" campaign.
The council recently received a $10,000 grant from the VetCenter Initiative grant program of Student Veterans of America and Home Depot. The grant will be used to build a veterans resource center in Conygham, next year.
Wilkes created the Inter-Organizational Veteran Educational Support Team (INVEST), run by AmeriCorps VISTA worker Emily McGaha. The program partners with the VA Hospital and the Veterans Center of Scranton among many others, which can further provide support veterans if needed.
Wilkes also participates in the U.S. Department of Veteran Affairs' Yellow Ribbon GI Education Enhancement Program, which allows Wilkes to cover post-9/11 veterans' tuition expenses that exceed the highest public in-state undergraduate tuition rate. The University can contribute up to 50 percent of school expenses and the VA will match the same amount.