Students reflect on honors program, Barre Hall housing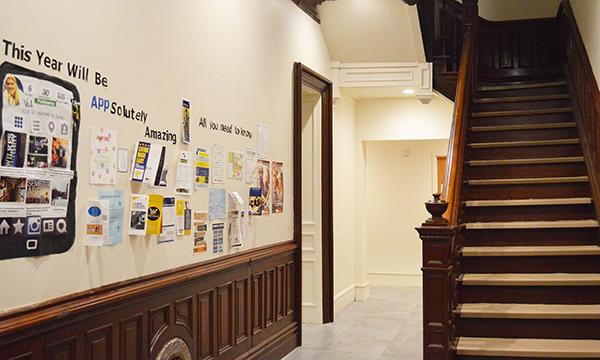 The Wilkes University Honors Program has begun, encouraging and motivating 29 first year students to be successful.
The program is centered on the university's values of mentorship, scholarship, diversity, innovation and community.
This year, students have been accepted who represent the various schools within the university.
The Resident Assistant of Barre Hall, which houses the honors students, Valerie Woods, explained that this was a large part of bringing back the honors program.
"Part of having an honors program at Wilkes was to represent each major," Woods explained.
While academics are critical to the programs success, the students will also be attending programs within the year.
Joseph Strzelecki, pre-pharmacy, explained that there are events already planned for the students and it helps to have a welcoming group of peers.
"The program so far is very good. The people in the house are all very friendly and supportive," Strzelecki said. "We have a lot of upcoming events planned that seem very interesting and I cannot wait to get started."
Mechanical engineering major and lacrosse player, John Weitzel, agreed adding that Barre Hall is quite luxurious.
"The house is amazing. I knew it would be nice, but until I got here… I didn't know how nice. The luxury of having a full kitchen, nice bathroom, and living space on top of a huge bedroom is something few students anywhere get to enjoy, especially freshmen," Weitzel explained.
"Living there is such a privilege."
While different schools of academia are represented, various countries and states are as well.
Dr. Mark Allen, Interim Director of the Honors Program, explained that three countries are represented and five states.
Woods noted that each student has something to offer not only to the program, but the university as well.
"Each personality is so different," Woods said. "There are so many different backgrounds… it's a very diverse group and they work well together."
Woods explained that in addition to having various majors, numerous extra curricular activities are also represented such as student athletes and band members.
However, some students are still adjusting to college life but are eager to join the Wilkes community.
Julie Nong, a pre-pharmacy major explained, "I'm still trying to get used to my classes, but I'll be looking around when it comes time for Club Day. So far I really like the idea of being a mentor  in the future, and maybe even an RA."
Madalyn Pfaff, nursing, agreed saying, "Coming from a graduating class of 143, the idea of having classes with 50+ people was very taunting. However, all of my professors have made this transition quite smooth and I am, so far, enjoying all of my classes."
Woods explained that while she is still getting to know the students through hall meetings and one-on-one sessions, she's begun to see their personalities shine through.
"I think they're all really super awesome students," Woods said. "They have leadership abilities and social skills…They are intelligent."
Currently, the program is only available to first-year students.