Gilbert victory: Wilkes senior lands WB city council District C seat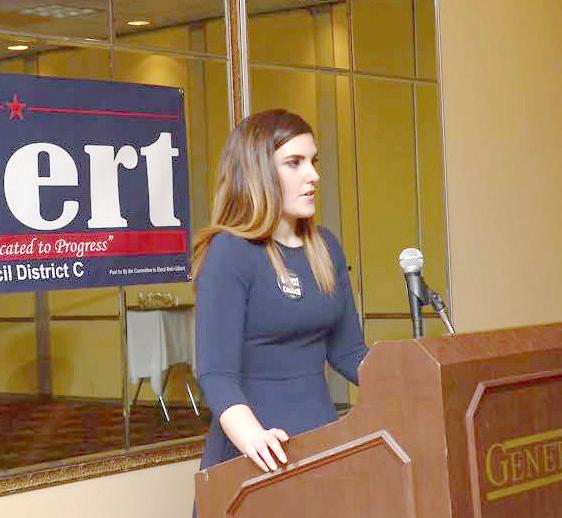 On Nov. 3, Wilkes senior Beth Gilbert won Wilkes Barre City Council District C seat after securing approximately 80 percent of the vote.
Gilbert's friends and family hosted a post-election celebration at Mag's Halftime Pub and Eatery,  where the announcement was made.
"It's a relief, it feels good," Gilbert stated upon hearing the results of the election. Her first step is to become acquainted with the position and her duties.
In May, she won approximately 70 percent of the vote in the primary election as she was the democratic nomination. Gilbert ran against republican nominee Stephen J. Urban.
"Since February, the support for myself and for my campaign has grown tremendously," Gilbert stated in an interview before election day.
Gilbert attributes part of her success to social media, setting her apart from other municipal candidates. Through social media, she has been able to encourage young voters to become more involved in local politics and connect with residents of her district. She also hosted a couple events where she would encourage residents to meet and talk with her.
There are some supporters who have stuck out to Gilbert. Last spring, when she was going door to door to ask for support in the primary election, she met an 88-year-old woman who "swore up and down that she would never vote for a Democrat." On Election day, Gilbert's mother was working at one of the polls and overheard the same woman asking how to write in a candidate.
She voted for Gilbert.
"It was really inspiring to me that she believed in my campaign and mission enough to vote Democrat for the first time in her life," Gilbert stated, reflecting on the incident.
Gilbert shared that her role models are other female politicians, stating it is tough to be a woman in politics, being criticized for things men are not. Seeing other female politicians go through the process of campaigning and coming out stronger than ever before is inspiring to her.
Gilbert's platform consists of three main points: "legislatively combating crime and blight, being accessible to residents and focusing on each part of my district equally."
Gilbert believes combating crime and blighted property is something that cannot be ignored or done halfheartedly.
"Accessibility to residents is 100 percent necessary in this office," Gilbert stated, adding that technology allows political leaders to be available 24/7. "I will always get back to my constituents with whatever issue they may have."
Gilbert plans to implement monthly town hall meetings to allow residents to voice their concerns.