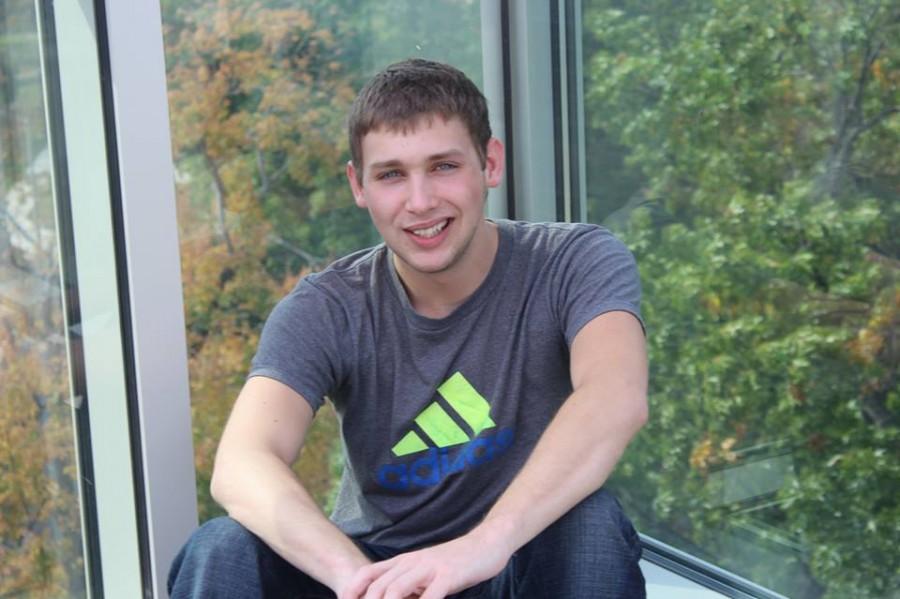 Justin Topa, a senior at Wilkes University, currently serves as The Beacon's Life, Arts and Entertainment Co-Editor. He is a student within the Department of Communication Studies and has dual concentrations in both public relations and rhetoric. Justin, a Dean's List student, has also declared minors in marketing and women's and gender studies.
The Pittston native began his early journalism career while still a student writer and editor for his high school newspaper, The Patriot Press. While Justin is dedicated to writing any news fit to print, he enjoys spending time on feature stories, including his work on the continued series, Anatomy of an Administrator, which he began working on in 2012.
Justin also serves as Chair for Zebra Communications, a student-run public relations agency on the Wilkes University campus and is a member of the Public Relations Society of America.
Justin Topa, Life, Arts & Entertainment Editor
Apr 04, 2016

Don't believe her, just watch: New RA in the spotlight

(Story)

Feb 23, 2016

This Week in History: Flag Raising on Iwo Jima

(Story)

Feb 16, 2016

Policy prevails; tensions fly high during student govt. meeting

(Story)

Feb 15, 2016

This week in history: Chicago Seven acquitted

(Story)

Feb 08, 2016

Beyond the beauty: Symbolism of flowers

(Story)

Feb 08, 2016

This Week in History: Saint Valentine's Day Massacre

(Story)

Feb 02, 2016

This Week in History: Greensboro Lunch Counter Sit-Ins gre

(Story)

Feb 02, 2016

Wilkes University Introduces Spring Interns

(Story)

Nov 17, 2015

Starbucks and the Christmas cup controversy

(Story)

Nov 03, 2015

Nursing Students Show Compassion to Those in Need

(Story)

Sep 30, 2015

A new perspective: gender fluid student speaks on experience

(Story)

Jul 31, 2015

Mansions and Millionaires: The Rich History of Wilkes

(Story)

Apr 21, 2015

Sax, Drugs and Rock and Roll: Are musicians prone to substance abuse?

(Story)

Apr 14, 2015

He Said:"You're not listening to me!"; gender norms of arguing

(Story)

Mar 31, 2015

Women Empowered by Science hosts local girls

(Story)

Mar 24, 2015

He Said: Gendered Drinking in Social Situations

(Story)

Mar 17, 2015

Beacon Staff Members Bring Home Statewide Awards

(Story)

Feb 26, 2015

MSC celebrates Black History Month through poetry event

(Story)

Feb 24, 2015

He Said: "Why can't we be friends?"

(Story)

Feb 17, 2015

He Said: Modern Masculinity

(Story)

Feb 17, 2015

Commuter Council Hosts "Almost Valentine's Day" Social

(Story)

Feb 10, 2015

He Said: The Unspoken Rules of Dating and Relationships

(Story)

Feb 03, 2015

Public Safety Welcomes New Officers, Added Experience

(Story)

Jan 27, 2015

Service with a smile not always easy: A declassified look into the associate and customer relationship

(Story)

Nov 18, 2014

The Anniversary of the Jonestown Massacre: 36 Years Have Passed Since 'Drinking the Kool-Aid'

(Story)

Nov 04, 2014

Wilkes student attacked; Yik Yak first to report

(Story)

Oct 28, 2014

Anatomy of an Administrator: John Stachacz on the Past, Future of the Library

(Story)

Oct 21, 2014

Anatomy of an Administrator: Melanie Wade on 'stumbling' into administration, advice for students

(Story)

Oct 07, 2014

Wilkes Expert Weighs In on the Pluto Debate, "It's Just Too Small to be a Planet"

(Story)

Oct 07, 2014

College Radio Day recap

(Story)

Oct 01, 2014

Wilkes Hosts Able-Bodied Wheelchair Basketball Tournament

(Story)

Oct 01, 2014

CEO, Wilkes Help with Hunger Action Month

(Story)

Sep 30, 2014

Wilkes' Annual Professional Development Week

(Story)

Sep 23, 2014

Susquehanna to Freedom: The Role of the Susquehanna River in the Underground Railroad

(Story)

Sep 23, 2014

Ken Carbone Lectures at Wilkes University

(Story)

Sep 16, 2014

Anatomy of an Administrator: Dr. Jeffrey Alves on Sidhu School of Business, World Travel

(Story)

Sep 09, 2014

Public Safety: Armed and Ready

(Story)

Sep 09, 2014

Anatomy of an Administrator: Provost Anne Skleder on New Role, Adjusting the Sails

(Story)

Aug 27, 2014

Professors over the summer: working hard, not hardly working

(Story)

Nov 26, 2013

Anatomy of an Administrator: Kayla Cauthon on planning student activities, an upcoming wedding

(Story)

Nov 19, 2013

Anatomy of an Admin: Dean Mark Allen on the "positivity" of his job

(Story)

Nov 11, 2013

Anatomy of an Administrator: Mike Wood on his latest construction project

(Story)

Nov 04, 2013

Anatomy of an Administrator: Philip Ruthkosky on his greatest achievements in life

(Story)

Oct 28, 2013

Anatomy of an Administrator: Interim Provost Therese Wignot on teaching, cooking, sports

(Story)

Oct 21, 2013

Dining services growing own produce

(Story)

Oct 20, 2013

Paul Adams knows what it takes to Be Colonel

(Story)

Sep 30, 2013

Dining services features veggies fresh from the Wilkes garden

(Story)