He Said: The Unspoken Rules of Dating and Relationships
Justin Topa, Assistant Life, A&E Editor
February 10, 2015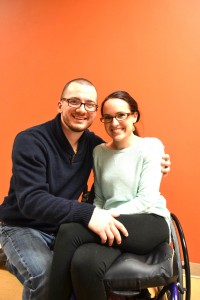 After months of planning, sweaty palms and a well-written song, the girl had finally said yes to her suitor.
The story of Natalie Smirne and Jake Parrick began officially on April 7, 2012, a semester after Jake had set his eye on Natalie and began to win her over.
Parrick and Smirne are both graduates of Pittston Area Senior High School, but didn't get to know each other until sharing a biology class at Wilkes University during the fall 2011 semester. It was during this course that Parrick saw an opportunity to get to know Smirne.
He would head to class a half hour early each day so that he could move Natalie's desk into place, conveniently next to his own. After more than two years, Jake still finds that small acts of kindness help to keep the relationship thriving.
They shared their first "official" date seeing a scary movie, but the way in which Jake asked Natalie to be his girlfriend was much less ordinary. He brought Natalie to a secluded cottage, rowed her out to the middle of the lake and played her an original song. Parrick said that grand romantic gestures can be essential for winning over the right girl.
"She deserved it," said Parrick, who added, "If you're going to do something, do it in a big way".
Jake said that, like most guys, he feels pressure this time of year to make Valentine's Day special for Natalie.
"Sometimes, I feel like I set the bar so high last year that I constantly have to do better with each year," explained Parrick.
Parrick shared that there are a few rules to keeping a successful relationship, most of which he has learned since the couple started dating. One essential element for a successful relationship is trust, began Parrick.
"I love how trusting she is and it really is important in a relationship to have that sense of trust," said Parrick. "Of course, there is no reason she shouldn't trust me, either," Parrick added.
Parrick also cites being able to compromise in order to make his partner happy as another important element of dating.
"For instance, she's really cold all of the time and I'm really hot all of the time," he explained. "It could be the middle of the summer and she'll ask me to turn the heat on in the car and, of course, I do so she's comfortable. In the meantime, I crack the window hoping for a cool-down."
The most important 'rule' for dating, according to the happy boyfriend, is that you must continue the excitement most couples share at the beginning of their relationships well into the years. Parrick says he and Natalie continue to experience new adventures together, keeping the relationship a very happy one.
"I don't think other couples should make excuses about not doing things," said Jake. "Holding yourself back from new experiences with your significant other is going to leave both of you unsatisfied."