Wilkes Hosts Able-Bodied Wheelchair Basketball Tournament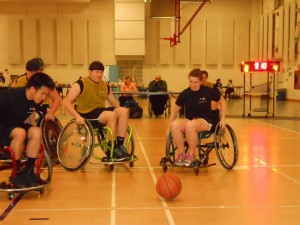 Wilkes University will sponsor an able-bodied wheelchair basketball tournament in the Marts Gym on Sunday, Oct. 5, at 10 a.m.
This Sunday, the Wilkes Community is invited to participate or attend an able-bodied wheelchair basketball tournament. This event, which is open to the public, will include food, raffles and prizes. All proceeds will benefit Individual Abilities in Motion, a nonprofit organization housed in Clarks Summit, Pa, that is committed to embracing the abilities of local people with spinal cord injuries.
Natalie Smirne, a Wilkes University psychology major and vice president of Individual Abilities in Motion, is spearheading the event along with Jacob Parrick, a student within the Wilkes University Department of Biology. Smirne encourages students to come out to the tournament to see their classmates and participate in something out of the ordinary.
"I think it's also going to set some standards," said Smirne. "It's not only something different, it's an opportunity for everyone to see that someone with a disability can do so much more than sit idly in their wheelchair."
Smirne, who has endured a spinal cord injury herself, joined the Individual Abilities in Motion organization in its infancy. She feels the organization is beneficial to others with spinal cord injuries and the community, as a whole.
"It is our way of relating to other people with spinal cord injuries," said the organization's vice president. "It was because of these relationships that we started the basketball tournament. It's a chance for us to get together to do something and, also, an opportunity for the community to get involved."
While this is not the first year Wilkes University participated in the wheelchair basketball tournament, Smirne says she would like to see an improvement in the number of supporters there to cheer on the athletes. She hopes that food, raffles and the abundance of prizes will help bring more people out to support such an amazing organization.
"The student athletes last year had an amazing time," said Smirne. "We can definitely benefit from having more people there to see them play, though. We make it fun for everyone that comes out."
For those that wish to participate, cost will be fifteen dollars and includes a T-shirt, raffle tickets and food. Teams should be comprised of five to eight players and include both males and females. Registrations for those wishing to participate should be made in advance and can be done by e-mailing Smirne, at Nat[email protected], or Parrick, at [email protected].
The top two teams will advance to a championship series to be held in November. Their competition will be comprised of teams from The University of Scranton, Penn State, Marywood, TCMC, Misericordia and Lackawanna College.
Spectators are encouraged to attend. Cost for spectators will be three dollars for a student and five dollars for those who are not students. The team that brings the most supporters will receive 200 dollars and each student spectator has a chance to win prizes, as well.