VIQTORY names university as a Military Friendly School for 11 consecutive years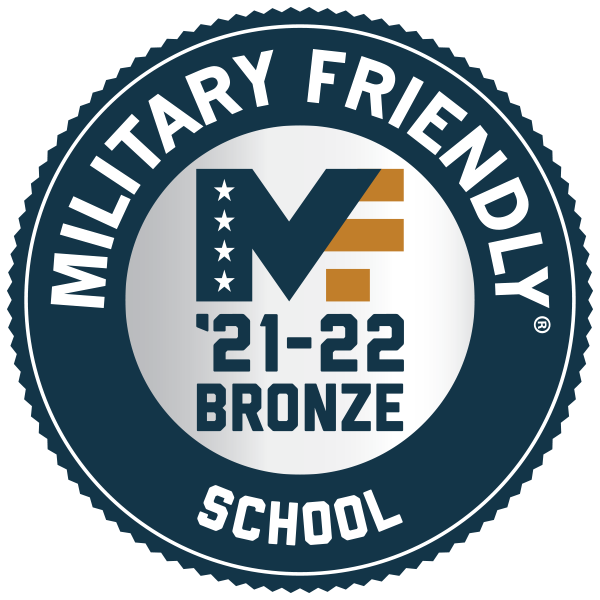 VIQTORY is a service-disabled, veteran-owned business, which sets and promotes standards for American organizations to improve veterans' lives. The standard of Military Friendly "measures an organization's commitment, effort and success in creating sustainable and meaningful opportunities for the military community." 
Of the six categories that VIQTORY outlines, Wilkes exceeded the benchmark standards of each. In particular, Wilkes exceeds the standards of academic policies and compliance by 90 percent. 
Wilkes was recognized by VIQTORY with a bronze distinction. This award is offered to schools that scored within 30 percent of the 10 best schools in their category. For Wilkes, that category is private schools offering doctorate programs. 
Awards like this are not only moments of pride for the school, but they are also ways to inform men and women who are currently serving or have served about the services Wilkes has to offer. 
William Hon, second-year environmental engineering major, who served in the Navy for six years and was deployed twice on the USS Newport News out of Norfolk, Va., explained why he chose Wilkes. 
"There were a lot of options for me, as with my GI Bill. Most, if not all, colleges want an increase in the veteran population," said Hon. "The one thing that drew me to Wilkes, besides it being in my hometown, was the benefits Wilkes has given me. We had this series of magazines onboard the boat that pretty much summed it up called the 'Top 100' or so colleges in the U.S. for veterans, and I want to say Wilkes was extremely high on the list." 
However, it is not only the university that receives awards. Individual veterans frequently receive awards and scholarships from distinguished military organizations and foundations. 
Last year, 2020 electrical engineering graduate Justin Newcomer received a Student Veteran Leadership Award from G.I. Jobs Magazine. He was one of 48 student veterans selected nationally. The award is granted to student veterans who make meaningful contributions to their school, fellow students and community. 
In 2017 and 2018, Wilkes had two students named Tillman Scholars, honorees of the Pat Tillman Foundation. Dana Hatwig was picked in 2018 and Jason Homza was picked in 2017 from thousands of applicants. The Tillman Foundation awards scholarships to only 60 people yearly. 
Retired Lieutenant Colonel Mark Kaster, a Wilkes veterans' counselor, pointed out that this repeated distinction is not common. He explained that, within a school the size of Wilkes, it is rare to receive one Tillman scholar, but to have two in consecutive years demonstrates the excellence of the student-veterans at Wilkes. 
Kaster explained how Wilkes helps student-veterans. 
"I always say Wilkes is a great landing zone for veterans," said Kaster. "They come here for a few years to make their dreams come true. You go to school not just to get a degree, I say you're getting a profession."
While the work student-veterans put in is what earns them scholarships and awards, the behind-the-scenes work is what allows Wilkes to be continually distinguished as a Military Friendly School. 
One group that helps with this work is the Wilkes Veterans Council. This group provides events and programming to help transition student-veterans back into not only the civilian world but the academic world as well. 
The current pandemic has put many events on hold within the past year, but previously, the Veterans Council has invited guest speakers, organized campus events and held volunteer activities to benefit the community. One of these events was the 2019 build of a playground at Heights-Murray Elementary School in Wilkes-Barre. 
The home base for the Student Veterans Council is the Veterans Lounge in the basement of Conyngham Hall. It is used as a space for work and play and was recently renovated for use. 
In the Veterans Lounge, student-veterans have access to computers, printers, a meeting room, a small kitchen, as well as more recreational activities including a pool table. The space was created to give student-veterans their own area on campus to study and socialize. 
Kaster noted that the Veterans Lounge has not had much use as of late, as most meetings and social events are now happening virtually. 
Although it has been used less frequently, Kaster explained that this space is important, as it allows face-to-face interaction that so many veterans sorely need. He explained that communicating through text or online formats does not afford the same comfort that physical interaction does.
While socialization and outreach events are exciting parts of the work done with student-veterans, there is a sobering side to the work done on campus. 
Students who visit Kaster on the fourth floor of the Cohen Science Center are familiar with the couch outside of his office. Many students, not just student-veterans, have sat on the couch and talked to Kaster about challenging classes, upcoming weather and the best local breweries in the area. Yet it is important to note that this couch has also been the place student-veterans have come to talk to Kaster amid a mental health crisis.
Kaster recalls mornings in which veterans have sat outside his office before he came in for the day. Sometimes, the veterans just need someone to talk to, and sometimes, they need more help. He remembers certain days where he missed classes to take a struggling veteran to the VA hospital instead.  
While this work is challenging, Kaster does not mind. 
"I took off my uniform, but I never stopped serving," Kaster said. "I still think of the men and women in uniform as my brothers and sisters, and I want to make sure I can serve them the best I can." 
Kaster's dedication to service has not gone unnoticed. 
"I want to personally thank Lt. Col. Kaster," said Michael Young, president of the Wilkes Veterans Council. "Because of him, our student-veterans have achieved so much."
Hon echoed this sentiment and credited Kaster for the continuous award of being classified as a Military Friendly School.
"Mark Kaster has been incredible through this process too, so I'm absolutely not surprised that Wilkes has received this award for 11 straight years," said Hon.  
With all this praise, Kaster remains humble and credits his wife and kids for restoring and supporting him through all he does. 
The Veterans Council can be found on Facebook or reached through Young.