Capture the moment: Pete Souza visits Wilkes
On Oct. 15, Pete Souza, former chief official White House Photographer for Presidents Ronald Reagan and Barack Obama, visited campus to meet with students and members of the Sordoni Art Gallery, as well as to speak about his time in the White House.
Souza is currently a freelance photographer based in Washington D.C. He was previously a national photographer for the Chicago Tribune and a freelancer for National Geographic, as well as the author of six photography books. His latest book is "Shade: A Tale of Two Presidents," which was published in October 2018.
The first event in Souza's schedule was a private Q&A with Wilkes University honors students.
"Listening to Mr. Souza speak about his experience during the UBL raid where he took the famous picture of the war room was intense," said Eric Beideman, senior sports management major.
The UBL raid was a famous 2011 operation to kill Al-Qaeda founder Osama bin Laden.
"The magnitude of the moment was not lost on anyone, and especially the man tasked with recording it for history's sake," Beidman continued. "It was an awesome experience to meet a man who spent his days around some of the most impactful and powerful men on the planet."
After the Q&A session, the Sordoni Art Gallery hosted a members-only meet-and-greet which included a preview of the exhibition, "Two Presidents, One Photographer." It featured 56 of Souza's photographs from his time as the chief official White House photographer for Regan and Obama.
The event allowed gallery members to speak with Souza. During this time, he walked members through the exhibit and shared with them stories about the photos in the exhibit.
Later that night, Souza spoke to a full audience in the Dorothy Dickson Darte Center. Souza started by explaining that he viewed his speech as less of a lecture and more of a show-and-tell exhibit.
As he opened his presentation, he talked about the most emotional day during his time in the Obama administration: his last day on the job. Souza expressed that his job had been to document history, but now his mission was to point out the differences between what the presidency and politics were like during his time working with both presidents compared to how it is today.
As he continued, Souza showcased hand-selected photos to the audience, telling them stories about each. The photos he selected were from both the Obama and Reagan administrations in order to remain bipartisan.
Souza began by talking about his time with Reagan. He focused on the worst terrorist attack overseas on the marine barracks in Beirut, Lebanon, in 1983, when 241 people were killed and how Reagan spent time with those who had lost families after the attack.
He also focused on the relationship between the president and the first lady when he showed a photo of Reagan helping Nancy Reagan off of her horse.
Souza highlighted a story about Reagan's response to media coverage of himself at the time of his presidency.
"He watched the news, and as all presidents do, he was complaining about his coverage. He said that Dan Rather always had other people say what he (Reagan) had said instead of showing him saying it,"
Souza continued, "Think of where we are today, where the president does not just complain about the press, he calls them the enemy of the people."
He told similar stories through photos of Obama. Just as Reagan comforted families after the attack in Beirut, Obama comforted families in the aftermath of the Sandy Hook shooting.
Just as Souza had captured Reagan spending time with Nancy Reagan, Obama was captured by Souza spending time with not only Michelle Obama but also his daughters.
These comparisons of character and actions of the presidents were not done by accident. Souza also showcased photos of Reagan meeting with Mikhail Gorbachev and Obama meeting with Vladimir Putin. In both photos the leaders were composed, but very clearly standing in opposition to both the former Soviet Union leader and the President of Russia respectfully.
This was done on purpose to showcase not just the character of two former presidents, but the character of two former presidents of different political parties. Despite political party differences, he said both Reagan and Obama served as President of the United States with dedication and passion in a way that was not present today.
Though Souza often kept the focus of his presentation on the former presidents, he spoke more about the current president when the audience Q&A had started.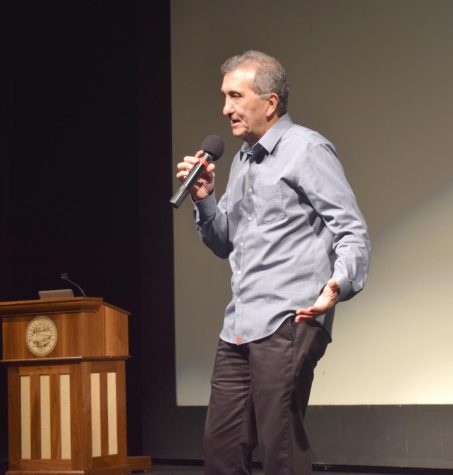 When asked what the definition of a true president was, Souza began to talk not just about what makes a president, but also about the amount of work the members of previous administrations had put in and why.
"I think number one, you need to be a decent human being. Number two, you have to respect the office of the presidency. Number three, do not lie to people every day. Number four, do not bully people every day. Number five, listen to others. There are hundreds of experts around you in our government," he said.
Souza continued, "One of the things I mentioned earlier today, and I am speaking for both Reagan and Obama: there are dozens, maybe hundreds of people in the government that sacrifice more than I did to help make things better for you."
"Unfortunately the times when you might hear about them are when they make a mistake. I do not believe, again not talking about today, do not always believe the federal government is working against you. It is not true. People work hard to try to make things better for you, and I saw it in both a Democratic and Republican administration."
Souza continued to speak with the audience about moments he would never forget, about how he found his way into photography and about the connections he had built with the numerous staff members of both administrations.
Throughout his lecture, he expressed the importance of documenting what happens in the White House for history.
Souza stated he was worried the current administration was not allowing enough access to the president to allow for clear depictions of what is going on in our government.
Jessica Morandi, junior digital design and media art major, said she loved the "rawness" of Souza's photography.
"All of them tell a captivating and true story about people that we normally do not see in a humanizing light," she said. "Seeing presidents up close and personal like you do when you look at Pete's photos does not happen that often. I love how genuine and full of emotion they are."
For those interested in checking out the Sordoni Art Gallery exhibit of Souza's work, it runs from Oct. 22 to Dec. 8.