Homecoming weekend filled with activities
Oct. 4 through 6 marked Wilkes University's homecoming weekend. This year's homecoming was filled with events for both current students and alumni with some of the biggest events being the homecoming dance and the football game.
Students could enjoy the homecoming dance held Oct. 4. The dance's theme this year was a black and white ball. Programming Board President, DeAndre DePass, deejayed the event.
Friday was also filled with events for alumni, as environmental engineering and earth sciences alumni met with past and current students and faculty in the Cohen Science Center. Afterward, the engineering flex lab in the Mark Engineering Center was dedicated in honor of Dr. Umid Nejib's legacy at Wilkes.
To close out Friday night, alumni and faculty from other major, including business, education, political science, communication studies, and earth and environmental studies, held their reunions in the Karambelas Gateway for Pints with Professors. Alongside the reunion, Zebra Communications, the student-run public relations firm, celebrated its 20th anniversary.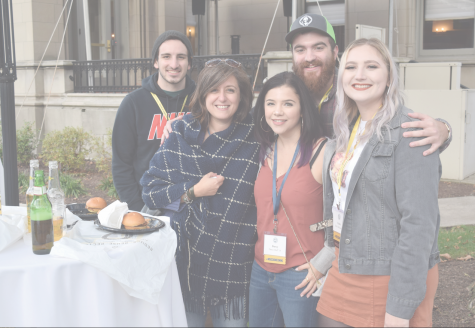 Lisa Reynolds, assistant professor of integrative media, said, "Pints with Professors is my favorite homecoming event. I love catching up with all of our alumni, and what a perfect night on the gateway."
On Saturday, student-athletes and fellow alumni celebrated the opening of the new, multi-purpose field, Bruggeworth Field. Following the dedication, men's soccer and football both played games. Both teams won their games against Farleigh Dickinson Florham and Alvernia, respectively.
This year's homecoming court included the following students:
Logan Biechy, psychology and criminology major; Sarah Matarella, communication studies major; Cassie Merrill, Spanish and secondary education major; Lety Patino, political science and secondary education major; Kaitlin Sutton, environmental engineering major for the prize of queen. For the prize of king, the students nominated included: Jason Aristizabal, business management major; Hunter Hughes, neuroscience major; Neil Murphy, psychology major; Seth Platukis, biology and secondary education major; and Dane Tarantelli, secondary education and history major.
At the game, Hunter Hughes and Sarah Matarella were crowned homecoming king and queen.
"This homecoming experience has been absolutely surreal," Matarella continued, "I'm extremely happy that I got to share this experience with all of the amazing people on the homecoming court."
Hunter Hughes felt the event was a chance to see graduated friends back on campus.
"I was especially proud to show the older alumni how much campus has changed in the past 5 years," said Hughes. "Winning homecoming king was an awesome culmination to the weekend and I was so excited to be surrounded by friends and family at the game."
Saturday night concluded with the Class of 1969 marking their 50th anniversary of their graduation with their induction as Golden Colonels at the Golden Colonels Dinner in Weckesser Hall. The night also included both a reunion dinner and a downtown bar tour for other alumni.
Sunday closed out homecoming weekend with an alumni remembrance at the Burns Bell Tower in the morning, the men's lacrosse alumni game and the women's soccer alumni game.
Editor's note: Sarah Matarella is on The Beacon staff as the Lifestyle, Arts and Entertainment Editor.