Wilkes University graduate student awarded career development grant
Wilkes University graduate student Yosara Gonzalez has been awarded the career development grant from the American Association of University Women (AAUW). The grant provides funding to women who hold bachelor's degrees and are preparing to change or advance their careers.
After AAUW was founded in 1888, it has awarded more than $115 million to 13,000 recipients from over 145 countries. This career development grant focuses on women of color and women pursuing their first advanced degree.
Gonzalez is pursuing her Master of Science degree in middle-level education, with a focus towards English and language arts.
"Getting this grant means so much to me," Gonzalez said.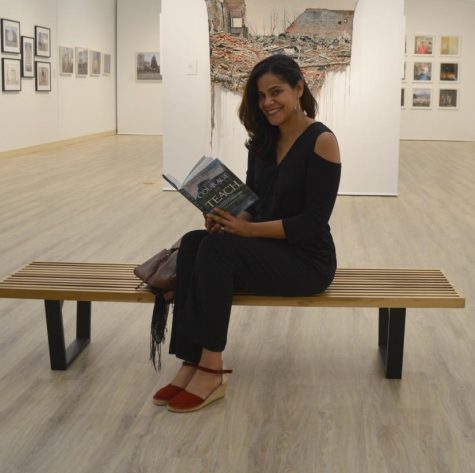 "It gives me the confidence to keep working on my goals to become an educator. I am very thankful to get this opportunity to expand my career."
Gonzalez is a mother of three and has two boys, who are six and seven years old, and a 19-month-old daughter. Currently a bilingual liaison for the Hazleton Area School District, Gonzalez is planning to apply as a middle school English or art teacher in the public school system after obtaining her teaching certification in English language arts.
One day, she hopes to open her own academy where she can teach different techniques and ways to motivate children and adults to create and expand their knowledge through utilizing art and writing skills.
To the school of education, the news of a graduate student receiving this grant is wonderful news. The department has celebrated Gonzalez's achievements. Dr. Rhonda Rabbitt, Dean of Education, is especially touched by Gonzalez's accomplishments.
"I am proud, inspired and hopeful," Dean Rabbitt said. "Proud that she chose Wilkes University for her graduate study. Inspired because she embodies many characteristics we seek to support in our programs: working mother, service-oriented, female who seeks to empower girls through her teaching, and keeping the arts in schools through creative teaching. Hopeful because she will serve as a role model to many children in her school."
Rabbitt finds Gonzalez's story to be admirable. She believes that Gonzalez will be an excellent role model to children and young adults.
"Yosara's presence and personal relationships with students will open pathways otherwise not seen. It is anticipated that Yosara will bring many benefits to the classroom and school beyond the standard curriculum lessons."
In the past, Gonzalez had worked as an architect and artist, but, as she explained, in her stage in life now, she wants to learn all of the necessary skills to be able to teach her children and others in her community.
At Wilkes, she has been able to focus her coursework on multiculturalism and engagement in the community. Other courses have allowed her to prepare in working with adolescents and their behaviors and special education. These courses will help Gonzalez satisfy an important value of hers, which is to help inspire women and girls of color to achieve their goals.
"I noticed the lack of Hispanic teachers serving this population and the absence of Spanish speaking role models in the community," Gonzalez explained.
"As a former substitute teacher in the United States and a higher education art instructor in the Dominican Republic, I have been exposed to the power of influence. My aim is the advance my teaching skills, learn relevant methodology and new techniques to serve our communities. I want to use my discipline in the arts to inspire children to develop a love for learning through dynamic teaching methods, art theory and practice."
Rabbitt believes that many young girls of color have limited thinking about career potential because of a lack of role models, women who look like them in the field. However, she believes that Gonzalez will have a lasting impact on the community.
Rabbitt said, "Yosara's presence and personal relationships with students will open pathways otherwise not seen."