College of Science and Engineering awarded $500,000 research grant
Wilkes University was awarded a Major Research Instrumentation research grant from the National Science Foundation. Totaling more than $486,000, this grant will allow Wilkes to construct a high-performance computer cluster, a state-of-the-art facility that supports student-faculty research across a variety of academic disciplines.
In January 2019, an interdisciplinary team of professors submitted a proposal to the NSF to request funding for a high performance computing cluster.
Acquiring this high-performance computer cluster will position Wilkes as the only institution in the region with such a facility.
The proposal was crafted by a multidisciplinary team of faculty members from the College of Science and Engineering. This team was led by Dr. Henry J. Castejon, professor and chair of mechanical engineering, and included Dr. Del Lucent, associate professor of physics; Dr. Abas Sabouni, associate professor of electrical engineering; Dr. Sofya Chepushtanova, assistant professor of mathematics; Dr. Caroline Fortunato, assistant professor of biology; and Dr. Bobby Karimi, assistant professor of geology.
The instrument is a high-performance computer furbished with multiple numerical and graphic processing units. It will double as a computational and graphing engine capable of running complex simulations and rendering them as animations.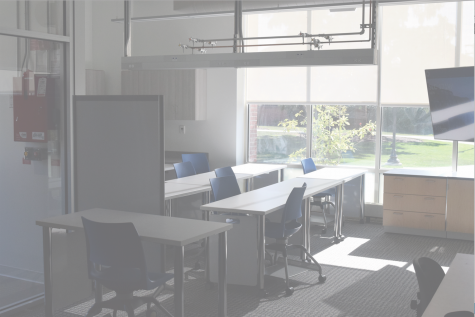 The computing cluster is going to be a very powerful computational environment. All of the professors on the grant have distinct research projects that require high capacity computing.
One of Castejon's research projects involves studying whether carbon dioxide can be used as a sequester in geological formations as a possible alternative way of solving the greenhouse effect. This involves creating simulations into how carbon dioxide interacts with elements within the formation and if it's going to be able to be kept there.
Lucent and Chepushtanova's research into protein folding requires the construction of computer simulations to predict the various ways a protein can fold, and extrapolating those results to cure various genetic disorders caused by misfolding.
One of Karimi's research projects involves studying landslides and creating a hazard map of every slope in Pennsylvania. He hopes to create a map of meter-per-pixel accuracy that could identify high-risk and low-risk probabilities for landslides. At the moment, his current model is only at kilometer-per-pixel accuracy. He stressed that ultimately, no scientist can ever 'predict' a landslide or earthquake.
"We've entered a data revolution. Over the last decade, we have exponentially increased the amount of available data in almost every discipline. It's getting to a point where we don't know what to do with this much data," Karimi said.
One of Sabouni's research projects is early breast cancer detection. It involves creating a search space, which divides an area into cells and examines each cell to determine if there is a tumor. At the moment, he is only able to detect large tumors and cannot detect very small, early-stage tumors with the equipment he currently has. The higher the computing capacity, the smaller and more accurate the cells become.
"As much as I try to make the spaces smaller, I need more computational power. That's where we are at this moment, and I'm so excited for the opportunity to have such a high computational facility to be able to run these techniques that will allow us to detect these early stage, small tumors." Sabouni said.
Fortunato's research involves studying microbes in soils, estuaries and the deep sea. She uses next generation sequencing to understand these complex communities, which allows her to look at tens of millions of short pieces of DNA from microbes. This is done to understand the species composition and the types of genes these microbes process, as well as to understand how microbes influence their environment.
Each of their research projects requires data sets that are terabytes in size and computer simulations that take weeks to run.
"The overarching project for all of us is pattern recognition, detection and analysis. And then ultimately: prediction. We're all trying to find patterns in a lot of data. We're trying to recognize those patterns, get the computer to extract those patterns out, and then from that be able to make predictions. That's ultimately what the crux of all our research is," Karimi said.
The computational facility will benefit students by allowing them to work side-by-side with professors and gives them the opportunity to interact with students and faculty from other disciplines. This will allow the application of a multifaceted approach to multiple research projects.
In addition to benefiting students, this will allow faculty to exchange information that promotes synergy between different departments. The animations created from the simulations that occur in the computation lab will be shown on the large video screens within the Mark Engineering Center that face the Greenway. These visualizations can be an effective way to convey abstract concepts to students outside of the classroom.
A platform that promotes a multidisciplinary approach to engage projects from different disciplines, while maintaining their own individuality and particular goals, creates a unique and stimulating environment that will benefit faculty and students equally.
Wilkes was recently granted a doctoral university designation, due in no small part from the high-level research being conducted by many members of Wilkes faculty. The grant was awarded to be used equal parts in research and education.
The selection process for the grant is very competitive, and this was the third time Wilkes sent an application to receive the grant. Part of what made the application successful this time around was the caliber of productive research that each of the team members was conducting, and the shared need of a common instrument to move the research further.
"It's a privilege for me to work with such a group of talented people. When I read their contributions I myself was impressed with the type of work that they are doing. They are doing really high caliber research for the place where they are, and that shows why Wilkes says what it is. We are a small research university where the students get to know their faculty one-to-one. The environment here is a nurturing environment like in any small university, but the type of research that is being done is the same type of research that you are encountering at a big research university," Castejon said.
Wilkes will allow undergraduate students to have access to a computational facility that is normally only seen in much larger universities or in postdoctoral programs. The facility is going to be available to any member of the Wilkes faculty and staff, and the research opportunities are available to any department as well.
Having that kind of computational environment, combined with the relative ease of use and being the only institution in the area with this kind of computing cluster, can be used as an effective tool to drive new student recruitment to Wilkes and instill in them an appreciation for science and engineering.
"We need people to be data science specialists within different fields. We need people who are going to say 'I'm a biologist and I'm going to make software for biology.' They're going to create something that will allow people to process data more effectively. We need those people, not just in biology and the sciences but any discipline." Karimi said.
The computing cluster will be located in the Mark Engineering Center, with construction expected to be completed by late December in order to be ready for the Spring semester.