New club takes stand against sexual assault
Wilkes University, under the guidance of Title IX, has been a longtime supporter of sexual assault awareness and prevention. A new addition to the Wilkes campus has recently increased the presence of students partaking in the university's efforts.
"It's On Us' main goal is to build a team of dedicated student leaders who promote sexual assault awareness, by-intervention and support survivors on campus," according to the club's president Lindsay Becker, junior criminology major.
The Wilkes University It's On Us chapter was officially established over the course of the 2018-2019 school year, and plans to continue growing on campus as time goes on.
The original It's On Us was created in 2014 by the Obama-Biden administration due to recommendations by the White House Task Force to Prevent Sexual Assault. According to the official It's On Us website, the task force noted the importance of bringing "everyone into the conversation of sexual assault prevention."
Though not officially a Student Government recognized club yet, Becker and vice president Ashley Baker, junior criminology and sociology major, have numerous activities and events in the works for the rest of the 2019-2020 school year to grow the club's presence and number of participants.
"We are coming up with event ideas," said Becker. "One I keep talking about is 'Spill the Tea' night, an open mic night where we drink tea and let loose a little bit."
Becker says the club also plans to host survivor support programs, and was recently reached out by BACCHUS to hold a table at the annual alcohol awareness walk.
"We are putting forward a proposal for the It's On Us national tour, which is basically a miniaturized version of the summit in Ohio," continued Becker. The organization's first summit in Ohio was held in August, and featured keynote speakers and discussion panels.
"We are hoping that we will be able to host it here at Wilkes University and give that opportunity to not just students and faculty, but to local colleges and the community as well."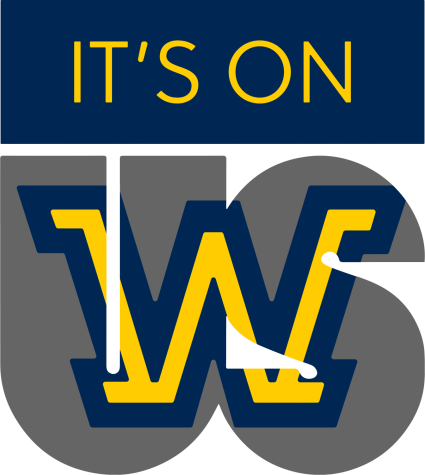 It's On Us is supported by their adviser, Dr. Andrew Wilczak, associate professor of sociology, and the Wilkes Title IX office including Title IX Coordinator Samantha Hart.
In January of 2019 Wilkes was awarded an It's On Us scholarship of $30,000 that went towards the Red Flag Campaign, a campaign dedicated to by-stander intervention. It also went to other programs that either brought awareness about sexual assault or taught students methods to recognize and prevent sexual assault.
According to Hart, Title IX is about more than just sexual assault prevention and awareness, but also about equity.
It's On Us is able to work with Title IX and expand on the campus education and prevention around sexual assault. An officially established It's On Us chapter offers new opportunities and a chance to reach out to students in a new way.
"Absolutely, it is paramount for us to have students involved and take ownership of these things." Hart explained, "My office has reached out and applied for grants, but now that we have a recognized It's On Us chapter on campus I think that it is going to have a profound impact. It is our students that are interested in bringing about conversation and discussion to campus.
"I am not in the student body, I am not interacting with students on a day to day basis, during class or even at parties." Hart continued, "While I can give these messages, I am not living it day to day with you, unlike the students who may be at a party or sporting event."
"The opportunities for the students working with the group are huge," Wilczak said, "Lindsay and some other students were able to go to Harrisburg and participate in a round table with Frances Wolf, the first lady of Pennsylvania. Getting to go to Harrisburg and getting face-to-face time with people very high up in the Pennsylvania government is a big deal. It is a big opportunity to go tell Frances Wolf that this is what sexual violence looks like on my campus, that is not a opportunity that you are going to get in other types of clubs."
The students at Wilkes University who are now participating in It's On Us were first exposed to the organization when Wilczak hosted It's On Us Executive Director Tracey Vitchers on campus.
"She came onto the campus and talked to us in Dr. Wilczak's class. I thought it was so cool, as cool as sexual assault could be in terms of working on fixing it," Baker described her meeting with Vitchers. "I did not know that It's On Us existed and I thought it was great with how huge of a problem it is on campuses. Working on changing the view of sexual assault was what drew me to join."
Over the summer Becker and Baker were flown out to Ohio for a multiday It's On Us summit. Wilczak mentioned that after the summit, the two students returned with an even stronger desire to bring change to campus.
"The summit was great. Lindsay and I flew out to Ohio and it took place over two or three days," Baker said, "I went to a presentation about sports and the relationship with sexual assault. I found it interesting because we do not really have Greek life, so our athletics act in a way like Greek life."
  "It was nice to learn about how other schools use It's On Us and other schools gave a lot of good insight to integrate It's On Us," continued Baker, "Lindsay and I met a lot of great people and we still keep in touch with some of them because we like to bounce ideas off of them."
As It's On Us continues to grow it is important to remember that though Becker and Baker are both criminology majors, that It's On Us is a club open to all students.
"I think as many students as possible, or as many students who are interested should be involved," said Hart. "It's On Us is such a wonderful organization because it encourages individuals and student leaders to stand up and be apart of the solution, understanding that they are sensitive issues. I think students who are passionate about those issues should get involved, and the more the better. I want these discussions to be happening all the time, because it helps lessen the taboo around the topic."