Friedman JCC holds lecture on Christian Zionism
Local Jewish Community Center, Friedman JCC, held a lecture on Sept. 11 in honor of the 9/11 terror attacks, as well as to discuss Christian Zionism in Israel. The event sparked conversation on religious tolerance and interfaith relations on Wilkes campus.
The lecture, titled "Why Do They Love Us: Is Christian Zionism Good for Israel?" was hosted by Rabbi Pesach Wolicki, an educator visiting from Israel.
Wolicki was brought to the area by Amiel BaKehila, a program of Ohr Torah Stone institutions that is dedicated to educating in Israel as well as the Jewish diaspora. The program is hosted by Israel's Ministry of Diaspora Affairs.
The organization also brought Jewish artist Avigayle Adler Katz, who held programs with the community on Jewish paper cutting.
The lecture began with a discussion of the 18th anniversary of 9/11. Along with his discussion, the center chose a video featuring images of 9/11 along with a cover of Sound of Silence by Simon and Garfunkel.
After the video, Wolicki took to the stage to begin his lecture by explaining the political context of Christian Zionism.
Christian Zionism is a belief held by those in the Christian faith that the return of Jews to the 'Holy Land' were accordance to biblical prophecy. The belief has led to a number of Christians rethinking their religious beliefs to include the Jewish community.
"Because [Christian Zionism] has grown so fast, it kind of intimidates us as Jews," said Wolicki.
The rabbi continued by describing the happiness, yet suspicion, held by Jews in regards to the belief system.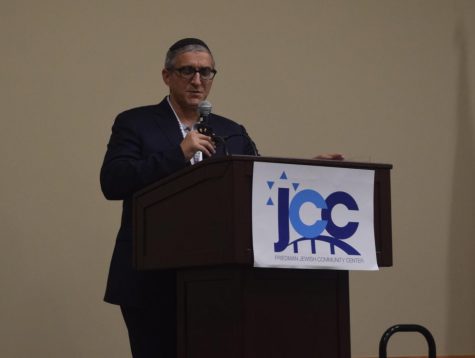 "Us Jews have a long historical memory," said Wolicki. "For us, something that happened 500 years ago, that's pretty recent."
When Wolicki speaks to Christian groups, he has to sensitize them to the barriers that Jews have in order to a relationship with them.
Wolicki also discussed the fear from both sides of conversion, something which the rabbi says is not a motive of true Christian Zionism.
Rabbi Pesach Wolicki currently serves as associate director for the Center for Jewish-Christian Understanding and Cooperation. Wolicki also is a columnist for the Times of Israel, Charisma News and Breaking News Israel.
Kristin Osipower, Interfaith Coordinator at Wilkes University, shed light on the lecture's key points in relation to the university.
"One of the key things that I try to do on this campus is to put as much out there, so that topics of faith and spirituality became part of our conversations again, so they are not tucked away into the corner," said Osipower.
According to Osipower, since becoming Interfaith Coordinator in 2016, there has not been discord between different religious groups on campus.
"We are coming into a culture here that already is nurturing to understanding," she said. "That is just part of the Wilkes philosophy, and inclusiveness that we try to promote here."