Sordoni Art Gallery holds curator lecture and reception
The Sordoni Art Gallery recently held its curator's lecture and exhibition reception.
On April 11, exhibit curator Dr. Andrew Saluti held a lecture titled "Ukiyo-e to Shin Hanga & Beyond: The Art of Japanese Woodcut."
Saluti discussed the history of Japanese woodcuts, starting with a discussion of the art's themes.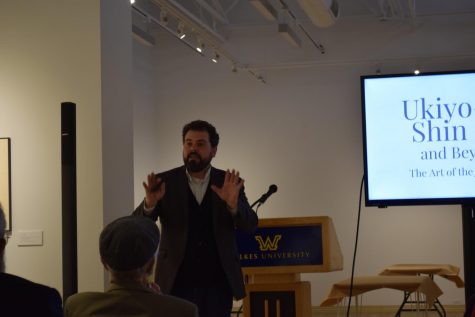 The subjects of the woodcuts were often stage actors or prostitutes.
The rise of  woodcuts began in conjunction with the rise of the middle class during the Edo period, a time period in Japan from 1603 to 1868.
"Now we have areas like the red lights district which can develop and flourish, and then spur off an entire marketing campaign of these Japanese prints.
The theme of "ukiyo-e" translates to "images of the floating world." The woodcuts feature an imaginary, fantasy world.
"(Woodcuts) is a collaboration between multiple people with multiple interests," said Saluti. The process included artists, engravers, publisher, and printers.
Japanese woodcuts were often advertisements and souvenirs. One woodcut featuring a sumo wrestler stumped art historians originally until they discovered it was used as an advertisement.
"This is the kitsch of the 17th century in Japan," he said.
Other woodcuts featured Japanese legends and mythical stories, as well as drawings of places from around the world.
The art style became less popular in the 19th century due to industrialization, as well as the forceful opening of the country by western nations in 1853.
In the 1910s, artists  began to create Japanese woodcuts again with a modern twist. The art movement, called "Shin Hanga," featured elements of European impressionism as well as original elements of ukiyo-e.
Saluti also discussed the business of the art.
"The artist is handing over this design," he explained. "The design is carefully engraved by an engraver under (the artist's) watch, and then finally printed."
The printmaking process had engravers carving a design onto woodblocks, which were then stamped onto pieces of paper. Each color in a print had it's own woodcut dedicated to it in the printing process.
Japanese printmaking has differences from western printmaking. For example, the black outline of the prints were stamped first in Japanese printmaking, while in western printmaking it is printed last.
Saluti also discussed modern art that was influenced by ukiyo-e and shin hanga. Artwork which featured video game characters like the Mario Bros. and Starfox mimicked the style and themes of Japanese woodcuts.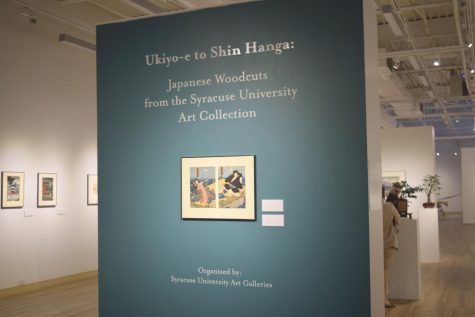 The exhibit will remain open until May 18. The next lecture features Dr. Akira Shimizu on April 16 at 11:30 a.m. The gallery is also holding a build-your-own Bonsai workshop on April 28 for $85. For more information, contact Nikki Lewis at [email protected].