United Nations Lecture Series hosts lecture on climate change
Jamil Ahmad was welcomed this past Tuesday as part of the United Nations Lecture Series presented by the Humpty Dumpty Institute's Higher Education Alliance for the United Nations. Ahmad's presentation focused on the importance of climate change and what it is doing to our environment.
His beginnings started in 1986 where he joined the Foreign Service of Pakistan. He worked in duty stations across Asia, Europe, and Africa which gave Ahmad experience in bilateral and multilateral affairs.
In 2008, Ahmad joined the UN Environment as the Secretary for the Governing Bodies based in Kenya. In this position, he worked directly with the Secretariat and led the organization of the sessions of Governing Bodies by serving as the focal point of the UN Environment's external relations. He remained in this position until 2014.
Ahmad is currently the head of intergovernmental affairs at the New York office of the United Nations Environmental Program. His work includes taking a lead on sustainable development and the environment in support of the organization's policies. Ahmad has a master's degree in political science.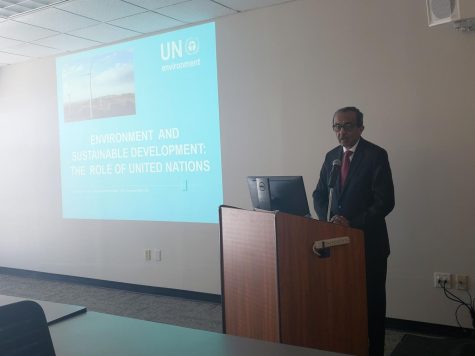 His presentation began by discussing how climate change is relevant today. The importance of multilateralism includes how everyone (and every country) is affected by climate change. If we act only in one country, then it will not prevent climate change from being impacted by actions from other countries.
Ahmad also expressed the importance of youth tied to climate change. With 18 billion people in the world being 10 to 24-year-olds, this is the largest young generation to exist. We have to be the ones to change because we have to either deal with the dying environment or change what impacts it. One change Ahmad pointed out was his approval of the refillable water stations on Wilkes' campus.
Freshman Allyssa Olear found the presentation to be a great opportunity to learn about the impact the UN is making towards a green economy.
"We're fortunate enough to be in a situation that if we really try, we can make environmentally conscious decisions without worrying about food or other necessities from day to day," said Olear.
She personally found the Sustainable Development Goals interesting because many individuals dismiss the interconnectedness of social issues with environmental impact.
Freshman Donald Ballou agreed with Olear, saying, "I really appreciated his aggressive stance on climate action, and I'm inspired to use my passions to fuel my work ethic and dedication to my career as he did."
Ballou said that it was an honor to have such a senior lead in the UN such as Ahmad to come to speak at Wilkes. The cruciality of climate change became real for him when listening to the presentation which raised internal questions for himself as to how he could make a difference.
"His encouragement for small but meaningful actions inspired questions and ideas of becoming more ecologically conscious – even here at Wilkes."