Profile of a Professor: Dr. Kimmy T. Nguyen: Pharmacy Practice
Assistant professor Kimmy Nguyen started working at Wilkes University at the beginning of the fall semester in August of 2018.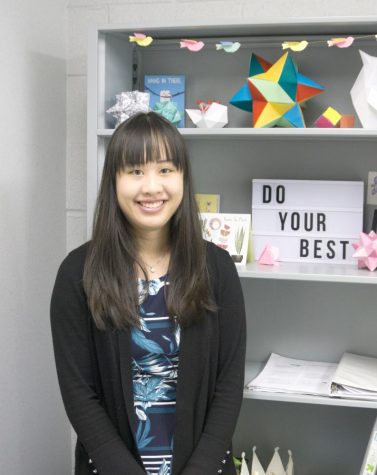 Growing up in Harrisburg, Pa, Nguyen earned her Doctor of Pharmacy degree from the Philadelphia College of Pharmacy in Philadelphia, Pa. She later completed a year as postgraduate in Pharmacy Practice Residency at the Corporal Michael J. Crescenz VA Medical Center in Philadelphia and another year in Ambulatory Care Pharmacy at the VA Hudson Valley Health Care System in Wappingers Falls, NY. She is also a member of the American College of Clinical Pharmacy and the American Society of Health-System Pharmacists.
To Nguyen, pharmacy combines a lot of sciences, whether biology and chemistry, and finds a way to help people. She believes there are so many ways and opportunities in pharmacy that it  can be overwhelming.
Nguyen clinically practices at the Volunteers in Medicine in Wilkes-Barre, Pa. The program was designed to provide free primary and preventative health services for those individuals who are employed but have no access to or cannot afford health insurance. Nguyen is proud to help at Volunteers in Medicine for people who need it the most.
Prior to Nguyen working at Wilkes, her younger sister Lily-Ann Nguyen is a current student in the pharmacy department as well.
"She's been talking to me about her time here as a student and it's always been positive things, so when I was finishing up my training and I saw the job posting, I thought 'why not try to apply here?"
Originally, Nguyen thought of becoming a grade school teacher, but she later decided to go major in pharmacy and attend a six-year program. During that time, she still had a passion to teach; she would be involved as a teaching assistant, mentor, tutor, or resident advisor.
Teaching and helping others figure out what they want to do is where she finds the most joy and satisfaction out of the field of pharmacy. Shadowing faculty members, and creating lectures were just a sample of what Nguyen would have to do will in her postgraduate training years. Afterward, she decided to look for teaching jobs specifically.
Though this is Nguyen's first academic year at Wilkes University, the transition was smooth and easy for her that she already feels at home in the Wilkes community.
"I have been enjoying every second of it," said Nguyen happily, "It's been a dream come true, and everyone has been so welcoming, supportive and helpful."
Her professional interests include the pharmacotherapeutics of chronic obstructive pulmonary disease, hypertension, dyslipidemia, diabetes, and gout. However, pharmacy is not all of Nguyen's life, she always makes time for her hobbies, including video games, reading, origami and taking care of her hamster.
Nguyen is grateful to be a part of the Wilkes University and she humbly feels like she can make her mark in the lives of students here. She  feels welcomed to be a part of the Wilkes community, and has found ways to relax and release any pressure from the academic setting, especially when she's really busy with her schedule and paperwork.
"I couldn't have done (this) without all the people that have helped me figure out my way around the first couple of months," said Nguyen, smiling about her experience so far at Wilkes University, "It's been nothing but good things here."